© 2023 Blaze Media LLC. All rights reserved.
Suspect with 28-page rap sheet who cops say 'should not have been on the street' allegedly just tried to abduct 14-year-old girl from mall
A man with a 28-page rap sheet who cops said "should not have been on the street" allegedly just tried to abduct a 14-year-old girl from a Philadelphia-area mall this week.
What are the details?
Khalilh Evans, 44, was arrested less than 24 hours after being accused of approaching the teen girl at Willow Grove Mall in Abington Wednesday night and forcibly trying to lead her across the mall, WTXF-TV reported.
Investigators say Evans contacted his attorney in Media and arranged to turn himself in on Thursday, the station said, adding that police believe Evans attempted similar crimes with other young women.
"This is the type of crime where the hair on your back stands up," Abington Police Chief Patrick Molloy said, according to WTXF. "Only God knows what their intentions were; we can only assume the worst."
Molloy held up Evans' 28-page rap sheet — which includes charges for weapons, assault, and threats — during a Thursday afternoon press conference, the station noted.
The victim told police she was going down the escalator when she was met at the bottom by an adult male who identified himself as "Alex" and asked her to walk with him — extending his arm as if to escort her. When the girl told him she was underage and tried to step away, police said the man grabbed her arm, placed it in his arm, and restrained her as he led her across the mall.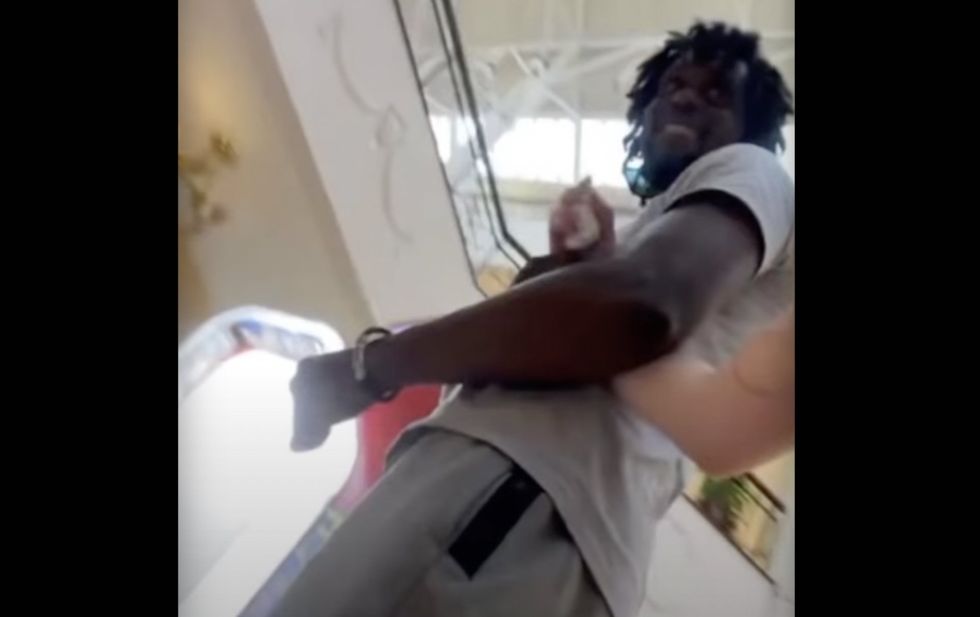 Image source: YouTube screenshot
Soon the girl was able to escape from the man's grasp, screamed, and fled from him, police said, adding that several bystanders witnessed the altercation and stepped in to prevent the man from approaching the girl.
Police added that further investigation revealed that the man appeared to be working with a second man — both of whom left the mall immediately after the juvenile fled.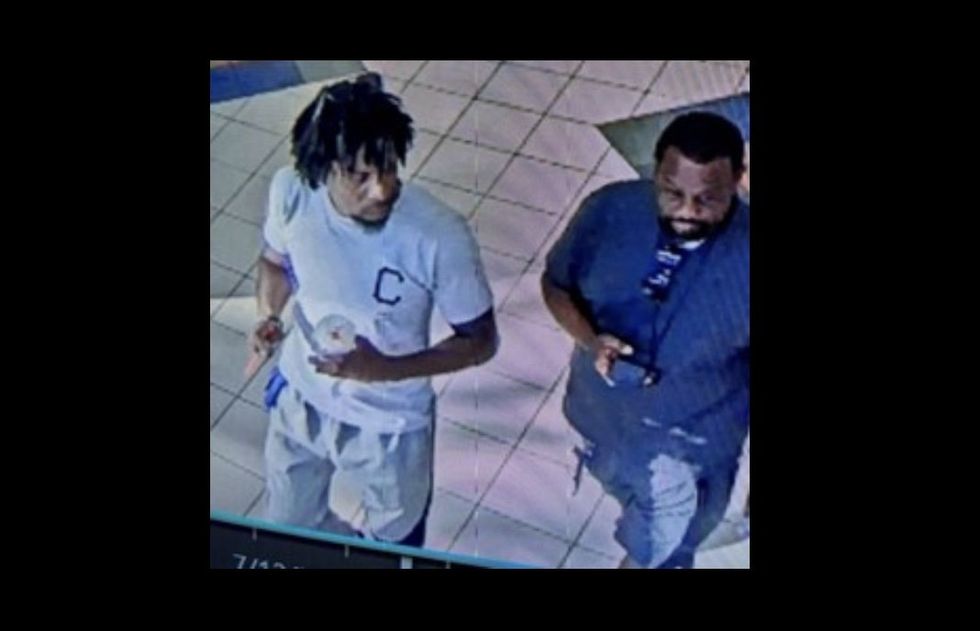 Image source: Abington (Pennsylvania) Police
These man were seen entering a dark gray Dodge/Chrysler minivan or "crossover" type vehicle, possibly a Dodge Journey, police added.
WXTF said several other young women have since come forward to say the men in question also approached them — and police said they're still trying to figure out the second man's involvement in the incident and he's not yet facing charges.
A KYW-TV report on the incident indicated that one young woman told police the suspect approached her just moments before the alleged attempted abduction involving the teen.
"He was creepy," the young woman told KYW. "I was nervous when I found out about it because we were on our way coming home, and then my friend was like, 'Oh my God, look at the video.' And then it was on the news and stuff."
Now what?
Evans has been charged with false imprisonment of a minor and two counts of harassment, WTXF reported, adding that his bail was set at $25,000.
Chief Molloy called Evans "an individual who should not have been on the street," the station said, adding in its video broadcast that he was on probation in Philadelphia.
Molloy called "some of the failed policies in Philadelphia with the district attorney's office where it's somewhat of a revolving door where dangerous felons are let back on the street to prey upon our children," WTXF said.
The station it reached out to the Philadelphia DA's office for comment but didn't hear back.
Man charged in alleged attempted abduction at Pennsylvania mallyoutu.be
Like Blaze News? Bypass the censors, sign up for our newsletters, and get stories like this direct to your inbox. Sign up here!
Want to leave a tip?
We answer to you. Help keep our content free of advertisers and big tech censorship by leaving a tip today.
Sr. Editor, News
Dave Urbanski is a senior editor for Blaze News.
DaveVUrbanski
more stories
Sign up for the Blaze newsletter
By signing up, you agree to our
Privacy Policy
and
Terms of Use
, and agree to receive content that may sometimes include advertisements. You may opt out at any time.