Donald Trump has been name-dropped by nearly every major rapper of the last 30 years, starting with a reference by Beastie Boys on their iconic album "Paul's Boutique," the Sgt. Pepper of hip-hop.

He's been mentioned by Jay Z. Ludacris. Young Thug. Nelly. Kendrick Lamar. Juicy J. Rick Ross. Eminem. Big Sean. A Tribe Called Quest. Scarface. Lil Wayne. The Coup. Master P. Ice Cube. Mos Def. Raekwon and Ol' Dirty Bastard and various other Wu-Tang Clan affiliates. R. Kelly. Pete Rock. Nas. E-40.
And don't forget this surreal moment in our nation's history.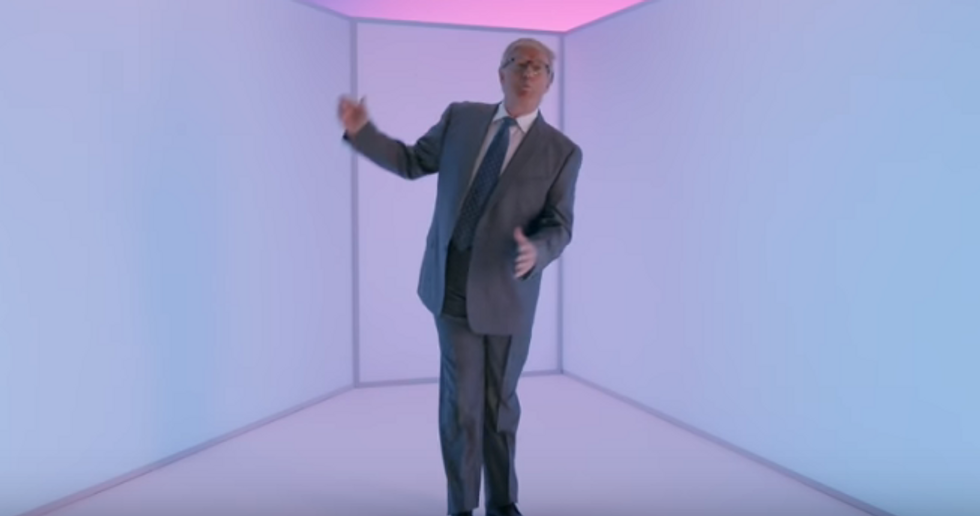 Then-candidate Trump on SNL ... dancing to a Drake parody.(Image source: YouTube screenshot)
When Bun B referred to Trump on the Chopped-n-Screwed anthem "Pocket Full of Stones," he was keeping with a tradition of rappers admiring Trump. This only changed a few years ago. Now it's like that admiration never happened.

But then there's Kanye West, who proudly donned the red MAGA hat after discovering Candace Owens and being called "a jackass" by our nation's first black President. Then Kanye was hugging President Trump in the Oval Office. While wearing a Make America Great Again hat, supposed symbol of white supremacy, Nazism, hate, evil?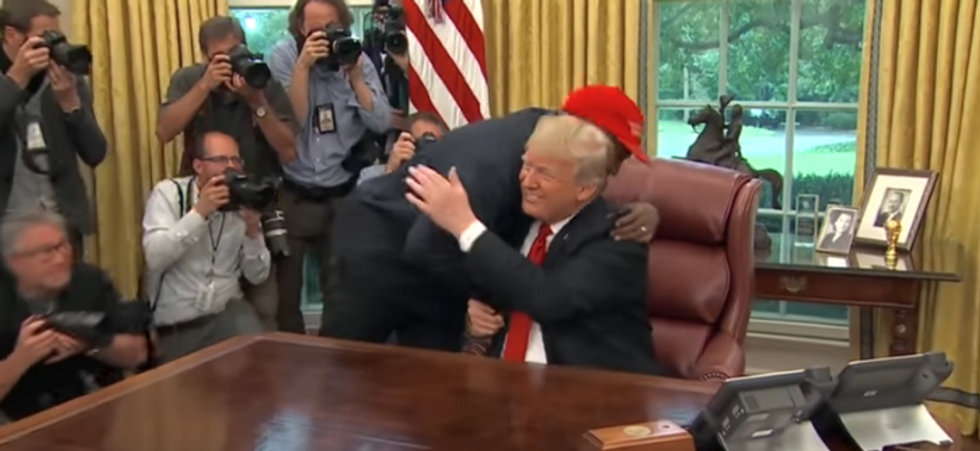 Image source: YouTube screenshot
People flipped. Everyone did. Longtime critics suddenly — and bizarrely — embraced Kanye as an ally, while longtime defenders disowned him, abandoned him like nail clippings, often mocking his struggles with mental illness and labeling him, if you can believe it, a white supremacist.

Then, in a moment that changed music history, Kanye released the single " Ye vs. the People."
Ye vs. the People (starring TI as the People)www.youtube.com
In it, he challenges what he sees as the unspoken rule that black Americans have to vote Democratic. He had hinted at the idea on his track " Black Skinhead," from the hauntingly gorgeous album "Yeezus," but now he was addressing it head-on, with the passion of a man going to Confession for the first time in a decade.

Why should black folks have to abide by any set of cultural or political or artistic guidelines to begin with? And, he argues, the pressure to adhere to this long-held framework is itself undergirded by a subtle and cleverly masked racism, imposed by a group of people who portray themselves as the champions of race and enemies of white supremacy and destroyers of dumb yokel rednecks with their Rebel flags and monster trucks and fully-automatic AR-15 assault weapons. All of which turns out to be some next-level projection.
Kanye also confronts the presence of these expectations and stereotypes in hip-hop. The idea that rappers must invoke a negative persona in order to succeed. And the moment they deviate from that image they are rebuked or ignored, even though the persona is damaging to the black community as a whole. Which is especially ironic given that the people who voice the most outrage tend to be highly privileged, supposedly progressive white folks who love to rant about white privilege and black oppression but shriek "Racist!" when a black person says something they disagree with.
Is it better if I rap about crack? 'Cause it's cultural?
Or how about I'ma shoot you? or f*** your b***h?
Or how about all this Gucci, 'cause I'm f***in' rich?
Best of all, Kanye has answers. And they differ from the erudite solutions offered by, say, A Tribe Called Quest, who, like Kanye, have modeled a healthy, positive image of blackness for the black community, just in a different way.
A central theme within "Ye vs. The People" is empathy as power, rebellion, freedom.
Make America Great Again had a negative perception
I took it, wore it, rocked it, gave it a new direction
Added empathy, care and love and affection
This concept is an extension of the powerful devotion to positive energy that Kanye adopted around that time, a purview he has harnessed into a wild new form of electronic gospel.
But his personal transformation was difficult.
That [MAGA] hat stayed in my closet like 'bout a year and a half
Then one day I was like, "F*** it, I'ma do me"
I was in the sunken place and then I found the new me.
This is a struggle that many Americans undergo. Researchers call it the spiral of silence. The idea that the news media and social media present biased opinions as though they are fact, and when the message conflicts with a person's opinions or values, they feel isolated, alone.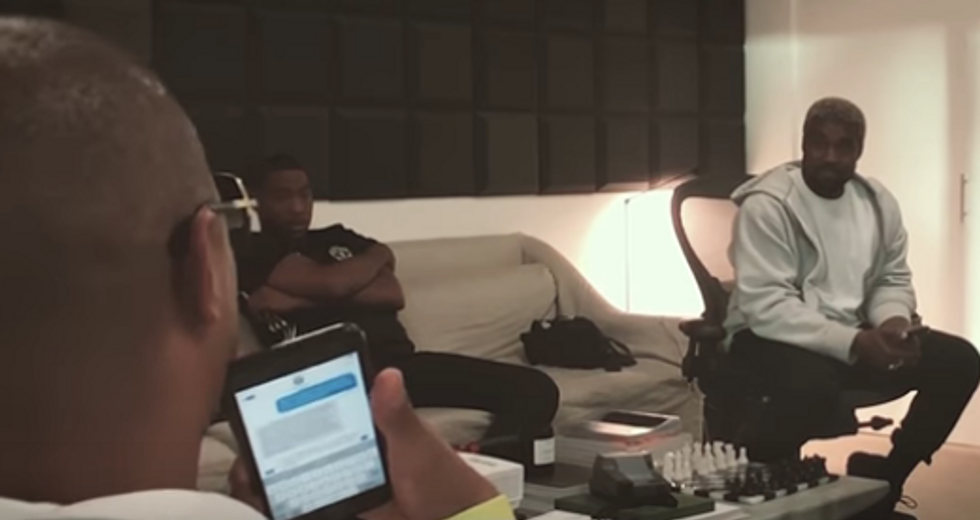 Kanye and T.I. during the making of "Ye vs. the People"(Image source: YouTube screenshot)
As Kanye raps in "Ye vs. the People"

A lot of people agree with me but they're too scared to speak up.
Because we have an incredible ability to sense public opinion. So when we suspect that we hold a belief that rails against acceptable thought, we tend to keep quiet about it. That silence makes the opinion seem even more taboo, resulting in a more widespread silence.
In reality, many of these supposedly taboo opinions are not only popular, they are normal and practical and logical. Healthy, even. And the real danger is in demonizing them. But too many people are afraid they'll be ostracized for expressing their beliefs, so they keep quiet.
Like how — despite what we've been led to believe — most Americans cannot stand political correctness.
But the small minority of people who champion it are powerful and loud. They're like that cardboard city in North Korea, just visible enough from the border to make it seem like a thriving community. They're the Wicked Witch of the West, or Iago from "Othello," or Plankton from "Spongebob Squarepants."
So far, they have been successful. Although "success" by their metric is anarchic and primal, all destruction and loudness and people nervous to speak their mind. They cancel. And the cost of rebellion can be devastating.
By the time Kanye West wrote "Ye vs. the People," he had gotten sick of this power dynamic. So he broke the spiral of silence.
*
In the words of German philosopher Hans-Georg Gadamer, "Whoever has language has the world."

That's humans, and humans alone.
But in order for us to know freedom in our world, our language has to be public, shared, active. Because each of us thrives constantly with language, a stream of it always in our mind.
Aristotle defined "thought" as the infinite dialogue between the soul and itself. Conversation is the exchange of thought between people. So when we converse, we simultaneously release our infinite dialogue and accept the other person's inner life, their soul. By speaking, we shape the world and free ourselves.
*
Another way to say it is that Donald Trump might have inspired the song that could very well signify the end of Hip-Hop, which is not only the most popular genre of our zeitgeist, it's the most popular, and successful, form of music in American history, which is the most important era of musical history.
If the Beatles were bigger than Jesus, and Drake literally outpaces the Beatles, then, well, you get the point, God forgive me. And Kanye is bigger than Drake. So who better to have the final word on the capacities of Hip-Hop than Kanye West?
Nobody.
Every genre must come to a close. There's a reason why people aren't eagerly awaiting the next great disco album, or flocking to arenas to hear the newest bluegrass superstar, or asking to get their hair done like the latest syringe-armed guitarist of Guns N Roses.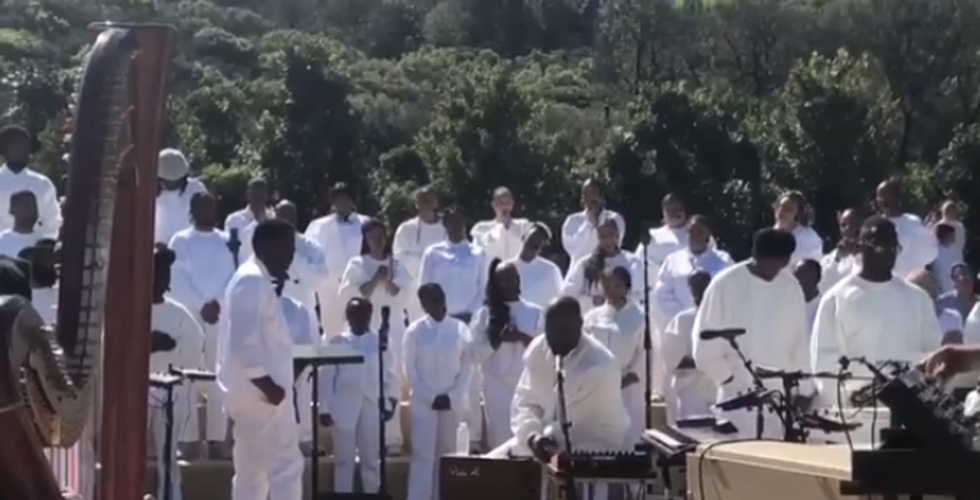 Kanye's Sunday Services(Image source: Instagram video screenshot)
The great era of Rock 'N' Roll ended roughly about the time Radiohead traded their guitars and drums for synthesizers and samplers, not long after Kurt Cobain took an insane amount of heroin and cradled a shotgun in his guesthouse, only to be discovered several days later by an electrician. Even worse, Nickelback soiled Cobain's legacy with godawful anthems, and who have their own weird and contradictory and hilarious connection to President Trump.

These days, Rock N' Roll lives mostly via nostalgia, as evinced by the explosion of cover bands. Notice how you don't see any hip-hop cover bands. You will, someday. But, for now, Hip-Hop reigns supreme. And Kanye is the King.
The brilliant Nina Simone once told a reporter that "An artist's duty, as far as I'm concerned, is to reflect the times."
Because music accords itself to the gravity and creative truth of the era. And currently we entrust hip-hop with this complicated maneuver.
But the past year, Kanye has been crafting a new sound through his Sunday services, weekly jam sessions with acoustic musicians and a choir and everyone dressed in white, praying through song, herding us into a better place, looking above for guidance. If it's anything like his track " Ultralight Beam," it will bring calm to our divided culture.
Mark my words: The resultant album will usher in an entirely new era, a magical flash in human history.
So far, hip-hop has been the defiant child of R&B and Electronica, the grandchild of Spoken Word and Steve Reich Minimalism, with tinges of Punk. Not for much longer. Kanye will see to that. And, weirdly, President Trump has helped inspire this transformation.
Meaning, Donald Trump will have had a hand in reinventing music as a whole, in spreading a movement of positive reformation. Love him or hate him, it does not matter. What other politician can make that claim?
There's an optimism to this that Dave Chappelle captured in his controversial "Saturday Night Live" monologue, just days after Trump was elected, asking Americans to at least give the man a chance. And again in his special "Equanimity," when he said that "no matter how bad it gets, you're my countrymen, and I know for a fact that I'm determined to work s**t out with y'all."
In a moment of now-tired irony, the usual suspects heaped a barrage of hate at Chappelle for these remarks. But their outrage does not matter, in the grand scheme of things. Because it is an incredible time to be alive. It's beautiful. We should never forget that, no matter how petty or outrageous daily life gets.

At the moment, we are a country that is — everywhere, secretly — hurting. But we are Americans. Together. This is America. And, every day, God delights in our greatness and our empathy and our endless gift for love. So open your heart and listen. Say what you need to say.
New installments of this series come out every Monday and Thursday morning. Check out my Twitter or email me at kryan@mercurystudios.com