There has never been anything implemented by government with as much religious zeal and cruel disregard for science and humanity as the mask mandate. As such, it will not go away on its own. We must fight back on multiple fronts. One way is to get legislatures in red states to permanently strip the governors and mayors of their ill-gotten powers to ever implement them again. Arkansas is now taking up this calling.
While Arkansas Gov. Asa Hutchinson officially allowed his mask mandate to expire on Wednesday, the state Senate passed SB 590 to ensure that the citizens are not at the mercy of their governor or health department to be able to breathe freely. The bill, sponsored by Sen. Trent Garner, declares that any future mask mandate issued by the governor or executive departments in response to the virus "is superseded by this act on the effective date of this act."
The bill passed the Senate 20-9, with just three Republicans joining the Democrats in opposition. Then, the Senate voted 27-7 to declare this bill an emergency, which, having garnered a two-thirds majority, enables the legislation to be effective immediately upon being signed into law. Republicans have supermajorities in both houses of the legislature and should be able to sustain a veto from the governor if he so chooses. He has been silent on this bill, but did successfully veto a bill last month that retroactively zeroed out agency fines levied against restaurants under his COVID orders.
The bill now heads to the House Public Health, Welfare, and Labor Committee, which is chaired by Rep. Jack Ladyman. The legislature smartly decided to extend the session this year. With our country in crisis and our rights smoldering in the ash of executive tyranny, legislatures need to remain in session as long as possible, conduct hearings getting to the bottom of the false legalities and science undergirding COVID fascism, and pass legislation accordingly.

Mask mandates are a violation of human rights, and they also have failed to alter the natural geographical curve in similar states within the same climate zone. Not only has Arkansas experienced the same epidemiological curve as its neighboring states, it actually had slightly more deaths per capita than the three bordering states that never had statewide mandates: Missouri, Tennessee, and Oklahoma. Here are several charts plotting deaths per capita in Arkansas as compared to the neighboring states, courtesy of Ian Miller of Rational Ground: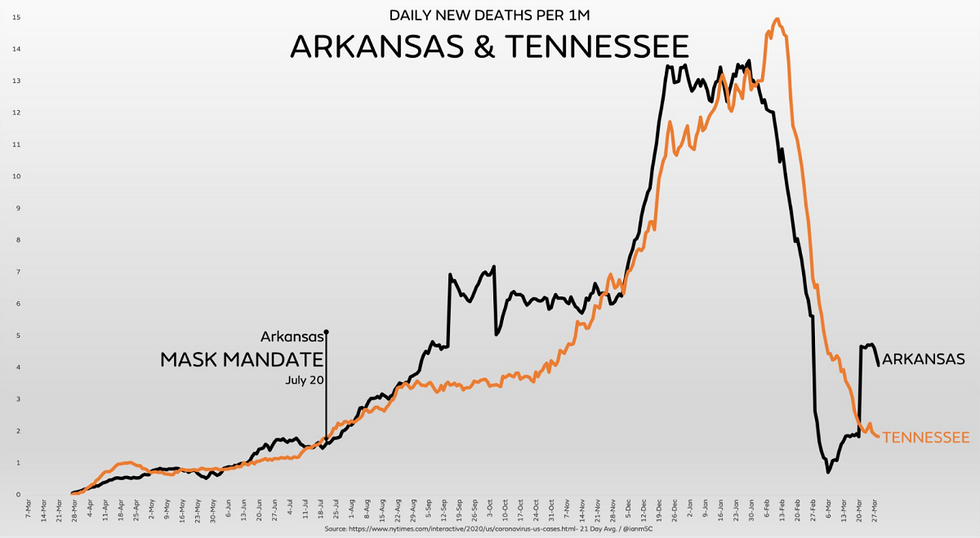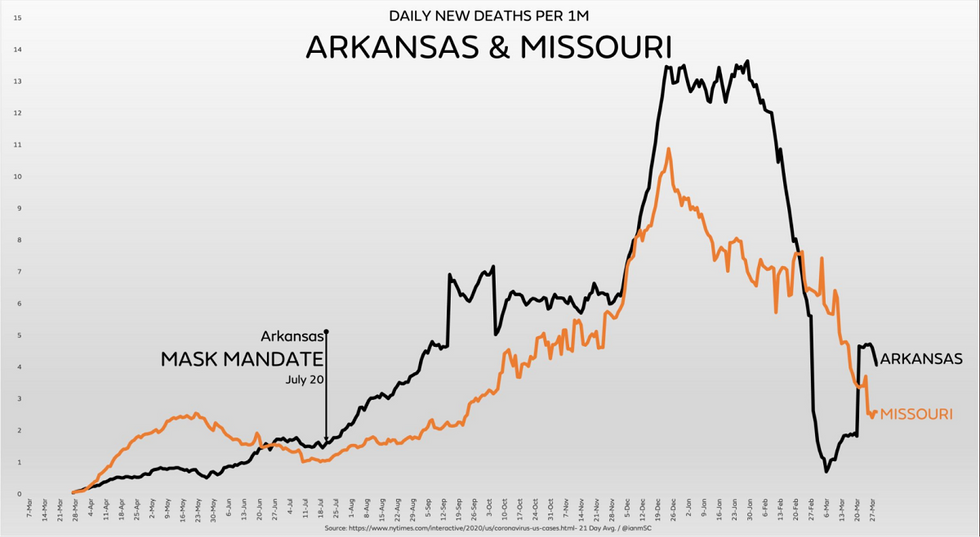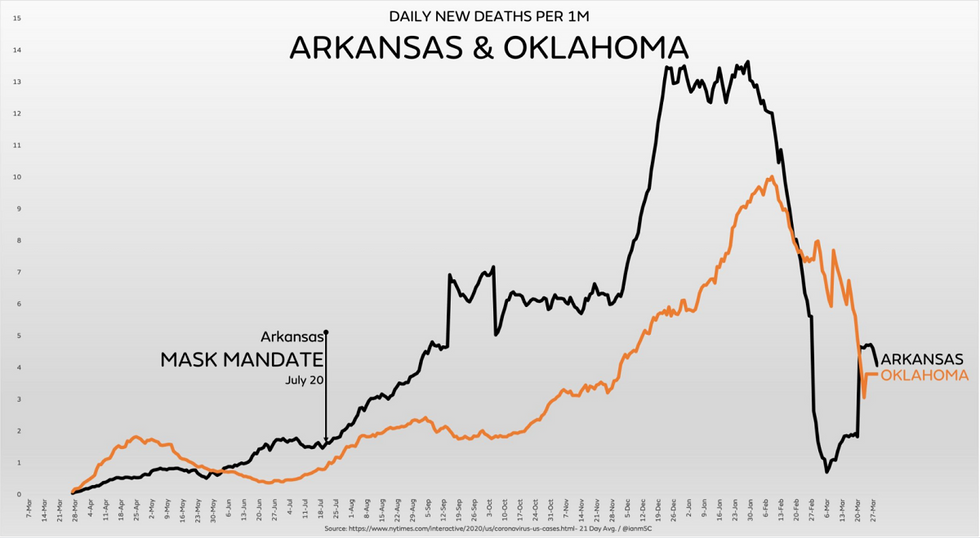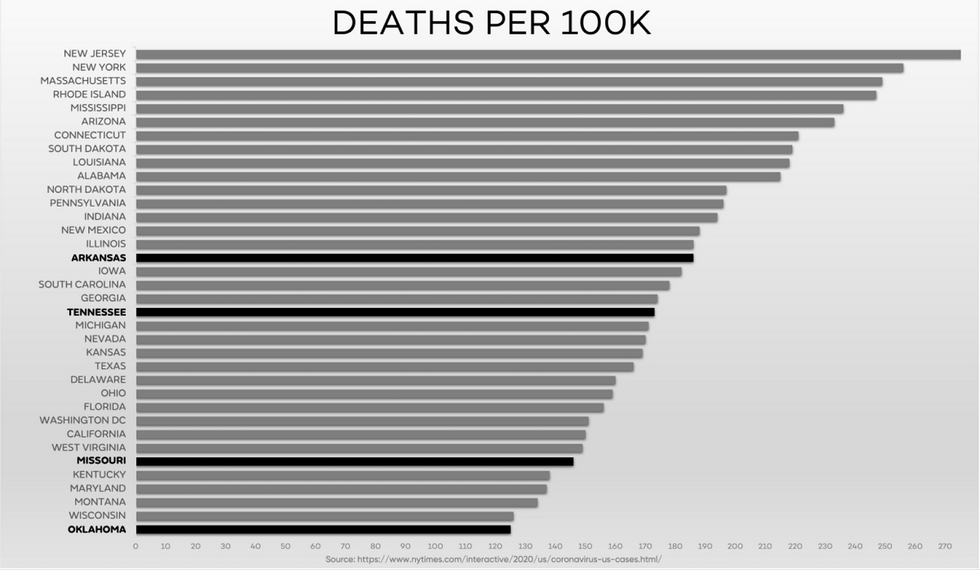 Aside from the fact that Arkansas actually did worse than its neighbors, one can easily see that the mask mandate did nothing to prevent the two waves, despite being implemented early when cases were relatively low. In fact, the only neighboring state that had more deaths per capita than Arkansas was Louisiana, which had a mandate enforced for even longer. Checkmate.

The importance of passing a bill like SB 590 in every state cannot be overstated. The medical and political establishment (sorry for the redundancy) have already made it clear they plan to mandate masks for the flu season under the false notion that the flu disappeared this year because of masks, as opposed to viral interference from COVID. This cannot be allowed to happen again. We cannot sit idly in a fetal position hoping that, for the first time in history, executives who stole power from the people will voluntarily return it.
Masks seem to have more lives than Catwoman. Unless we permanently ban their use, no amount of data and rational arguments will matter. Ironically, they were proven false 100 years ago during the Spanish Flu, when real experts back then prophetically warned about the absurdity of mask-wearing.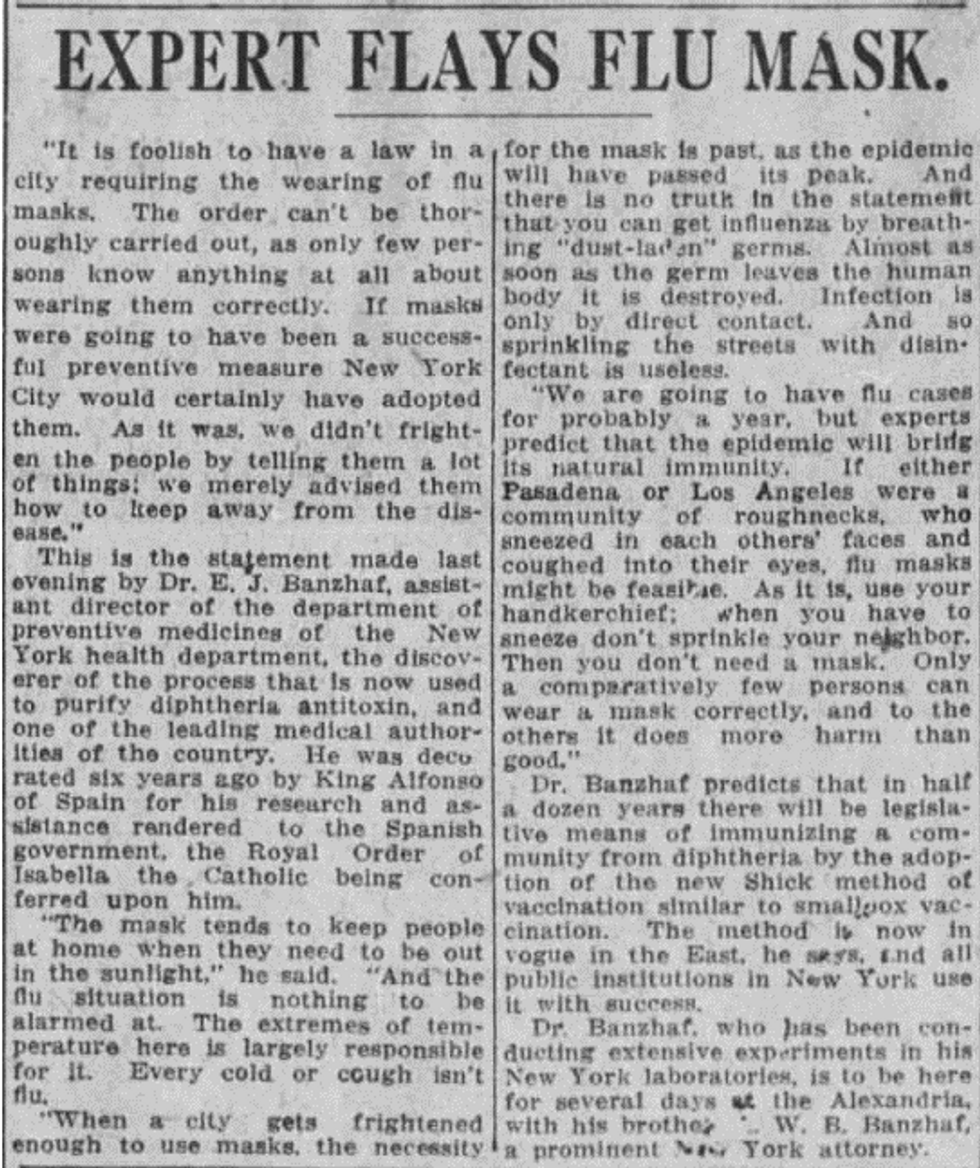 Shockingly, our primitive progressives have regressed to the point of unlearning the lessons of 100 years ago.

Nobody captured the illogical religious fervor of mask-wearing better than a Seattle resident quoted at the time in the St. Louis Globe-Democrat:

The time has come to permanently slay this godless idolatry of mask fetishism.