© 2023 Blaze Media LLC. All rights reserved.
Horowitz: Why is Kristi Noem so reluctant to pull the trigger on a special session?
First, it was a year of completely ignoring the plight of the landowners facing private-use eminent domain from a foreign-backed carbon pipeline run by some of Kristi Noem's former staffers. Then she spoke up for them in the abstract but said it was out of her hands. Now, she is agreeing to the concept of a special session and broadly sending a bill to her desk, but is still obfuscating the fact that she herself can single-handedly convene a special session and endorse a specific bill. What gives?

Earlier this week, Gov. Noem put out a video extolling the virtues of Jason Aldean's song "Try That in a Small Town." "That is our way of life here," Noem said in reference to the small-town life of South Dakota. "I think a lot of times people that go out and fight every day on these important issues and have an opinion and remember the freedom and liberty this country was founded on get persecuted for it."
Well, what about the landowners in small towns in eastern South Dakota who are losing their land to the globalist Agenda 2030 green energy companies funded by China and Biden's Green New Deal subsidies?
After much pressure was brought to bear by conservative activists, the allegedly conservative governor finally lent support to a special session to deal with the land grab … kind of. "I always honor my oath to the Constitution, and the law is the law," wrote Noem on Twitter several weeks ago. "If the legislature wants to call themselves into special session to change the law, I look forward to reviewing what they send to my desk."
Someone unfamiliar with the state's politics might deduce from this that only the legislature can call itself back in session and that were lawmakers to do so, the governor would be very supportive of ending private-use eminent domain for carbon pipelines. But what she continues to obfuscate is the fact that she herself can unilaterally call the legislature back into session. Yes, the body can do so too, but that requires an insurmountable two-thirds majority in both houses, after Senate Republicans have already opposed legislation fixing this … thanks to their perception that the governor opposes any legislation terminating eminent domain for these projects!
This problem has been festering for quite some time, it's just that the governor thought she'd be able to quietly skate by enabling Summit Carbon Solutions and Navigator CO2 to do the dirty work while not overtly endorsing their project. Noem's reluctance to call a session comes on the heels of her refusal to support the existing bill in the regular session. The governor is pretending like this issue is just beginning and that lawmakers need to send some new legislation for her to review. But she is very familiar with House Bill 1133, introduced by Rep. Karla Lems. There's nothing to review; it's a one-paragraph bill. It simply makes it clear that eminent domain can only be used for a pipeline that actually produces a public good, not merely captures carbon. Done.
The bill passed the House 40-28 on Feb. 9. Given the solid GOP majorities, though they are dominated by liberal Republicans, that would have been the time for Noem to lend her popular voice in support of the bill so that senators would vote for it. With Noem's popularity, there is no way her public support for this bill wouldn't put the bill over the top in a 31-4 GOP Senate. The Dakota Scout recently reported that senators confided that Noem's staffers were actively opposing the bill. Commenting on Noem's recent and sudden abstract support for the landowners, Senate President Pro Tem Lee Schoenbeck told the Dakota Scout, "Given her staff was lobbying against the bill (HB 1133), I found her comments unusual, but that's her business." Noem's office told the Scout that Schoenbeck's account was inaccurate.
The report is very believable, because it's hard to see how this bill wouldn't pass the Senate if Noem supported the bill that emphatically, given her stature in the state.
This is the behavior we see from GOP governors all over the country. They quietly side with the special interests over their conservative constituents, but when activists finally bring the issue to the forefront, they claim to broadly support the base, but still decline to lend legislative support in the way it matters at the time it matters.
Her behavior during the regular session certainly flies in the face of an interview Noem gave last month in Watertown, when she declared, "I'm with landowners, and I always have been." Have you ever heard of a governor being dead silent at best and quietly lobbying against the people at worst during the greatest land-rights fight in state history somehow always being with the landowners? Something doesn't compute.
It's certainly OK to change one's views, especially in the right direction. If Noem genuinely now supports the landowners, she should explicitly endorse this simple two-sentence bill that already passed the House. So that we don't have to wait until next year, she should simply convene a special session, campaign energetically with the landowners, and engage in a full-court public relations battle against the project and the ideology behind it.
It's not like there is some taboo against a governor calling a special session, especially given the fact that the state's regular session is so short. This is why five special sessions have been called since 2016, including by Noem herself. She called a special session to spend the much-vaunted COVID lockdown funding in 2020. It's hard to imagine a more fundamental issue than property rights, especially against a globalist green energy agenda no Republican governor should be supporting even as a stand-alone proposition.
Of course, it is also egregious that South Dakota's 43-4 GOP majority is run by someone like Lee Schoenbeck. He voted to kill HB 1133 at the Senate Energy and Commerce Committee, after Senate Majority Leader Casey Crabtree offered the motion. What is particularly shocking is how, despite his support for the pipeline in general, Schoenbeck didn't want the route to go through an area he felt was inappropriate. In an email to the Public Utilities Commission dated just 10 days after he voted to kill the bill protecting landowners, Schoenbeck called a proposed route through a development in Watertown "a nonstarter that you don't want to be in the middle of."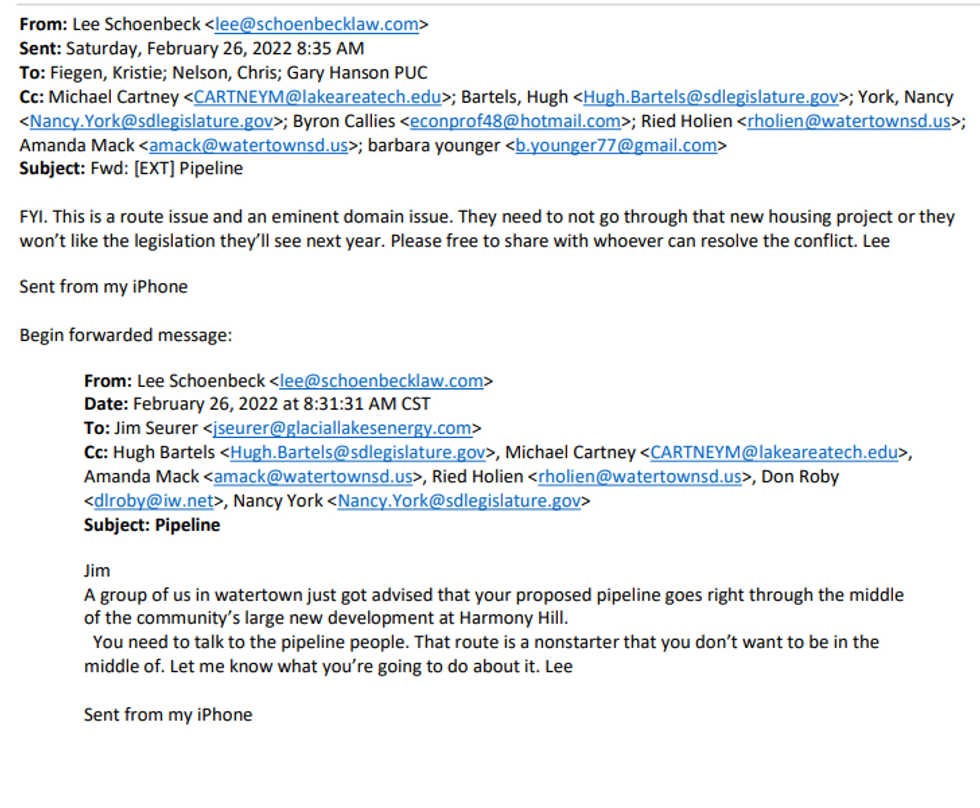 As you can see, he threatens them to reroute the pipeline, "or they won't like the legislation they'll see next year." This is classic liberal Republicansim. Liberal Republicans turn a blind eye to the ill effects of crony capitalism on the public except when it affects their interests. Somehow ranchers should eat the excrement sandwich given to them, but not this development.
Now, Schoenbeck is openly opposing a special session. "I have always said, you don't have a special session for stuff that you could do during the regular session," he told the Dakota Scout. "It's not fair to the taxpayers. The Constitution has a process: We met, we did our job, and if someone loses, they can bring the bill the next year if they want."
Suddenly he cares about taxpayer dollars! Liberal Republicans never mind spending billions on big-government green energy schemes, but when it comes to convening a session to deal with serious issues, suddenly they can't afford the cost of the legislature itself, which is a fraction of the cost of the ever-growing executive agencies. Also, don't we need a special session to deal with the parts of the pipeline he evidently doesn't like? After all, not all ordinary ranchers have the ability to threaten the special interests with emails, so they indeed need a law change.

This, in a nutshell, is why red states are not really red and why we continue to have policies in support of biomedical tyranny, green energy, transgenderism, and illegal immigration in deep red states.
Perhaps we need a new song from Jason Aldean, "Try your globalist values in small-town America, because its own politicians will sell out its people."
Want to leave a tip?
We answer to you. Help keep our content free of advertisers and big tech censorship by leaving a tip today.
Blaze Podcast Host
Daniel Horowitz is the host of "Conservative Review with Daniel Horowitz" and a senior editor for Blaze News.
RMConservative
more stories
Sign up for the Blaze newsletter
By signing up, you agree to our
Privacy Policy
and
Terms of Use
, and agree to receive content that may sometimes include advertisements. You may opt out at any time.