This may be the dumbest story you read about today, but it's gaining traction with the Left, so here we go …
A conservative state lawmaker in Kansas, Rep. John Whitmer, R, is under fire for tweeting a joke that – in context – is completely anodyne.
Kansas lawmakers voted Thursday on a bill that would exempt state mental hospitals, community mental health centers, and the University of Kansas Health System from a concealed carry law passed in 2013, establishing these places as gun-free zones.
Before voting on the bill, for reasons that are unclear, Republican lawmaker Rep. Stephanie Clayton tweeted that she was "so scared" about the upcoming vote.
Good Evening, #ksleg. On the House Floor, having just gaveled in. We are about to do the Gun bill, and I am so scared.

— ??Stephanie Clayton? (@SSCJoCoKs) June 1, 2017
Clayton, a liberal Republican, voted in favor of creating the gun-free zones. Conservative lawmakers in Kansas had ridiculed the legislation with the slogan "a sticker doesn't make you safe," a reference to the inability of a gun-free zone sticker to make a place safe from criminals with firearms.
Rep. Clayton does not care for that argument.
Hearing "A sticker doesn't make you safe, but Lisa Frank says otherwise. #ksleg pic.twitter.com/IA52wcW9zd

— ??Stephanie Clayton? (@SSCJoCoKs) June 1, 2017
So Rep. Whitmer decided to have some fun with Clayton and tweeted a joke.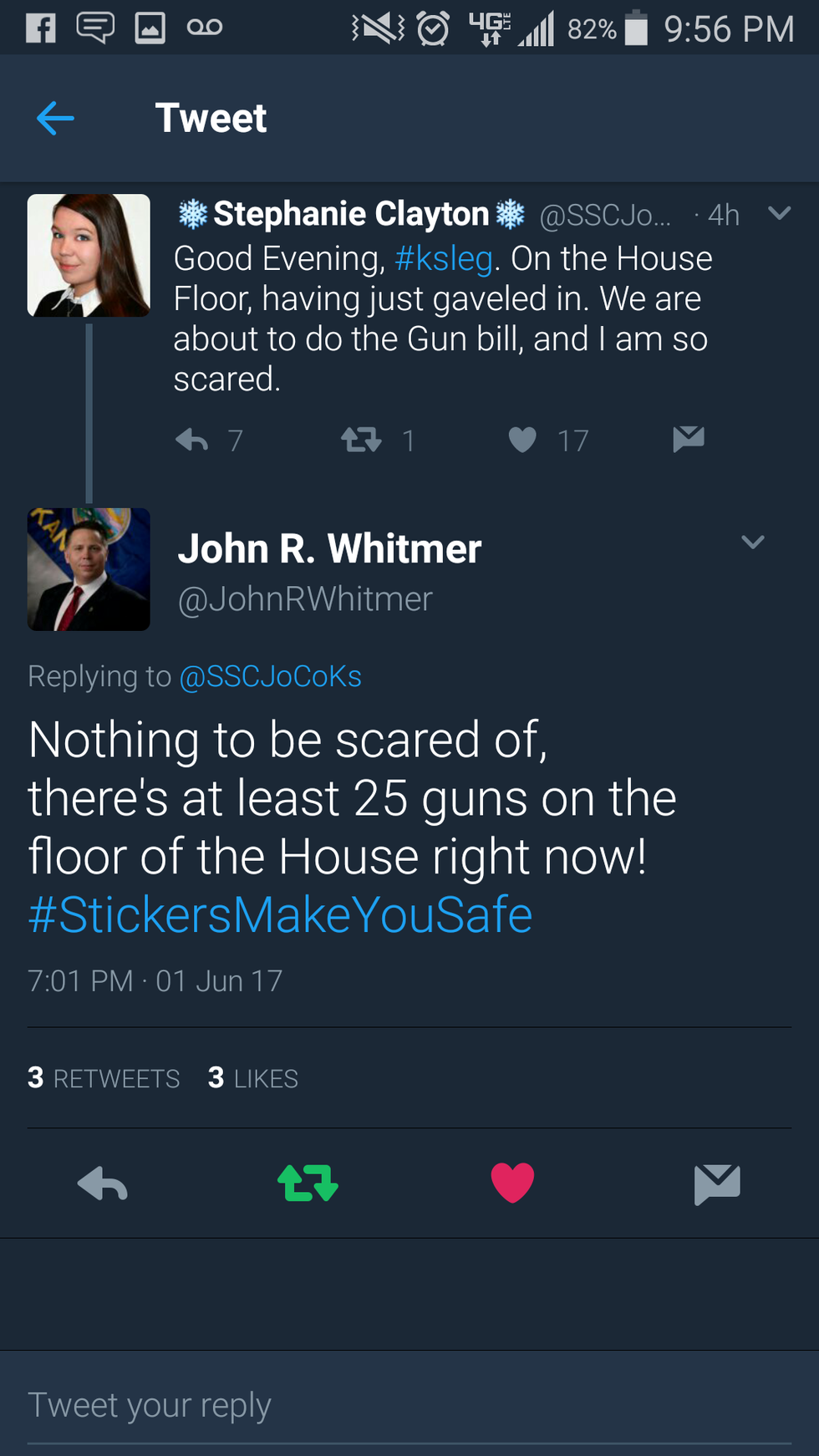 See, it's funny because real conservatives understand that Americans' constitutional right to bear arms makes us safer. So, if Clayton feels unsafe, there's no need to worry since 25 state lawmakers are packing on the floor of the House, making the area safe from harm.
And the liberal media is running with the "Republican lawmaker threatens colleague with guns before vote" story, and Whitmer was pressured into deleting his tweet.
Per The Daily Kos, emphasis mine:
The tweet, aimed at a fellow legislator was in response to an ongoing debate regarding notifications on the doors abut gun free zones. The message was also a lot more profound: a man physically larger than a female legislator reminding her he and others are carrying a gun, and she's on what they view as the wrong side of a piece of legislation. Talk about intimidation.
Raw Story picked up the Daily Kos' version of events.
A Republican state representative in Kansas raised some eyebrows on Thursday when he reminded one of his Republican colleagues that he was carrying a gun on him just before she was set to vote on a bill that would have allowed state psychiatric hospitals to bar people from carrying guns inside hospital grounds.
And now fellow lawmakers are calling for Whitmer to be sanctioned for a joke. Not a threat. A joke.
If you had received this from an everyday citizen, the Capitol police would be all over it. Your leadership needs to sanction him. #ksleg

— Laura Kelly (@SenatorKelly) June 2, 2017
The Daily Kos and Raw Story won't be the last liberal outlets to run with the "gun-toting conservative threatens fellow lawmaker before vote" lie. But now you know the context of this story and can expose this fake news.
How do we stop the mainstream media from warping the national narrative? We push back together. With the truth. Be the first to receive CRTV?s free weapon against the worst the media has to offer. Introducing WTF MSM!?
Keep reading...
Show less