The fundamental transformation continues to roll on as scheduled.  As always, Obama waited until late Friday afternoon, when reporters largely pack up for the weekend, to announce the commutation of sentences for 42 more drug traffickers in federal prison.
President Obama defended this move as a common sense gesture to low-level nonviolent drug offenders, but as we've explained over the past few years, most people in federal prison are anything but "nonviolent."  MRC has posted the names of 10 of the individuals who were convicted of firearms violations in addition to drug trafficking charges.  This at a time when Obama wants to crack down on law-abiding gun owners and dealers.
In addition to this list of 10 violent drug dealers, let's take a look at one of the other 32 names on the list of commutations from Friday:
Sherman Ray Meirovitz – Minneapolis, MN
Offense: Possession with intent to distribute cocaine; conspiracy to distribute and
possession with intent to distribute cocaine; District of Minnesota
Sentence: Life imprisonment  (January 5, 1990)
On the surface this doesn't appear to warrant a life sentence.  After all, wasn't Mr. Meirovitz just a "nonviolent" cocaine dealer?  I took a look at his sentencing history from the Eighth Circuit Court of Appeals and found the full story:
After a three-day jury trial, Meirovitz was convicted on both counts of conspiracy to distribute and possession with the intent to distribute. The United States Probation Officer calculated his offense level at thirty-eight and his criminal history category at VI due to his status of career offender. Therefore, Meirovitz' appropriate sentencing range was thirty years to life. Judge Devitt sentenced Meirovitz to the maximum sentence because of his substantial criminal record which included a history of drug-dealing and the shooting death of his mother-in-law.
 This is a microcosm of much of the federal prison population.  Many of the individuals who are currently serving time for drug trafficking were either originally in prison for more serious charges, but released in the revolving door of already-lenient safety valves, or they were arrested for robbery and even murder but the charges were pleaded down, leaving only the conviction on drug charges in place.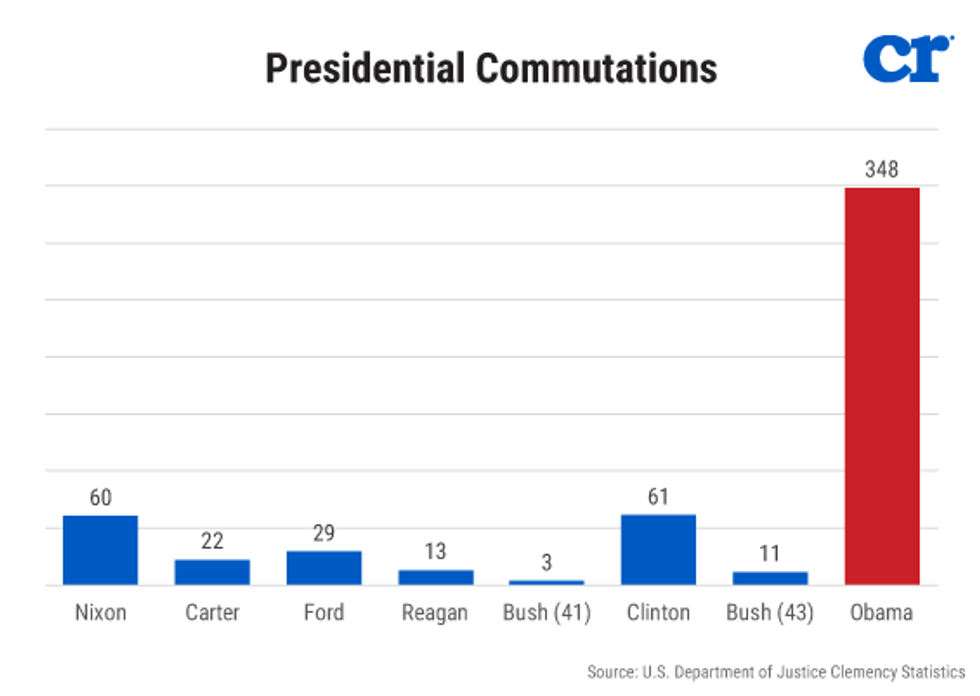 In total, Obama has commuted 348 federal sentences, more than the past six presidents combined.  He has essentially used the presidential power to pardon as a back-door jailbreak to categorically remake the criminal code.  This comes at a time when, contrary to myths propagated by "public policy" NGOs, more criminals are being released early by "the system" than ever before.  According to the most recent data from the U.S. Sentencing Commission, 62.4% of all drug traffickers sentenced in FY15 received a sentence below that which is recommended in the sentencing guidelines.  The average sentence was only five and a half years. Less than half of all drug traffickers were convicted of an offense carrying a mandatory minimum and half of those were not even sentenced to the mandatory minimum because of the safety valve or substantial assistance.
This is under current practice, before passing the jailbreak bill pushed by the pseudo intellectuals in Washington.  Taken in totality, Obama's dismantling of the law and order regime of the past few decades will release thousands of violent criminals onto our streets.  And they will be committing offenses over and beyond drug trafficking As victims' rights activists Kimberly Corban wrote in her column for Conservative Review last week, "We live in a society that is so hell bent on redeeming those who are undeserving of second chances that we choose to overlook blatant red flags."
It would be nice if we had an opposition party putting out the flames instead of fanning them and providing Obama with cover.
Want to keep up with what's going on in Washington without the liberal media slant, establishment spin, and politician-ese?
Sign up to get CRTV's Capitol Hill Brief in your inbox every evening! It's free!