The notion that any branch of government has a monopoly on constitutional interpretation is dangerous enough. The fact that the unelected judiciary has been accorded 'sole and final arbiter status' of the Constitution is downright tyrannical and threatens the underpinnings of our Republic.
As Mark Levin wrote in Men in Black, "Judges are appointed for life because they're not politicians. And because they're not politicians, they're not directly accountable to the people and are not subject to elections." Which is exactly why the judiciary was supposed to have "neither force nor will" over political and social issues. It's exactly why they were given the fewest tools to affect change, and no tools to enforce their opinions.
A recent comment from an Ohio federal district judge best exemplifies how this constitutional arrangement has been flipped on its head. Recently, Ohio enacted a new law permitting holders of a concealed-carry license to possess a firearm in their private vehicle parked in a company parking lot or on a school campus. Obviously, state politicians of all walks of life and ideology have weighed in pro or con on the merits of the law. Included among those publicly commenting on it was senior U.S. District Court Judge Walter H. Rice. In an interview with Military.com, he said that federal court houses are exempt from this law.
Federal installations are not bound by the state law except in certain situations which I don't think are relevant," Rice said. "My opinion is that it is not applicable to federal facilities unless the federal installation decides to adopt that portion of the law. What I said applies to the parking lot as well.
Now, one could debate the merits of a federal judge publicly issuing an opinion on a controversial law outside of the context of a legitimate case with standing before the courts. But Judge Rice went a step further:
I think open carry (and concealed-carry) laws, with all due deference to the Second Amendment, which I support...are dangerous to any community because of the epidemic of mental health issues throughout this country," he said. "Putting guns in the hands of mentally incompetent people is a recipe for disaster."
Putting aside the merits of his random conflation of mental illness and the right-to-carry, this statement is very disturbing coming from a federal judge. Obviously, Judge Rice has a First Amendment right like anyone else to speak his mind. He is allowed to express political opposition to right-to-carry laws, even if his opposition is refuted by the Second Amendment (which absolutely applies to carrying outside the home). But these comments reveal a broader problem with much of the federal bench. They are a bunch of political leftists like any other group of liberals in a legislature, except we erroneously accord them sole and final arbiter status of the Constitution. Yet, they don't stand for reelection like state legislators do and can codify their feelings into law with no check or balance.
This is exactly what happened this week. Judges in Hawaii and Maryland officially created an affirmative right for all 7.2 billion people in the world to immigrate and get standing in court to overturn the Constitution, the social compact, the social contract, 200 years of case law, numerous statutes, common sense, and Article II presidential power over foreign affairs. Unlike members of any other branch, their personal feelings become the law of the land under this erroneous conception of the judiciary. One district judge, which is an institution created by Congress, can now apparently stand above Congress and issue a nationwide injunction on national sovereignty.
As we've explained many times, the concept of judicial review does not support judicial supremacy, the construct of a judiciary as a council of revision. It affirms the Constitution as supreme over all branches and dictates that the other [stronger] branches must certainly adhere to the Constitution when the judiciary does not.
Rather than promoting RINOcare, President Trump must work with conservatives to immediately reform the role of the federal judiciary, beginning with the lower courts. Otherwise, we are facing a tyranny even King George could never have fathomed.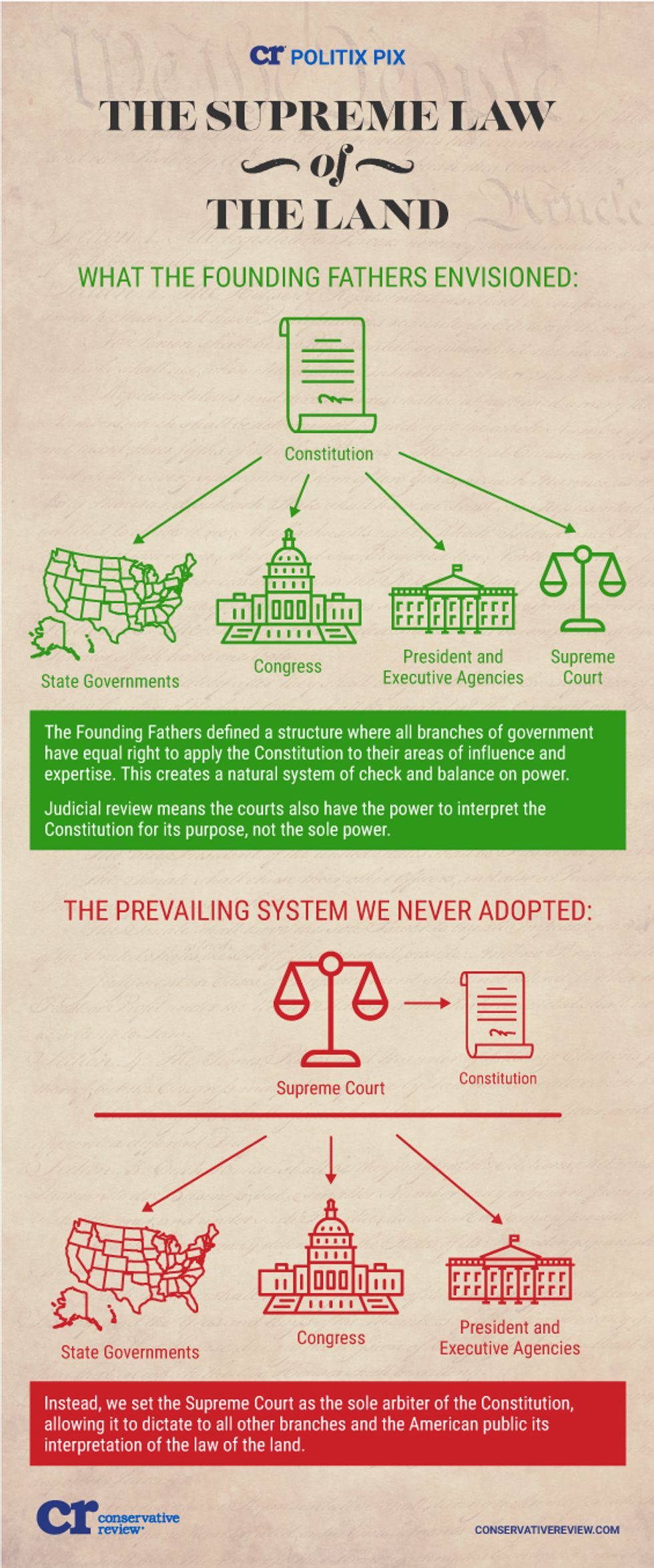 Editor's note: The title of this piece has been updated for clarity.