I was the first in America to extol the chances of a Donald Trump presidency - way back in the spring.
I saw a clear path to the presidency for a politically-incorrect, tell-it-like-it-is, billionaire businessman with a nuclear mouth. I knew in July that Trump was the one candidate the Democrats had to stop at all costs.
Now it's all becoming abundently clear Trump may be our next president. New Hampshire wasn't just a big victory; it was a coronation. Who is it that can now beat Trump for the GOP nomination? Name that person?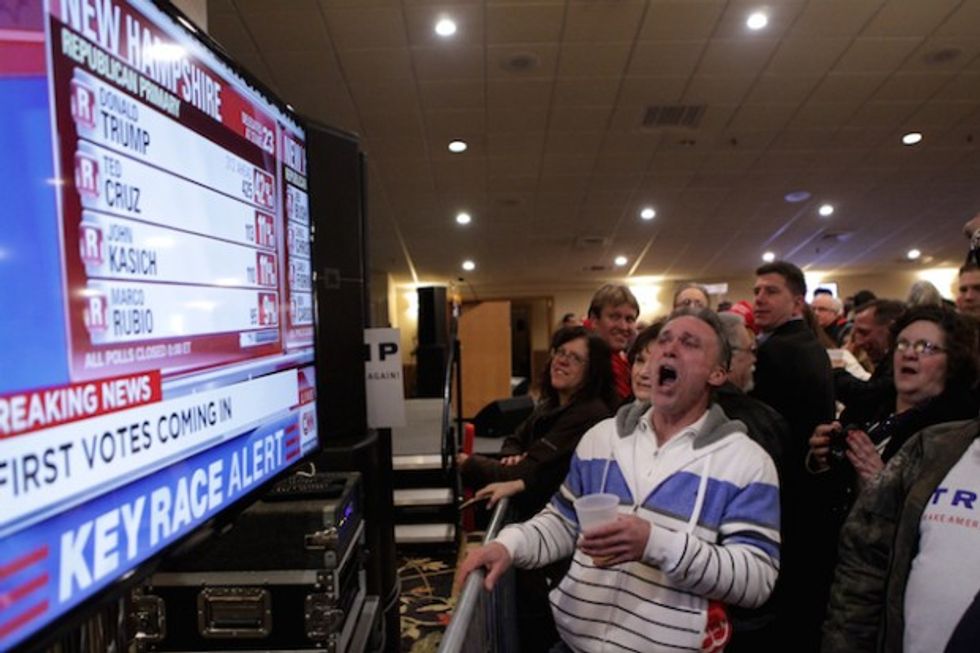 Michael Powlowsky of Hudson cheers at early poll numbers favoring republican presidential candidate Donald Trump at Trump's election night rally Tuesday. (Matthew Cavanaugh/Getty Images)
Before New Hampshire his only serious opponents were Ted Cruz and Marco Rubio. As I said publicly after Iowa, Cruz hit his high water mark. Iowa was his highlight reel. He may not win another state. It's all downhill for Cruz from here.
How about Rubio? He was exposed and wounded badly at the last debate by Chris Christie. The whole country now realizes he's a young, inexperienced robot who memorizes his lines.
John Kasich has no money; no organization; no ground game; no infrastructure. He's a one-hit wonder. Oh and he's so boring, Kasich's secret service name is "Kasich." Good luck moving forward.
Christie is done. Ben Carson is done. Carly Fiorina is done.
That leaves … low-energy Jeb Bush? Jeb "I need to ask my audiences to clap" Bush. That's the major obstacle in Trump's way?
Trump has a clear path now to the GOP convention. He will win in South Carolina. He will win in my home state of Nevada. Then he will dominate on Super Tuesday with big wins in a whole bunch of Southern states where he is seen as a champion of the middle and working class.
At that point Trump is unstoppable. The only man who can stop Trump now is Donald Trump. So here's my advice Donald:
1. Act Presidential
Stop attacking other Republicans. Remember Ronald Reagan's 11th Commandment, "Thou shall not speak ill of my fellow Republicans."
You've already killed all the competition, Donald. You won. You've destroyed them all. Stop talking while you're ahead. There is no need to attack anyone in the GOP. The nomination is yours - if GOP voters like you.
2. Act Inevitable
Unite the GOP by naming your presidential "Dream Team." Start publicly assigning roles to every GOP presidential opponent in your cabinet. Find roles for Cruz, Huckabee, Christie, Kasich, Carson, Fiorina … even Jeb Bush. There's a role for all of them to play in a Trump administration. Design a dream team of amazing GOP talent. Announce it to the world. Start using your one-of-a-kind vision to paint a picture of your presidency to the American people. Show how a CEO will run the country - by assembling a team of the greatest talents in history to run each agency and the U.S. economy. Throw in Jack Welch, Steve Wynn, Sheldon Adelson and Carl Icahn as your economic team. You can even add in one Democrat: former Virginia Sen. Jim Webb.
3. Destroy Hillary Clinton.
You only have one opponent now. Radical Marxist kook Bernie Sanders can't stop you. If Sanders is the nominee, he will go down to a George McGovern-like 49 state defeat. If Sanders is the nominee, Trump might very well become the first Republican president to win the black vote. Trump will win New York State. So don't even worry about Bernie. Pray for Bernie.
That leaves one target: Hillary. She is the only thing standing in the way of a President Donald Trump at this moment.
Trump understands "branding." He branded Jeb Bush as "low energy." Bush disappeared. He branded Ben Carson as "unhinged." Ben disappeared. He branded Ted Cruz as "hated" by every fellow senator. Ted fell off the radar in New Hampshire.
Donald's amazing talent allows him to find your one weakness and pound it home publicly in the media until it's on everyone's subconscious. First the public is shocked at the comment. Then they laugh at the comment. Then they start thinking about it. Then they realize it fits. Then they can't get it out of their minds. And then you're dead!
Now it's time for Trump to use that remarkable talent for branding Hillary. Here's what Trump has to say moving forward:
"I'm no longer commenting on Hillary. I'll be shocked if she's my opponent. She's a criminal. She'll be under indictment soon. Did you really study what she did? The illegal emails. The national secrets of our country on a server in her bathroom closet. The bribes at The Clinton Foundation. The lies of Benghazi right to the face of the parents of dead soldiers. She's a mess. She's going to be indicted. She's not headed to the White House. She's headed to the Big House. So I am preparing for Bernie, or a last minute replacement like Joe Biden as my opponent. Hillary is no longer viable- unless she's saved by a corrupt political fix."
Say that publicly, day and night. Brand Hillary as a criminal. And like Jeb, Ben and Ted … she's done. History. Yesterday's news.
There are only two possible outcomes. Either Hillary is indicted - in which case Donald looks like a genius. He can say "I told you so."
Or Hillary isn't indicted because Barack Obama and the Department of Justice refuse to do what everyone knows they should. At this point she is a mortally wounded sitting duck. Trump has branded her a criminal. He's even planted the seed that the fix was in. The stench hanging over her dead candidacy is even worse than being indicted and dropping out. She can't recover.
Either way, it's Game. Set. Match. President Donald Trump. As long as he plays by these three simple rules.
–
TheBlaze contributor channel supports an open discourse on a range of views. The opinions expressed in this channel are solely those of each individual author.