Mark Miller is Managing Attorney with Pacific Legal Foundation's Atlantic Center office in Palm Beach Gardens, Florida, and is one of the PLF attorneys representing the Hawkes Co. before the U.S. Supreme Court.
Imagine you own some land that you'd like to develop, but the feds have other ideas: They have determined that your property contains "wetlands" subject to their control under the Clean Water Act.
Over the years, such federal "jurisdictional determinations" have dashed the hopes of countless Americans who planned to put their property to productive use. Although it is theoretically possible to apply for a "wetlands development" permit, the process is so costly and drawn-out (averaging more than $270,000 and at least two years) – and the outcome is so uncertain – that all but the wealthiest owners are discouraged from even trying.
And for anyone tempted to use their land without a permit, the penalties can be ruinous – $37,500 in fines per day.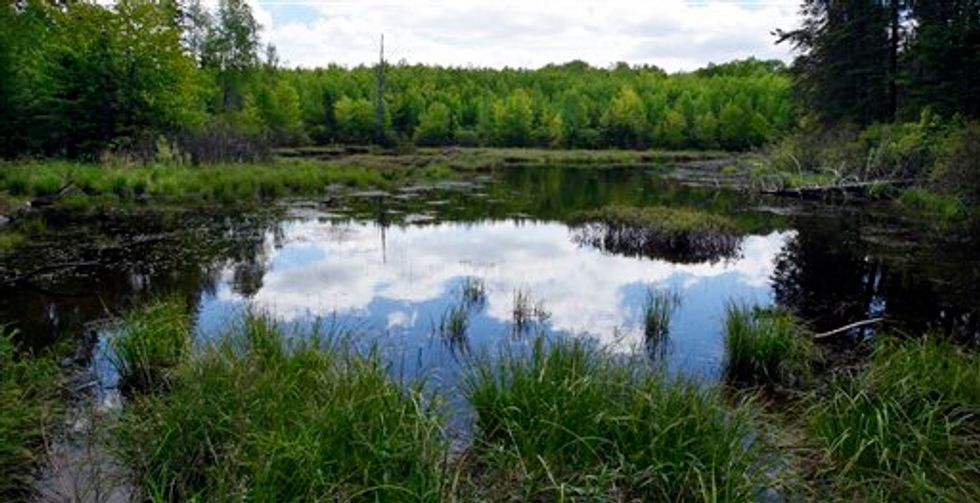 (AP Photo/Ann Heisenfelt)
Now, imagine that you've been thrown into this regulatory morass, but you think that the feds got it wrong. The law and the facts, you believe, don't support their finding that you own jurisdictional wetlands. Indeed, it is not unusual for the Environmental Protection Agency or the U.S. Army Corps of Engineers to bypass the limits on their authority, and lay claim to property as wetlands even where there's no credible connection to any river, lake or other "navigable water."
Suppose you're one of the victims of such federal overreach. What recourse do you have? May you seek a second opinion from the judiciary – or do Clean Water Act bureaucrats have the last word?
This key question of landowners' rights in the face of regulatory wrongs is before the Supreme Court right now, in the case of U.S. Army Corps of Engineers v. Hawkes.
The justices are poised to decide whether the doors of the courts will be open – or closed – to Americans whose property is effectively frozen by a federal wetlands designation.
Incredibly, right now landowners are denied access to justice in these situations. They can't appeal a wetlands designation to the courts without first paying hundreds of thousands of dollars for a wetlands development permit – and waiting years to be turned down. An appeal process that comes with such an impossible price tag is no appeal process at all.
The Hawkes Co., of Minnesota, is fighting to end this unfairness, and win the right to judicial appeal for itself – and by extension, for all property owners confronted with questionable wetlands designations.
Hawkes is in the business of supplying high-quality peat for golf courses. But it has been barred from using property in Marshall County, Minnesota, because of a federal wetlands finding by the Army Corps of Engineers.
Hawkes's owners believe this designation doesn't hold water – and for good reason. The nearest navigable water — the Red River of the North – is more than 120 river miles away, with no surface water connection between the two. The feds have been unable to establish any significant nexus between Hawkes' property and the river.
At first, it looked like good sense would prevail. Hawkes appealed the finding up the chain at the Corps – and won. But then the Corps decided to ignore its own appellate officer and declared, once again, that this property, so distant from a navigable waterway, is subject to federal oversight.
Hawkes still refused to raise the white flag. Although Clean Water Act officials insist that judicial appeal is not permitted, Hawkes brought a lawsuit anyway.
The trial court agreed with the feds that jurisdictional determinations are not directly appealable, and tossed the case out.
But the Eighth U.S. Circuit Court of Appeals, in a historic ruling last year, reversed and sided with Hawkes -- which was represented, free of charge, by Pacific Legal Foundation, a national property rights legal organization.
The Eighth Circuit identified the government's position as what it was — a nasty litigation technique to keep people out of court by confronting them with scary choices: either spend years and a fortune seeking an unnecessary permit before being allowed to appeal; or abandon the property altogether; or risk huge fines and criminal penalties by developing it without a wetlands permit.
The Eighth Circuit thought there was a better way: allow Hawkes and the Corps a chance to prove, in court, which one was right about the so-called "jurisdictional wetlands."
The Obama administration and its officials at the Corps couldn't allow this ruling, so protective of property owners' freedoms, to stand. So they appealed to the Supreme Court, which took the case.
Oral argument is March 30.
In their briefing, Hawkes's attorneys with Pacific Legal Foundation argue that Americans should be able to turn to the courts whenever federal action has the conclusive effect of preventing the use of their property.
Fundamental freedoms are at stake for landowners large and small, nationwide. The right to own and responsibly benefit from property is a cornerstone of all our liberties. But that right lacks substance if owners can't go to court to defend it, and bureaucrats are allowed to answer only to themselves.
–
TheBlaze contributor channel supports an open discourse on a range of views. The opinions expressed in this channel are solely those of each individual author.