While proponents of government-run healthcare continue to extol the virtues of Obamacare and celebrate its so-called success, some lawmakers are contending that it's only an illusion.
U.S. Reps. Kevin Brady and Peter Roskam, Chairmen of the House Ways and Means Committee and the Ways and Means Oversight Subcommittee respectively, recently revealed the results of a joint investigation into payments made by the Obama administration under a cost sharing reduction program established by the president's healthcare law.
A program with a name like "cost sharing reduction" sounds fairly innocuous. To hear the Obama administration explain it, the program simply helps low-income Americans pay for their out-of-pocket healthcare costs. But this explanation is a political sleight of hand. In truth, the main function of these payments is to subsidize insurance companies in order to induce them to hold on and continue offering high-risk, low-payment health insurance plans on the ailing Obamacare exchanges.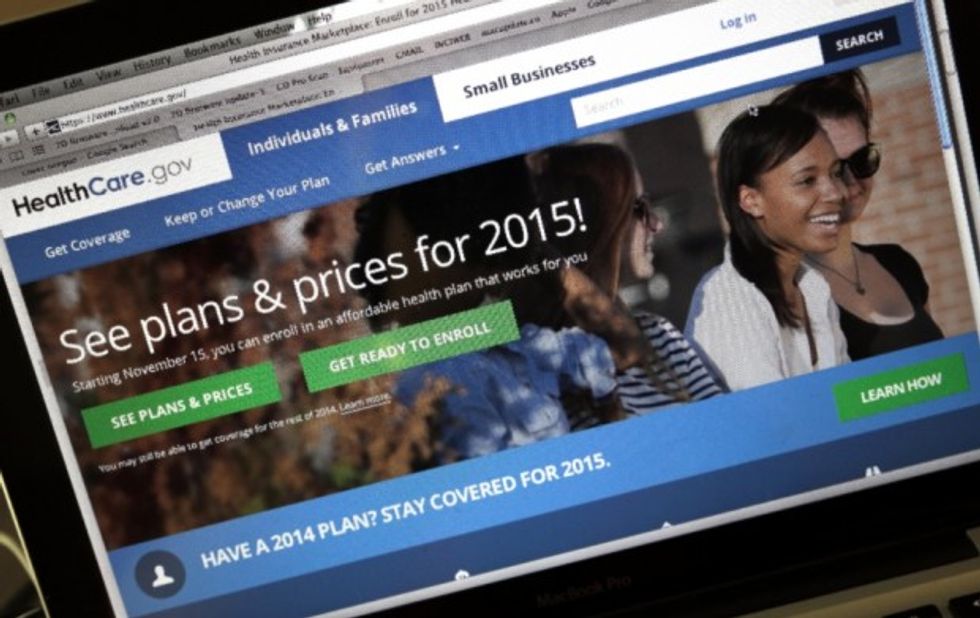 Image source: AP/Don Ryan
The payments also appear to be illegal. According to the aforementioned investigative report, appropriations for government programs must be provided for by Congress, and, in order to be a valid appropriation, the legislation involved must "designate that a payment is to be made" and "indicate a source of funds to be used." These highly defined requirements weren't met for the cost sharing reduction program. So, while there was a structure created for the cost sharing reduction program, there was no money provided with which to fund it.
To overcome this problem, the administration pulled a proverbial rabbit out of its hat – to the tune of over $7 billion.
The Obama administration took a gamble when it spent money it hadn't actually been given. Yet the action probably seemed like an acceptable risk to an administration anxious to preserve the appearance of success while insurer losses, insurance premiums, and patient out-of-pocket costs are growing at a breakneck pace.
There is no mistaking that the funds have been essential to maintaining the appearance of success for the president's signature healthcare law. Even Obama's own Department of Health and Human Services openly admits that Obamacare subsidies are masking large hikes in health insurance premiums. In a report issued by the agency earlier this year, it was revealed that the average premium increase for subsidy-eligible individuals buying insurance on the exchanges last year would have been 8 percent without tax credit subsidies – twice as high as the 4 percent increase enrollees saw with the subsidy. While their analysis in that instance focused on the use of taxpayer-funded assistance to control the impact of increasing premiums, the cost sharing reduction works in much the same way to control the impact of increasing out-of-pocket expenses.
Out-of-pocket expenses have been growing rapidly since Obamacare's implementation. After Americans discovered that if they liked their plan, they actually could not keep it, they were introduced to the new status quo insurance plan under Obamacare – and its features include higher deductibles and higher copays. In fact, a recent healthcare report issued by Transunion demonstrates that both the average deductible as well as the average out-of-pocket costs paid by patients have increased 13 percent between 2014 and 2015 alone.
The cost sharing reduction was also necessary to try and coax insurers into staying on the exchanges, despite an insurance pool that was older and costlier than anyone originally anticipated. Even with the help of cost sharing reduction payments, along with several other insurer subsidies provided through Obamacare, losses in the individual insurance market have been severe, and multiple major insurance companies have either withdrawn in large part from the exchanges, or are considering doing so in the future. The average per-enrollee claim amount in 2014 for exchange-eligible individual plans – known as Qualified Health Plans – was $4,973, almost twice as much the average per-enrollee claim for individual non-QHPs ($2,581.)
Despite these realities, the Obama administration remained committed to a narrative of healthcare reform success. But the ends do not justify the means in blatantly ignoring the law. The executive branch must obey and faithfully execute the law as passed by Congress, even if it's inconvenient to their political agenda. Nevertheless, true to form for an administration that has continually played fast and loose with the letter of the law, federal bureaucrats illegally facilitated a disappearing act for more than $7 billion in taxpayer funds in order to make things seem better than they really were. Just like magic.
Melissa Fausz is a Senior Policy Analyst at Americans for Prosperity.
–
TheBlaze contributor channel supports an open discourse on a range of views. The opinions expressed in this channel are solely those of each individual author.