This time every year, we haul roughly 20 DVDs from their basement home up to the living room. From "National Lampoon's Christmas Vacation" to "The Grinch Who Stole Christmas"— if it's a classic, we probably own it.
One of my all-time favorites is "Miracle on 34th Street"—the old one. The 90s version is fine, but the Maureen O'Hara/Natalie Wood classic from the 40s is where it's at.
Remember the scene where a mother brings her young adopted daughter—a Dutch orphan who speaks no English—to see Santa? She explains to him that while she knows he can't speak to the girl in Dutch, just seeing him would bring her joy.
Without missing a beat, Kris Kringle starts speaking … in fluent Dutch.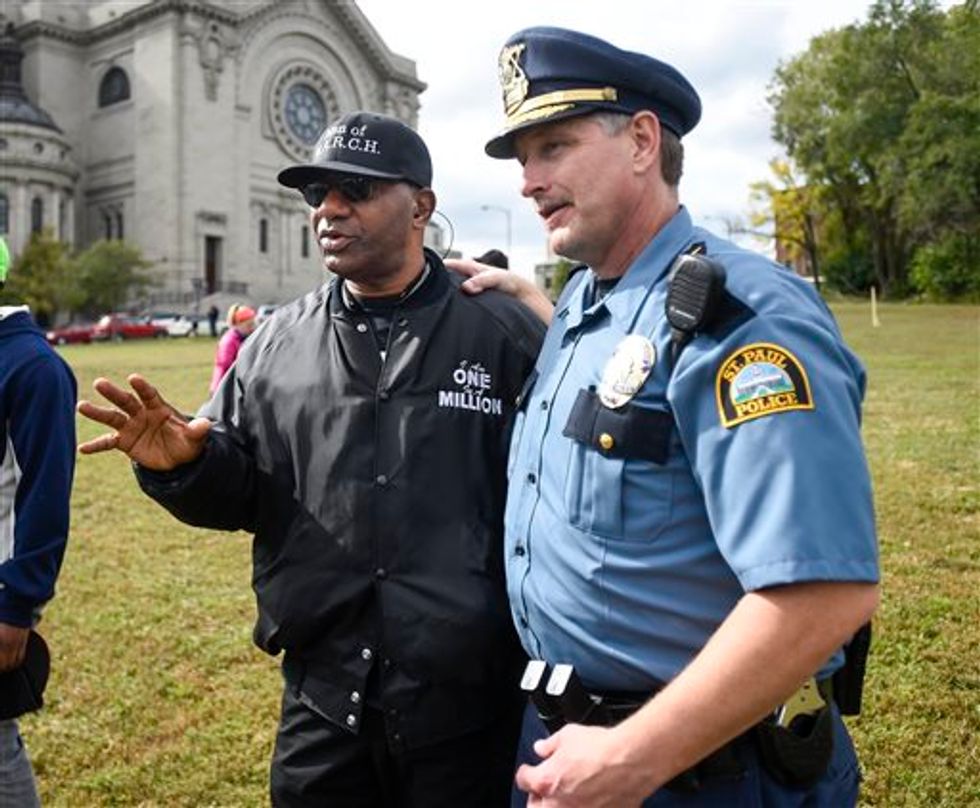 Tyrone Tereill, left, of St. Paul and St. Paul Police officer Matt Toupal negotiate the protesters next move as supporters of "Black Lives Matter" march near the rout of the Medtronic Twin Cities Marathon, in St. Paul, Sunday, Oct. 4 2015. (AP/Craig Lassig) 
And instantly, the girl's face lights up, and she opens up.
Language and culture are amazing things. They can be great barriers, or instant connections; I know from personal experience.
So—at the risk of trivializing a really important initiative with a reference to a family Christmas classic, does the same concept work in policing?
I'll explain.
Recently my husband stood waiting in line at the local Mexican consulate to process some paperwork—and obviously, everyone around him was speaking Spanish. One voice stood out, and it was coming from a police officer in uniform.
The officer was milling around with the crowd, engaging in conversation, answering questions, and most importantly, dispelling a lot of myths about policing.
In Spanish.
The biggest message?? There's no need to be afraid of us.
And they were listening.
Sure, everyone would've understood if he had used English. Instead, he employed a simple tactic that ultimately broke down at least one of the barriers between his profession and the community.
It's an interesting concept—especially in a post-Ferguson era where policing has become more stigmatized than ever.
There's no doubt that policing has always been difficult. But today, it's quickly becoming something people see as repulsive. And while incidences like officer involved shootings of Laquan McDonald in Chicago and Walter Scott in South Carolina hardly represent a common theme, it's increasingly becoming the perception. From Quentin Tarantino's labeling of cops as "murderers," to Black Lives Matter activists calling for cops to be "fried like bacon," it's getting toxic.
So how do our police officers successfully break through the mistrust and misunderstanding and keep to their commitment to walk the thin blue line for the rest of us?
Meet Minnesota Latino Peace Officers Association members John Lozoya (immediate past president) and Francisco Ortiz (current vice president); and Minnesota Asian Peace Officers Association Jim Yang (president)—three of countless police officers connecting with their communities in unique ways every day.
And let's be really clear about this: they've been doing it for years—but their message and motive is needed today now more than ever.
Building Relationships
"Each person's first experience with a police officer stays with them forever, and it's our job to make sure that that first experience as positive as it can possibly be." –Officer Jim Yang
Whether it's taking a group of urban kids ice fishing out in the country, holding mock interviews, organizing community basketball tournaments ("City Knights"), or even tapping into childhood dreams of flying a plane by introducing community youth to aviation, these associations work tirelessly to connect with the next generation.
"Our main goal is to prevent them from getting into something negative," said Officer Ortiz. "Having a police officer guide them into something good, develop leadership skills, and connect them with additional mentors to pursue their goals is extremely impactful."
And in some cases, these kids end up showing an interest in law enforcement itself—chiefly because they've been connected with someone who gets them, and has taken the time to deconstruct the profession and show them the many ways they can personally have an impact.
Bridging the Knowledge Gap
"There are a lot of newly arrived Latino immigrants in town who are just settling in, and learning about life here. And the thing is, they come up here with a preconceived idea of what policing means, based on what police are like down there [in Latin America]." —Officer Francisco Ortiz
From helping people understand how to properly report a crime, to understanding the basics of policing; from learning self-defense to seeing an officer as a human being—knowledge is everything.
"We do mock traffic stops with the community a lot," said Officer Yang. "It lets them see how police function, and the mindset they have to be in."
Yang told of times where he would play the civilian in these mock stops, and allow the civilian to play the officer. In the exchange, Yang would purposely fail to present his license, refuse to follow orders and was generally uncooperative.
Finally he asked the civilian—"Ok, now what would you do in this circumstance? Are you going to let me just go? How do you know who I am, to write or not write me a ticket?"
For the civilian, it was a proverbial "ah-ha" moment.
Suddenly he was in the officer's shoes—and the view was immensely different. And ultimately, it opens up an understanding of the roles police officers plays in public safety.
Then there's the Minnesota Latino Peace Officers Association's work at the local Mexican consulate—which, according to Commander Lozoya, has been extremely interested in engaging police officers in community outreach.
"When the consulate came to the neighborhood we were part of the welcoming committee," he said. "We wanted to immediately send the message that our community can be engaged with us; that they can pick up the phone and reach out directly to me."
It's not just about showing up at the consulate and speaking Spanish here and there. They work hard to make the outreach truly meaningful.
"I gauge the crowd each time I'm there to see what's going to make the most impact," said Officer Ortiz. "For example, if I see there's a lot of children that day, I talk about car seat safety; I talk to kids about knowing their parents' fully name, phone and address; I talk to them about how they can call 911 from any phone—functioning or not; I talk to them about finding a police officer if they are lost. I make sure the kids know that we all want to help them if they need it, and I equip them with the knowledge they need so that I can."
Perhaps surprising to many, Ortiz and his fellow officers make sure people know what to do if an officer ever does cross the line. "I get questions about interactions people have had with other officers," said Ortiz, "And while can't comment on those particular incidences because I wasn't there, I show them what their options are if they feel something wasn't right."
The response is usually one of surprise—and ultimately another barrier broken down.
Equipping Officers
"If one cop fails, we all fail." –Officer Jim Yang
The struggles of each person are different. The needs are different. It's imperative to understand the nuances of the community these officers serve—and even more important to have the resources to back them up.
"We're all working to build opportunities for officers—leadership opportunities," said Officer Yang of his association's efforts to raise scholarship funds so officers can attend the Minnesota Chiefs of Police Association leadership course, even if their department lacks the funds to pay their way.
"It all comes back down to growth; we should always look to develop ourselves to become better, so we can reflect it back to the communities we serve," said Officer Yang, "If one cop fails, we all fail."
It's My Community, Too
More often than not, police officers go home to the very same streets they patrol every day. It only makes sense that they're genuinely interested in the well-being of that community.
At the end of the day, officers can't control the types of situations that are going to break out--and many harbor a quiet worry that they're just one decision away (even if fully justified) from being the next Darren Wilson.
"I can't predict the future nor do I have control over what will happen," said Officer Ortiz. "But the one thing I can tell our community for certain is that we are here to serve and protect because you are part of this community."
-----------
No, theirs is not a new effort. But it's today—in the midst of such turmoil—that this message of dedication and service is needed now more than ever.
I'll leave you with a final thought:
If we're honest with ourselves, most of us go to work just to get the job done. We clock in, we clock out—we complete our tasks.
How many of us go above and beyond that job to enrich the lives of those around us? How many of us go out of our way to make sure the kid down the street is on the right track? How many of us take time out of our day to feed hungry mouths and play with a group of kids? (And this, mind you, is on top of carrying out one of the most dangerous, ill-recognized and often poorly-paid jobs in the world.)
Pretty amazing, if you ask me.
Mary Ramirez is a full-time writer, creator of www.afuturefree.com(a political commentary blog), and contributor to The Chris Salcedo Show (TheBlaze Radio Network, Saturday, from noon to 3 p.m. ET). She can be reached at: afuturefree@aol.com; or on Twitter: @AFutureFree
–
TheBlaze contributor channel supports an open discourse on a range of views. The opinions expressed in this channel are solely those of each individual author.