Where were you on Jan. 28, 1986? You may not remember the date, however, when you mention the Challenger disaster and the teacher on board, suddenly all of the memories of that day come flooding back.
I was at home getting ready to drive to my law school class later in the morning. I was thrilled that my class on this particular day was scheduled for late morning because I didn't want to miss the historic event that was being televised.
An "ordinary," yet extraordinary young New Hampshire social studies teacher, mother and wife, Sharon Christa Corrigan McAuliffe, better known to Americans as Christa McAuliffe, had won a competition to be among the seven-member crew of the Challenger and would be making her historic flight in mere moments.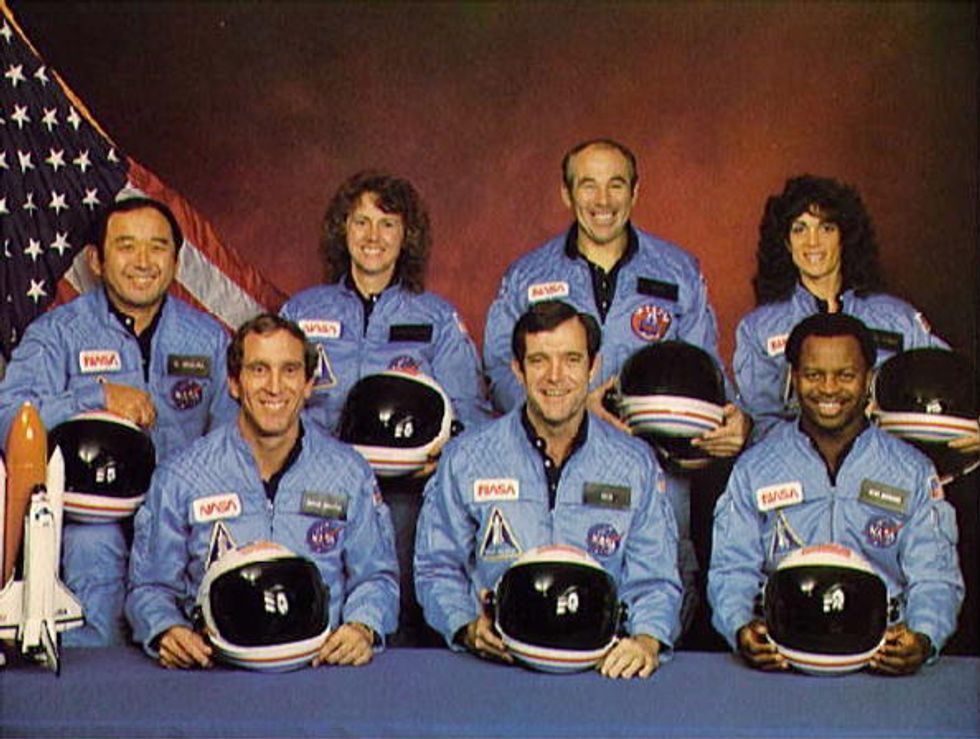 Space Shuttle Challenger crew members gather for an official portrait November 11, 1985 in an unspecified location. (Back, L-R) Mission Specialist Ellison S. Onizuka, Teacher-in-Space participant Sharon Christa McAuliffe, Payload Specialist Greg Jarvis and mission specialist Judy Resnick. (Front, L-R) Pilot Mike Smith, commander Dick Scobee and mission specialist Ron McNair. The Challenger and its seven member crew were lost seventy three seconds after launch when a booster rocket failed. (Photo by NASA/Getty Images)
What made this event so special is that McAuliffe was to be the first U.S. civilian to travel into space. Not only that but it was to be the first time that a teacher would ever teach a class from space.
In 1984, former President Ronald Reagan announced the Teacher in Space Project, and a search that would ensue for the right person. They were looking for an "ordinary" person who was an educator and willing to travel into space and share the experience with students while in orbit. McAuliffe had been one among more than 11,000 applicants.
"I cannot join the space program and restart my life as an astronaut, but this opportunity to connect my abilities as an educator with my interests in history and space is a unique opportunity to fulfill my early fantasies," McAuliffe wrote on her application for the program.
It was obviously a dream had come true for her and her family while Americans, including myself were lucky enough to share in her and the country's milestone.
McAuliffe was set to give two lessons from space. The first lesson was called "The Ultimate Field Trip" and would detail what it was like on a daily basis aboard the shuttle.
The second lesson was called "Where We've Been, Where We're Going, Why," which was aimed at telling students about the goals of space travel. No doubt, McAuliffe's role in part, may have been to encourage young students to consider a future in NASA's space program.
However, McAuliffe had another purpose in mind when she accepted the challenge. She wanted to promote the teaching profession and encourage others to enter into teaching as a career.
"I'm hoping that this is going to elevate the teaching profession in the eyes of the public and of those potential teachers out there, and hopefully, maybe one of the secondary objectives of this is students are going to be looking at me and perhaps thinking of going into teaching as professions," McAuliffe said.
Tragically, McAuliffe's dream of teaching in space would never be realized.
McAuliffe had trained for months to fulfill this once in a lifetime opportunity. I remember being so excited for her and the unique chance that she had been given. It seemed that everyone I knew was talking about the teacher who was going into space.
The shuttle had been scheduled to launch on January 23, 1986 but due to weather conditions and technical difficulties, the launch was delayed until January 28, 1986.
It was a cold morning on the day of the launch. I remember seeing close ups of the shuttle with ice hanging off of it. I watched as the smiling crew walked briskly out in the cold air in order to be taken to the Challenger for boarding.
The crew, looking thrilled to be on their way, were assisted onto the shuttle by technicians. Moments before McAuliffe was helped inside, a technician handed her a red apple, indicating that this was an "apple for the teacher." I thought it was such a great gesture.
McAuliffe's parents were watching from bleachers that day while Americans were glued to their televisions. Her mother and father huddled close together in the stands to stay warm.
As the Challenger began to rise, I remember the crowd on the bleachers began to cheer. The momentous occasion had finally arrived and it was unfolding right before our eyes.
But some seventy-three seconds later, the shuttle would explode in mid-air and the crowd, not realizing at first if what they had witnessed was part of a planned separation of the shuttle from the launch pad, stared silently in disbelief when it soon became obvious that something had gone terribly wrong.
McAuliffe and the six other crewmembers all perished in the explosion. It was later concluded that O-ring on the shuttle had malfunctioned because of the cold weather. The tragedy was a devastating loss in so many ways.
Children lost their mother. A husband lost his wife and McAuliffe's parents lost their daughter. The country bereaved their favorite teacher.
While McAuliffe may not have been able to fulfill her dream of traveling into space, she did complete her mission of inspiring others to become teachers.
Tammy Hickey, a student of McAuliffe's remembers liking McAuliffe's law class but didn't care for social studies. She recalls her teacher as being "personable" and the "enthusiasm and experiences" McAuliffe shared when she was in the running to become the first teacher in space.
Hickey and a number of other students who watched the launch of the Challenger that day from the school where McAuliffe taught, have become teachers and guidance counselors due to McAuliffe's influence.
Holly Merrow, had McAuliffe for American Women in History, a class that McAuliffe created and which is still being taught at Concord High in Camden, Maine where McAuliffe taught.
Merrow worries people will forget McAuliffe and her motto: "I touch the future. I teach."
"We are happy to know that Christa's goals have been largely accomplished in that she has inspired generations of classroom teachers and students, and has focused public attention on the critical importance of teachers to our nation's well-being, "McAuliffe's widower, federal judge Steven McAuliffe said.
Christa McAuliffe, the "ordinary" person and extraordinary teacher who was chosen out of so many continues to singlehandedly inspire 30 years later.
–
TheBlaze contributor channel supports an open discourse on a range of views. The opinions expressed in this channel are solely those of each individual author.