The evidence that we are losing our religious freedom in America continues to mount. Two recent troubling reports sound the alarm for us again.
First, in an August 7 advisory opinion, the Ohio Board of Professional Conduct served notice to any judge with authority to perform marriages who has deeply held religious beliefs that prohibit him or her from participating in a same-sex "marriage" ceremony that they must either violate their conscience or polish their resumé and find a new line of work.
Here is what they wrote:
A judge who exercises the authority to perform civil marriages may not refuse to perform same-sex marriages while continuing to perform opposite-sex marriages. A judge may not decline to perform all marriages in order to avoid marrying same-sex couples based on his or her personal, moral, or religious beliefs.
Apparently, "Christians need not apply," must be the first line of the job description for Ohio judges from now on.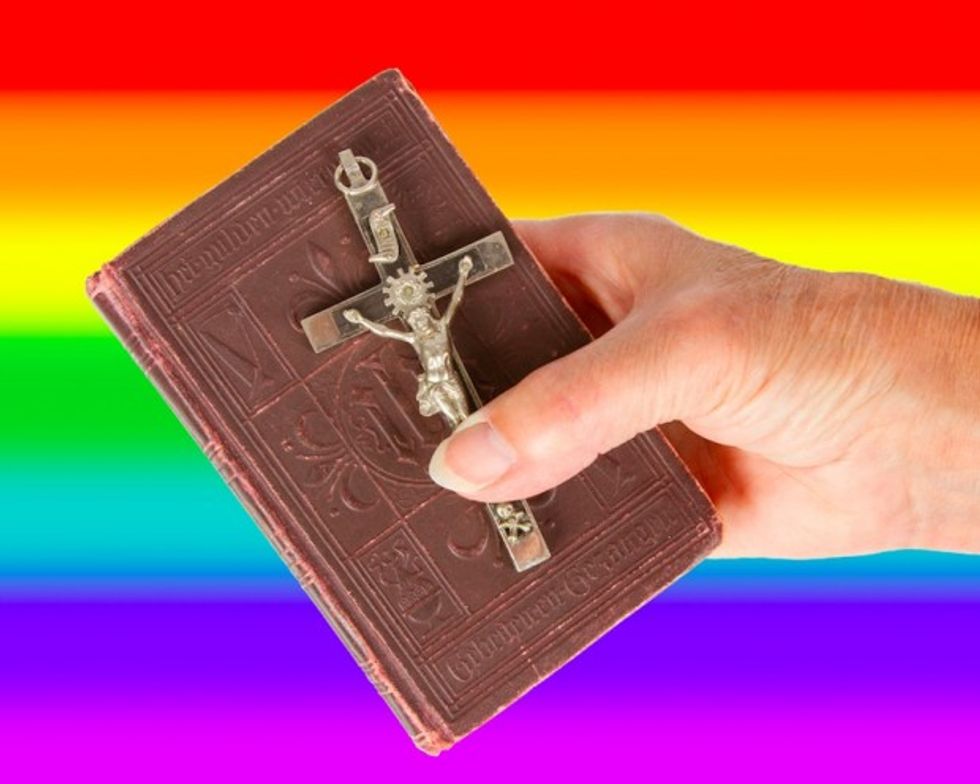 Photo credit: Shutterstock
Second, as Todd Starnes of Fox News reported this week, the Kentucky Department of Juvenile Justice revoked Chaplain David Wells' volunteer credentials as an ordained minister because he could not sign a document promising he would "not imply or tell LGBTQI juveniles that they are abnormal, deviant, sinful, or that they can or should change their sexual orientation or gender identity."
To reiterate, according to the government of Kentucky, a Christian minister cannot read the passages in the Bible that say homosexual conduct is a sin for they would be in violation of the state's "sexual orientation" and gender identity policy.
So, Christians need not apply to help young men in prison, either. All in order to appease a few radical homosexual activists and in clear violation of the Frist Amendment to the United States Constitution. How twisted is that?
We can add judge and prison chaplain to the growing list of professional areas that Christians with a traditional view of marriage are being forced to abandon in the new and improved U.S.: photographers, wedding caterers, bakers, t-shirt makers, adoption agencies or health care providers, fire chiefs, etc. The list grows daily.
These attacks on Christians must not be minimized; they are an attack on God Himself.
Slowly but surely, America is turning against (not just away from) the same God it relied on to establish the freest, most prosperous nation in history.
In some ways, it is what humanity has always done since the fall. Romans 5:10 reminds us "we were enemies" of God, before being reconciled to Him through the sacrifice of Jesus Christ on the cross. But there is no question that the U.S. was incredibly successful at its founding in spreading a vision — a worldview — that made reliance on God paramount.
Here is the introduction to the "Religion and the Founding of the American Republic" exhibition at the U.S. Library of Congress:
Many of the British North American colonies that eventually formed the United States of America were settled in the seventeenth century by men and women, who, in the face of European persecution, refused to compromise passionately held religious convictions and fled Europe. The New England colonies, New Jersey, Pennsylvania, and Maryland were conceived and established "as plantations of religion." Some settlers who arrived in these areas came for secular motives — "to catch fish" as one New Englander put it — but the great majority left Europe to worship God in the way they believed to be correct. They enthusiastically supported the efforts of their leaders to create "a city on a hill" or a "holy experiment," whose success would prove that God's plan for his churches could be successfully realized in the American wilderness. Even colonies like Virginia, which were planned as commercial ventures, were led by entrepreneurs who considered themselves "militant Protestants" and who worked diligently to promote the prosperity of the church.
This summary shows us that long before those immortal words of the Declaration of Independence were written, declaring all men are "endowed by their Creator with certain unalienable Rights," our forefathers held deep religious convictions that, contrary to popular belief, gave birth to freedom (starting with religious freedom) in America, rather than stifling it.
We have forgotten this. We have forgotten the words of George Washington's First Inaugural Address, where he cautioned us "that the propitious smiles of Heaven can never be expected on a nation that disregards the eternal rules of order and right, which Heaven itself has ordained."
We are that nation today, disregarding the eternal truths of Heaven for the fleeting passions of mere men. We seek to shovel out the very soil we stand on, leaving us no option but to sink deeper and deeper into darkness. The more we "progress" the less free we become — trapped in a prison of our own making.
Enslaved by our own appetites, we have become futile in our thinking, and claiming to be wise, we have become fools.
Still, there is hope. The conscience of our nation is crying out at every corner: "Danger ahead! Turn!" Our response will determine the course of American history. But, as these attacks on religious liberty remind us, time is running out. No question about that.
–
TheBlaze contributor channel supports an open discourse on a range of views. The opinions expressed in this channel are solely those of each individual author.