If you thought that the Confederate flag wrangling, after a brief flare-up, would blow over by summer's end, you are so very, very wrong.
In a quirk of fate that makes you wonder if we're living out the script of some heavenly comedic screenwriter, Richmond, Virginia – the capital of the Confederacy – will be hosting the the Union Cycliste Internationale's (U.C.I.) Road World Championships this September. Many of the courses will run down Richmond's statuesque Monument Avenue, known for its monumental statues of Confederates such as Robert E. Lee, Jefferson Davis, J.E.B. Stuart, and "Stonewall" Jackson.
Already, there's been a push for the courses to avoid Monument Avenue (aka, "the street with all the 2nd-place trophies"). After a summer of Confederate flags being taken down from the South Carolina capitol, from state license plates, and from NASCAR events (well, not quite), that last thing America needs is for cyclists from all over the world to be seen spinning past a bunch on North-facing, horse-mounted Confederate defenders of slavery.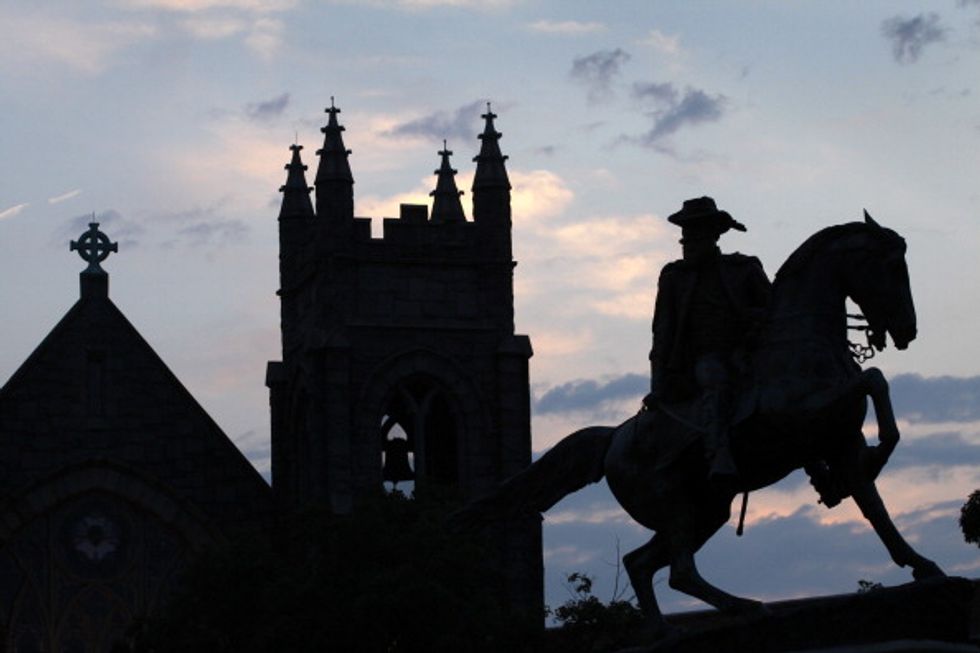 Monuments to Confederate generals and a church lines Monument Avenue on July 23, 2014 in Richmond, Virginia. According to a new study from the U.S. National Bureau of Economic Research, Richmond tops the table as America's most content city while New York City is the most unhappy. (Photo by Jay Paul/Getty Images)
Actually, Jefferson Davis isn't on horseback, and Lee's horse faces south for some reason, maybe so the Yankees can see his horse's – well, anyway, it's not going to look good for a country trying to convince everyone (including ourselves) that, after a summer of cleaning up our state symbols, we've finally left the Confederacy behind.
Richmond only has itself to blame: What were they thinking, building a city right in the middle of the capital of the Confederacy? At the very least, when Virginia was seceding in 1861, somebody should have taken the time to stand up and say, "Hold on, how is this going to affect the bike race 150 years from now?! Let's think long term, people!"
Now, it's not catastrophically bad. Richmond is littered with symbols of racial supremacy all over the place. The U.C.I. courses will showcase other parts of the city, such as the picturesque James River, as well as Virginia Commonwealth University and the University of Richmond. One course goes near St. John's Church, where Patrick Henry gave his "Give me liberty or give me death" speech, and another runs within a block of the summer training camp for the NFL's Washington Re – oh, right, I take it back, it's catastrophically bad.
What are we to think about a city – even, a country – that defiantly holds on to so many emblems of the slave-holding loser of "The War of Northern Aggression" (aka, "The War of Southern Human Rights Violations")?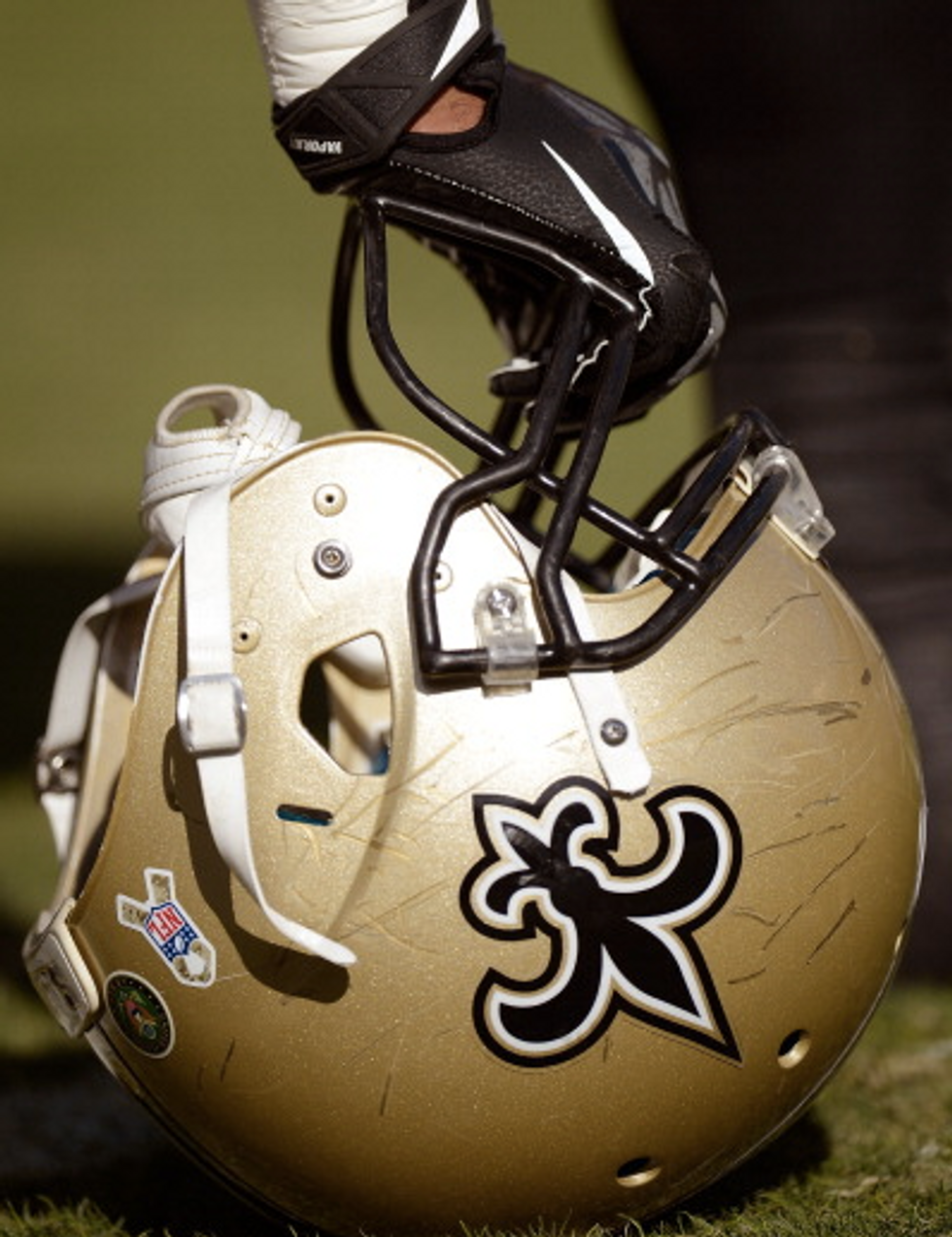 The flour de lis is the latest symbol to come under fire for its connection to slavery. (Photo by Thearon W. Henderson/Getty Images) 
Keep in mind, America has any number of government-sponsored symbols that are offensive to someone or other. From the 10 Commandments in Oklahoma to the buildings making up the U.S. Capitol (which include sculptures and depictions ranging from Edward "Longshanks" and Lycurgus of Sparta to Muhammad, Suleiman the Magnificent, and Napoleon), any of us is bound to find something offensive (really, Napoleon tried to make us all adopt the metric system).
And there's no end to the list of things that have despicable past associations that could therefore be designated as symbols of hate: The fleur de lis has a connection to slavery, as does Greco-Roman architecture, given that the ancient Greeks and Romans were massive slaveowners. Should they come down?
The U.S. flag was carried by members of the Ku Klux Klan, and flew over Japanese-American internment camps. Do we stop flying it?
In some parts of Jerusalem, you can't wear a cross without the risk of being spit on by Orthodox Jews, as payback for the anti-Semitism that Christianity inflicted for centuries in Europe. Should crucifixes come inside, too?
At the same time, there's another dynamic by which the government – in raising up certain symbols – makes them both pervasive and meaningless. "In God We Trust" is stamped on all our currency and virtually ignored; while Martin Luther King, Jr., Day is observed throughout the country, it's hardly celebrated (to many, it's just another day off, like Lee-Jackson Day, which parts of Virginia recognize the Friday before MLK Day); and in 1996, Richmond added a statue of Arthur Ashe to Monument Avenue, effectively adding him to the League of the Forgotten.
The point is, humans are a mass of contradictions when it comes to symbolism. Of the innumerable symbols associated with centuries-old atrocities, we're offended by some of them while giving the rest a free pass. We then make the effort to venerate people of virtue with further symbols – such as statues or federal holidays – only to quickly forget those people and the virtues they represent.
Then we take "The Dukes of Hazzard" – a show that actually managed to be more stupid than "Knight Rider" – off the air in an effort to be virtuous.
In other words, we have an incredibly rich history of abusing one another, being selective about which abuses we're going to be offended by, and then "fixing" the situation by taking the easy road to virtue, bringing down a symbol – or a 1980s TV show – that few people pay attention to anymore.
It's sad and it's funny. And it's going to happen all over again this September, and for a long time afterwards. So, focus on the funny.
–
TheBlaze contributor channel supports an open discourse on a range of views. The opinions expressed in this channel are solely those of each individual author.