Dear Walmart,
I am writing to inform you of a terrible attack I suffered in one of your stores this week. The assault against me was so violent and oppressive that I had to immediately retreat to my healing space, where I lay whimpering on the floor for three and a half days, barely able to move or breathe. I emerge now, courageously, only because I must see that those responsible are made to answer for their crimes. I feel deeply triggered even speaking about it, but I must soldier on, in the name of #Justice.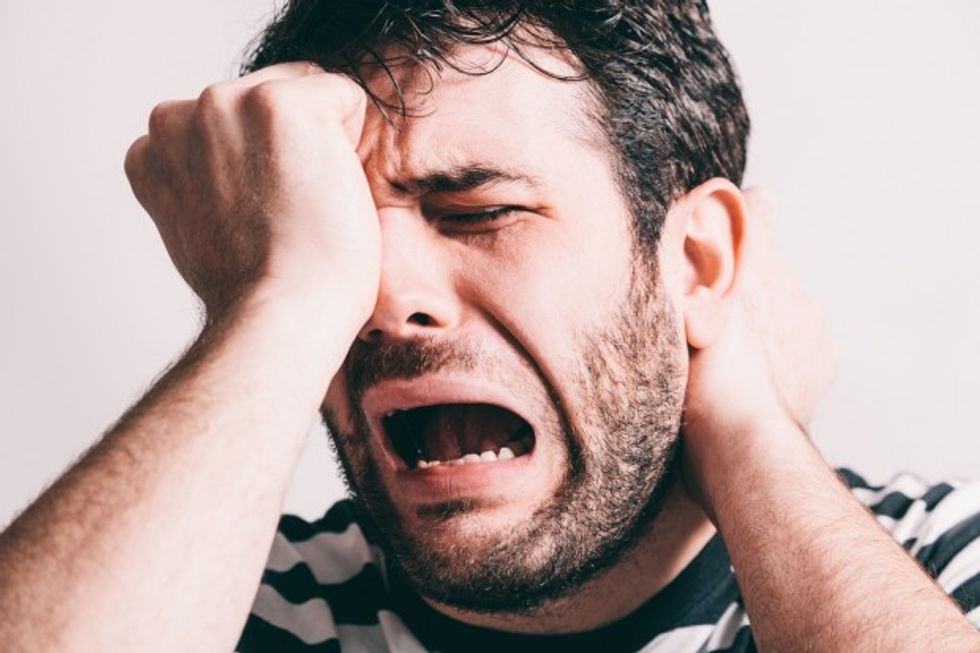 Shutterstock
It all started in the parking lot of my local Walmart. I was walking from my car to the store, minding my own business, when suddenly another customer, a man, walked up and accosted me. I should pause here and apologize to the transgender, agender, nongender, pangender, bigender, trigender, and quasigender communities if they feel offended or victimized because I'm labeling this individual a man. To be honest, he never mentioned his gender identity, and I would be the last person to ever assume anything about anyone. But in this case I feel comfortable guessing that the entity in question was a man because, in my experience, only cisgender white Christian Republican middle class heterosexual men are ever guilty of doing anything wrong. Anyway, I don't really believe in labels, except for the five or six labels I just used in the previous sentence.
So, back to the incident. The man came alongside me, out of nowhere and without invitation, and immediately started sharing opinions with me. They were bad opinions. Opinions I didn't like. Opinions that were different and confusing and scary. Opinions that shouldn't exist. Opinions that made me feel delegimitized and otherized and vaporized. Literally vaporized. The opinions were like a death ray that zapped me and reduced me to ash and rubble.
Somehow, in the midst of this barrage, I was able to let out a desperate shriek. "STOP," I yelled. "STOP. DEAR GOD. STOP." He looked at me and even his look was offensive because I could tell in his head he was still thinking opinions that weren't my opinions. "HOW DARE YOU DEVALUE MY LIFE EXPERIENCES," I shouted.
He told me he had no idea what that meant. I could tell he'd never been to college. I put up my hands – just like they teach us in college – and started screaming "SAFE SPACE, SAFE SPACE, I'M IN MY SAFE SPACE" over and over again.
I thought that was the end of it. They told me in college nobody is allowed to think differently, and if anyone ever does think differently, all I need to do is run to my safe space. Everyone has to respect my safe space, which isn't to be confused with my healing space, although my healing space must also be respected.
But these defenses were useless against the man. He only upped the ante. He insulted me. INSULTED ME. Do you understand what I'm saying to you? He formed words with his lips and ejected sounds from his throat and those sounds came out in the form of insults. He called me names. All kinds of names. All kinds of terrible, awful names. I'd repeat them here but I fear it would only cause others to experience the trauma I am now suffering.
I ran away from the man. I ran away as fast as I could, but he was still shouting words, and I felt like I might never escape. Eventually I made it into the store. In a haze of anxiety and confusion I grabbed several items from the shelf and tried to leave without paying for them. The manager stopped me. I explained to him that I'd just been insulted by some guy outside. He said he's sorry about that but it doesn't mean I get to steal.
Steal? STEAL? I'd just been mugged by opinions and insults moments earlier, and now I was being accused of doing something that I was in the process of doing? I couldn't believe it. I couldn't believe any of it. Is there no end to the intolerance?
I have been meditating on this series of tragedies ever since that day. It has become clear to me, especially in light of the inspiring protests at the University of Missouri, that I have no choice but to demand the immediate resignation of Walmart CEO Doug McMillon.
You might call me ridiculous. You might say this story sounds at least partially fabricated. You might say that even if it isn't, it has nothing to do with the CEO of the company, nor does it have anything to do with the company at all. You might say this was one unpleasant man who said unpleasant things, and there's no reason why anyone from Walmart should have to answer for it. You might say there's really no reason why anything at all should be done, frankly. People say mean things to other people sometimes, you might say. There's not always a remedy or a recourse, nor should we try to find one, you might say.
But you are only saying this because you are white and privileged. I myself do not identify as white. My mother's step-dad's aunt's hairdresser's cousin visited an Indian reservation in the 50s, so I naturally consider myself part Cherokee -- or Mohican or Aztec or whatever. Indeed, I suspect the man at Walmart probably chose to attack me because he harbors bigotries against Native Americans. At one point he even said "I harbor bigotries against Native Americans." I know that doesn't sound like something an actual person would say, even if they do harbor bigotries against Native Americans, but anyone who accuses me of exaggerating obviously harbors bigotries against Native Americans.
So I must insist that Doug McMillon take responsibility for fostering an environment where people feel comfortable having bigotries and opinions in the parking lots of his stores. I can't point to any one specific thing Mr. McMillon has done to create this issue, but that is precisely the problem. His inaction is the real outrage here.
Indeed, what has Mr. McMillon done? What has he done to stop people from saying mean things in and around the nation's Walmarts? Has he posted signs reminding us not to share our opinions with one another? Has he officially declared Walmarts to be No Insult Zones? Has he made any attempt to give his customers a true understanding of the impact hurtful words have on marginalized populations? Has he set up safe spaces in his stores where those dealing with the effects of unpleasant phrases and ideas can go to regroup and share their feelings? Has he followed the progressive lead of the University of Missouri and established racially segregated healing spaces so that different minority groups can be vulnerable around others who share their authentic racial experiences? Has he instituted mandatory inclusivity and sensitivity seminars for all of his employees and customers? Has he conducted awareness campaigns to make people aware of things? Has he then followed those awareness campaigns with awareness awareness campaigns to make people aware of the awareness? Has he even taken the basic step of offering free Yoga classes in the back of every Walmart to help his customer de-stress?
Has he done any of this? No? Nothing? Exactly.
At this point, the only recourse is for Mr. McMillon to issue a public apology, resign his post, forfeit his severance, donate all of his money to a hippy commune or public university of my choice, burn his house down, and live the rest of his life under a bridge. I can see no other solution.
Next, I am forced to demand the manager of my local store resign and repay me the money he made me hand over for the items I tried to allegedly steal. Also, I demand that the governor of Maryland be arrested, the president impeached, the U.N. disbanded, and Australia nuked into oblivion. All of these people, organizations, and countries did nothing to stop that man from insulting me, and they must all pay the price, even in their own blood if necessary. I wish it did not have to come to this, but it isn't my fault. I'm simply a man who reasonably expects to only ever encounter sweetness and smiles and happy thoughts, as is my constitutional right.
Going forward, once the requisite blood sacrifices have been made to atone for the opinions and insults of one man, I make the following further demands:
I demand that anyone who has been injured by emotional or mental violence be permitted to purchase products without paying for them. People cannot be financially burdened during such a difficult time. To achieve social justice, aggrieved minorities must be given free stuff. They teach this on the first day of college.

I demand that Walmart corporate offices hire new staff according to an arbitrary quota formula I will devise. I'll get back to you with the specifics, but I know for sure that there should be at least 12 Native Americans, 24 black Americans, 37 homosexuals, 321 transgenders, and 600 bisexual Hispanic feminists holding high ranking positions in your company. This is just obvious. Companies that are not run by victims cannot understand victims, and if they cannot understand victims, they cannot prevent victims from being victimized, which is really the primary job of every company and every person everywhere.

I demand that Walmart greeters be replaced with therapeutic asexual cuddlers. It is appalling that I ran through your store with tears streaming down my cheeks and not one – not ONE – employee offered to cuddle me and make me feel better. Every employee should be given consensual cuddle training, and there ought to be at least two specialists stationed by the entrances and exits of the stores. Again, this is obvious stuff.

I demand that Walmart identify marginalized employees and customers and immediately make them general managers of their own stores.

I demand that all customers and employees be required to ride electric scooters so that the elderly and the morbidly obese don't feel otherized.

I demand that Walmart develop a strategic five year plan to end hurting and sadness. During this process, you must cooperate and consult with the Social Justice Diversity Tolerance Outreach and Inclusiveness Center, which is an institution you'll also have to create and fund and operate and staff.
I am hereby beginning a #HungerStrike until my demands are met. Some might call me a #HeroForSocialJustice but I like to think I'm just a regular guy who's finally taking a stand. Heroically.
You have 12 hours to do everything I've commanded, or else your stores will be flooded with a racially and sexually diverse group of young, well-dressed, upper middle class protesters who will hold signs and chant slogans and Tweet about the oppression you've brought upon them.
The clock is ticking.
Sincerely,
A #Victim
–
TheBlaze contributor channel supports an open discourse on a range of views. The opinions expressed in this channel are solely those of each individual author.