Dear Women of America,
Get off your butts and do something about it.
I know it's harsh, but—to quote the borderline merciless instructor on my morning workout video—"this for your own good."
It really is, I promise.
Hang on to that for a minute, and come meet Sarah Breedlove.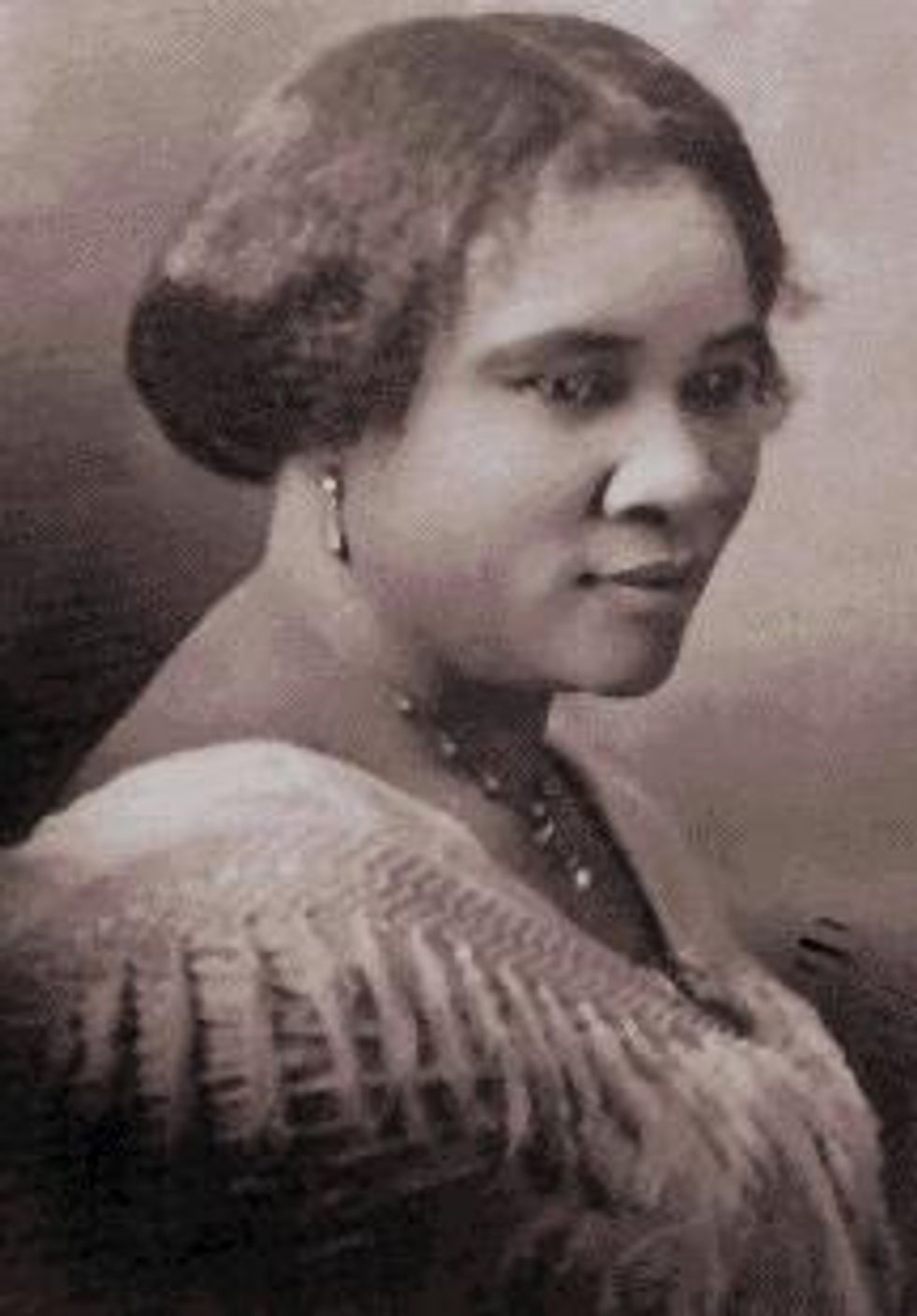 Madam C.J. Walker (Sarah Breedlove) circa 1914. (Scurlock Studio, Wikimedia Commons)
Born in Louisiana, Sarah was one of six children born to parents Owen and Minerva—both of whom passed away within a year of each other, leaving Sarah an orphan at just 7 years old.
The years brought little comfort to Sarah. Days of hard, tireless work were peppered with mistreatment from her brother in law, and later, the death of her first husband. Left alone with a young baby girl, she made ends meet working as a washerwoman for $1.50 a day—all while attending night school and eventually remarrying.
Sarah also suffered from a scalp condition that strangely made her hair fall out. Completely characteristic of the tenacious Sarah, she began trying to figure out how to fix it.
Long story short, she did—and in the process went on to create a haircare empire that included not only a factory, but a school to train aestheticians in the use of the products invented there—and spanned from Indianapolis to Latin America and the Caribbean.
When she died, her business was worth over $1 million—roughly $14 million in today's dollars. She had gone from pennies to prominent millionaire entrepreneur in the span of just a few years.
You might know her as Madam C.J. Walker—America's first self-made female millionaire. Oh yeah, and she was black. And it was the 1890s.
And her parents? They were slaves. In fact, Sarah was the first of their children to be born a free person.
In other words, she had LITERALLY everything in the world against her.
Think about it. She was black (at a time when it really truly was a liability), a woman, the poor (and eventually orphaned) child of slaves, a single mother … the list goes on.
My favorite part of her story?
This line from her 1919 obituary: "One morning while bending over her wash she suddenly realized that there was no prospect on her meager wage of laying away anything for old age."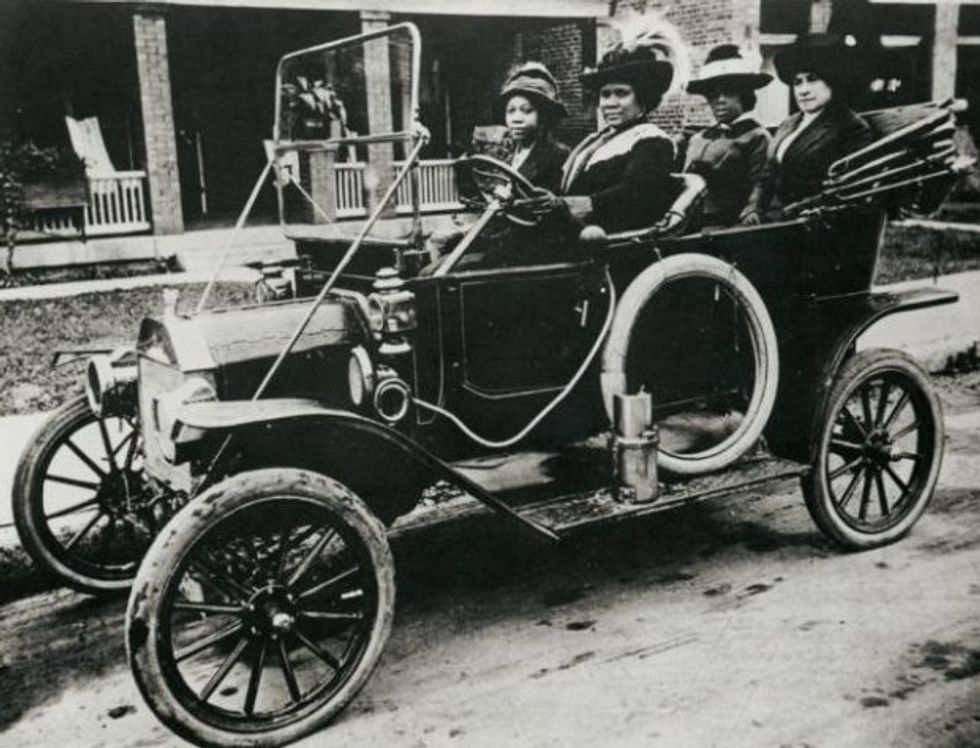 Madam C.J. Walker (Sarah Breedlove) driving an automobile; date unknown. (Unknown, Wikimedia Commons)
And that was that. She made it happen.
Ok—so where am I going with all this? (And here's where the "get off your butts and do something about it" part comes in, if you're keeping track.)
Former Secretary of State Madeline Albright recently said that there's a "special place in hell" for women who don't help other women. Specifically, those who don't support the woman running to be the first female president of the United States.
This is, of course, coupled with the fact that the aforementioned Hillary Clinton can't seem to stop talking about how unfair life is for women here, and how she's going to be the one to cut the crap.
First, seriously? Hell for those who don't like Hillary? Yikes.
But secondly, and perhaps most importantly, you know what's even more offensive? The fact that women all across this country have been courted, charmed, and otherwise convinced that without a patron saint female politician, there isn't much hope.
The way Hillary Clinton and Madeline Albright talk, if you're not making as much as you want; if your boss is a sexist jerk; if you're not working a job with a title—it's the male dominating cultural complex's fault and there's only one way out: a female presidency.
We talk about how strong we are. We all talk about how powerful we women are.
Bull.
Why? Because millions of us run panting behind patron saints of gender like Hillary Clinton, because she's going to "fix" the so-called male-dominated culture.
That's not strength. That's reliance.
It's also laziness—intellectual or otherwise.
Look at Sarah Breedlove. She looked at the odds—and said to heck with them. She worked her butt off—broke through all odds, both racial and gender—and just DID it. And become incredibly successful—without the likes of a Hillary Clinton.
And if she could do it then, we women today have absolutely no place whining about the chains of so-called gender inequality.
I'm not saying it's non-existent. I'm not saying NO woman struggles unfairly.
But it's utter crap to suggest she can't make of her life what she wants. Because if that's true, then Sarah Breedlove is impossible.
So—women of America— what's your choice? Allegiance to someone who tells you that you can't (and better not) take a step on your own without their so-called help?
Or do we choose a path where, as former presidential candidate Carly Fiorina put it, "a feminist is a woman who lives the life she chooses and uses all her God-given gifts"?
So let's get off our butts.
We've got this.
Mary Ramirez is a full-time writer, creator of www.afuturefree.com(a political commentary blog), and contributor to The Chris Salcedo Show (TheBlaze Radio Network, Saturday, from noon to 3 p.m. ET). She can be reached at: afuturefree@aol.com; or on Twitter: @AFutureFree
Feature Image: AP Photo/Matt Rourke
–
TheBlaze contributor channel supports an open discourse on a range of views. The opinions expressed in this channel are solely those of each individual author.