Last week the undercover video of Planned Parenthood's senior director, Dr. Deborah Nucatola, enjoying a salad and glass of wine while discussing selling aborted body parts was all over non-mainstream media.
Then, a few days later, the president of Planned Parenthood, Cecile Richards, released a video apologizing for the tone of the first video. Thank you, Ms. Richards, for clarifying the tone – as if that's what horrified millions of Americans.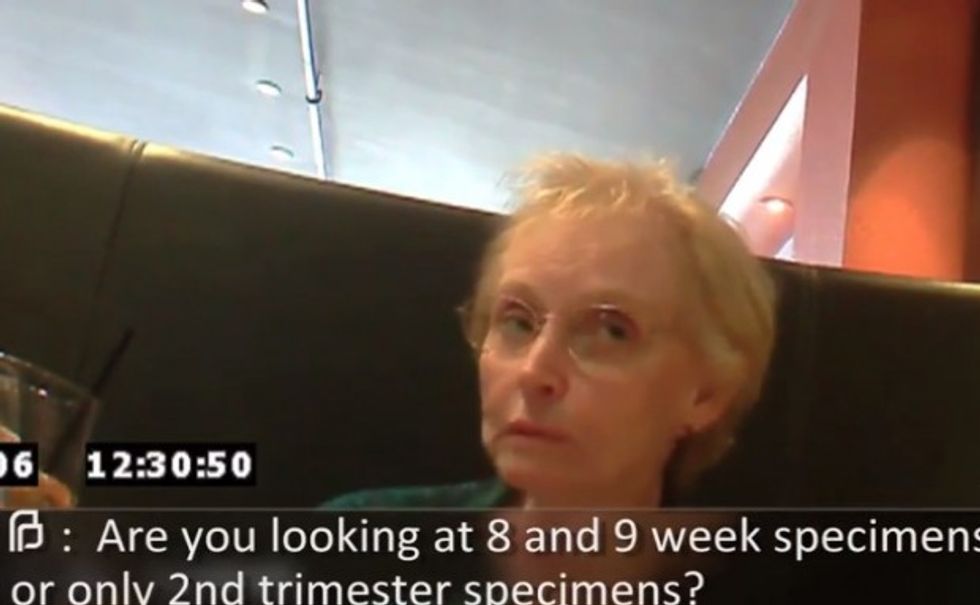 Screenshot
This morning another undercover video was released.
As I've been sorting through my anger and frustration about these vidoes, I am reminded of a quote that often pops up when a national tragedy strikes – and make no mistake, the legalization of abortion has been a 42-year national tragedy; the videos simply bring to light the depth of the devastation.
The quote is from Fred Rogers, better known as Mr. Rogers. He said:
"When I was a boy and I would see scary things in the news, my mother would say to me, 'Look for the helpers. You will always find people who are helping.'"
As scary as the Planned Parenthood videos are, there is another side of the abortion story. The side we so desperately need to hear after four decades of legalized abortion in this country. We need the stories of the helpers – the heroes spending their time, resources and energy fighting the good fight.
One such helper is Lulie Thomas. Thomas has spent the past 30 years leading a post-abortion restoration ministry for women called Someone Cares in Dallas, Texas.
I've heard Thomas speak at several pro-life events so I contacted her to share her story. She even has a video of her own. If you took the time to watch the undercover vidoes or Richards' "apology" video, do your heart a favor and watch Thomas':
Thomas says, "The legalization of abortion has resulted in 57 million children whose lives have been lost to abortion, but for each life lost, there is a wounded mother left behind in desperate need of healing."
Thomas has dedicated her life to helping other women who have been hurt by the after effects of abortion. S
"Women who have experienced abortion are trapped in a pattern of self-hate. We often think we are beyond forgiveness, we think we don't have the right to grieve the loss of our child, so we carry the pain and shame silently," she said.
Abortion is marketed to scared, young women as another chance at life. The marketers conveniently fail to mention what life after abortion looks like for so many women. Thomas has walked behind the abortion industry for the past 30 years, faithfully picking up the broken pieces of women shattered by abortion.
Be a Helper
There are thousands of pro-life, pro-pregnancy organizations throughout the country running on shoe-string budgets by armies of volunteers.
These organizations provide healthcare, parenting classes, counseling, support groups, babysitting, diapers, clothing, housing and post-abortive counseling. In addition, there are tens of thousands of churches providing money, food and support to help pregnant women and single mothers.
It's one thing to quell ourselves with stories of those fighting the good fight – and it's quite another to join the fight.
If the Planned Parenthood videos frustrated you, made you sick, made you angry or stirred any negative reaction, I challenge you to be more than a keyboard warrior commenting on those stories.
Can you imagine if the warranted passion applied to those videos was unleashed to care for women facing crisis pregnancies or heal post-abortive women?
Can you imagine?
It's time to do more than get upset, disagree and then move on to the next story. It's time to get involved.
And while I invite all who are pro-life to get involved, I'd like to send an engraved invitation, if you will, to two specific groups: Men and post-abortive women.
Men, I invite and implore you to act like men. You were created to be courageous protectors, yet so many of you have cowered and crumbled as the radical feminist movement told you to sit down and shut up regarding all things abortion. You have been told that because of your maleness, this conversation does not concern you. The pro-abortion side has said you have no place commenting on what a woman does with her body.
Men, do not be bullied by these lies. Be the men you were created to be. This conversation does concern you – your sons, daughters, wives, mothers and sisters are being devastated by abortion. We need you. Stand up. Get involved. If you've been standing down because loud, aggressive women have told you to do so, listen to this woman – we need you. Today.
Post-abortive women, I invite you to follow Lulie Thomas' example and move from devastation to restoration – starting first with your precious self. If you haven't received post-abortion counseling, Thomas suggests calling your local pro-life pregnancy resource center. If you are interested in leading a post-abortion ministry like Someone Cares, click here for more information.
"Women wounded by abortion have a silent scream of shame and grief that can be exchanged for a voice of truth that can tell of the harm and destruction of abortion," Thomas said.
If you've experienced abortion, you can experience healing, help others heal and perhaps prevent other women from making the same uninformed decision.
But anyone can vote, volunteer or financially support the pro-life movement. Search "pro-life pregnancy resource center" and your city to find your place in the line-up. Or look into some innovative approaches to the pro-life battle – Save the Storks and Online for Life, for example.
Lastly, you can be a soft landing spot for anyone you know who's experienced an abortion. Thomas suggests if someone shares their abortion story with you, help move them toward healing by being compassionate, quick to listen and slow to speak.
The only option you don't have is to do nothing. There will be more videos. There will be more outrage and upset. Planned Parenthood and the abortion industry will find new ways of disgusting us, even as we thought we couldn't possibly be more disgusted. Their livelihood and existence relies on keeping the money flowing no matter the cost or moral compromise.
Even so and especially so, be a helper.
–
TheBlaze contributor channel supports an open discourse on a range of views. The opinions expressed in this channel are solely those of each individual author.