Donald Trump is not leading the Republican contest for president because he supports Canadian-style government healthcare. Nor is he leading because he has supported Democrats as often as Republicans in the last 20 years.
When he announced his candidacy in June he promised to stop illegal immigration. Despite the fact that his comments were less than delicate, or perhaps because of that, he set the table for the Republican campaign for president.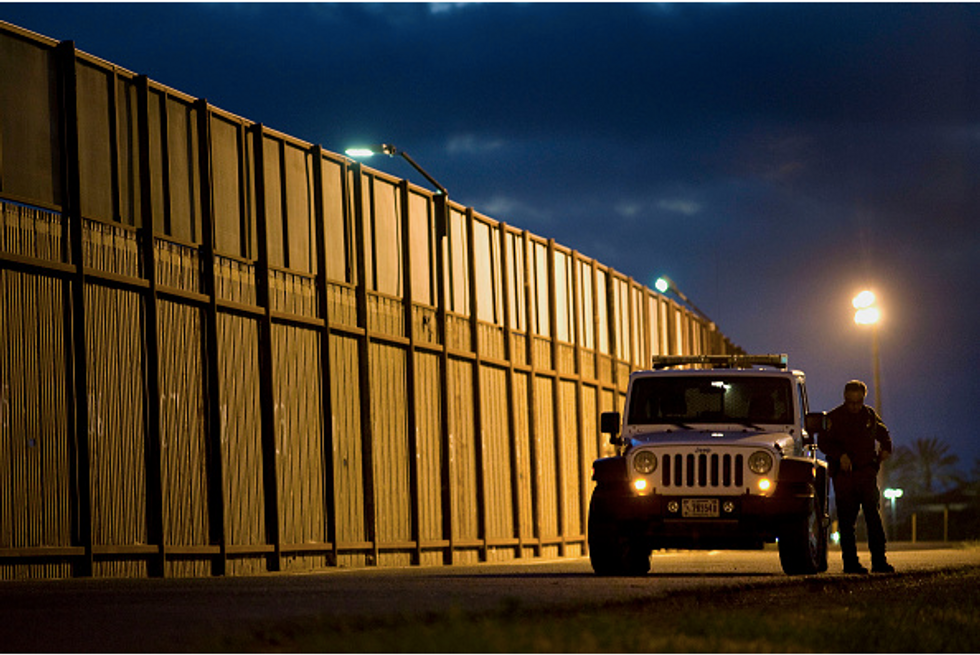 A U.S. Border Patrol agents stands outside his vehicle next to the U.S.-Mexico border fence in San Diego, California, U.S., on Thursday, Feb. 26, 2015. Photographer: David Maung/Bloomberg via Getty Images 
The only confusing part of this race is why Ted Cruz is the only other candidate who understands what is going on. The public wants a fence to be built between the United States and Mexico. Period.
Every other Republican tries to be cleverly nuanced on immigration - for reasons that escape me. The leadership of the party either fails to understand the people's will or doesn't care.
Israel built a fence on its southern border and the number of illegal crossings declined by 99 percent. Yes, the terrorists build tunnels, but that takes time, money and organization. The "lone wolf" attacks have been virtually eliminated.
Six months ago Hungarian Foreign Minister Peter Szijjarto said Hungary could not wait for the European Union to find a solution to immigration. The government of Hungary was proposing a 13-foot fence on its border to deal with the flood of Middle Eastern refugees.
Rainer Wendt, head of the German Police Union, told Germany's Welt Sonntag newspaper, "If we want to conduct serious border controls, we must build a fence along the German border."
Our government appreciates the need for fences between neighbors – in other countries – just not in America.
In June of last year, as part of the U.S. Crisis Support Package for Ukraine the State Department awarded a $435,000 contract to B.K. Engineering System in Kyiv for razor wire for a fence to help "defend the newly imposed borders between Ukraine's mainland and the Crimean peninsula."
A fence separates San Diego, California and Tijuana, Mexico making San Diego one of the most secure border regions in the country.
The fencing makes it easier for immigrants to come through a processing center than to sneak across the border. It is also more humane by reducing the risk of dehydration and exhaustion in desert crossings.
We still need to do more to track the immigrants once in our country, but the fence is a good first step in knowing who is here.
The Secure Border Fence Act of 2006 mandated that the U. S. government build 700 miles of double fencing on our southern border with concertina wire on top and enough space between the two structures to drive a vehicle or run dogs. It was to be operational in 18 months.
In 2007 Sen. Kay Baily Hutchison (R-Texas) succeeded in amending the act to give discretion to the administration to "determine the most appropriate means to achieve and maintain operational control over the international border." That ended the fence.
Four years later in El Paso, President Barack Obama mocked the entire idea of border protection and declared that the fence along the border with Mexico is "now basically complete."
The fact that only 36.3 miles of the intended 700 miles of fencing had been completed didn't seem to faze him.
As always, when large numbers of dollars are involved there will be a proposal for a high-tech solution to a low-tech problem. And there is always a government bureaucrat to be sucked in to a new and shiny idea. In this case it was the construction of a virtual fence.
The original contract was for a few million dollars – low enough to avoid competitive bidding. When the House Committee on Homeland Security held a hearing on the project about a dozen years ago the extensions and additions to the contract had bumped it up to about $400 million.
The project was scrapped as unworkable after a billion dollars had been wasted.
We are told that the terrain from Texas to California would make it difficult to build a fence. Would it be more difficult than building a road through the Rocky Mountains?
Seventy-three years ago we decided that Alaska should be reachable by land from the continental United States. We built a 1,500-mile road from Dawson Creek, British Columbia to Delta Junction, Alaska through the Canadian Rockies. We completed that road in eight months. Surely we can build a 1,500-mile fence through the deserts and scrub brush of the southwestern states.
It has been said that good fences make good neighbors. That may or may not be the case, but good fences are important for sovereign nations.
–
TheBlaze contributor channel supports an open discourse on a range of views. The opinions expressed in this channel are solely those of each individual author.