It's a tiny country with fewer than 11 million people. It's in a far away place on another continent. And its economy ranks in the bottom half of global economies for its competitiveness.
So why would anybody in North America care about Greece and it's debt "crisis?"
For most of this year, the expert analysis of the American financial news media has been suggesting that a crisis in Greece would be averted. Some have even suggested that, more important than the horror of an entire nation defaulting on loans that were financed with the taxes produced by workers in other countries, the Greek debt crisis is a good thing in as much as it provides an investment opportunity (the looming debt default was merely a procedural formality).
But now, at the start of the second half of 2015, it's a very different story.
[sharequote align="center"]No individual, no household, no company, no country can endlessly consume more than it produces.[/sharequote]
Despite the previous predictions, the Greek government did in fact miss a debt payment to the International Monetary Fund at the end of June. Then to make matters worse, on July 5 voters in Greece overwhelmingly rejected via ballot referendum a proposed bailout plan from the IMF and other nations within the European Union, because in exchange for bailout funds, the other countries sought to force Greece to cut back on its government spending.
On the night of the vote tally, Greek Prime Minister Alexis Tsipras proudly announced to reporters that the vote demonstrated "that democracy cannot be blackmailed." Others, however, wondered how the people of Greece could be so arrogant and foolish, and now this week people worldwide are wondering how globally "cantagious" the Greek fiscal sickness will become.
Rather than ignore, or scoff at the crisis, Americans should be learning from the recklessness and foolishness that led Greece to this crisis point.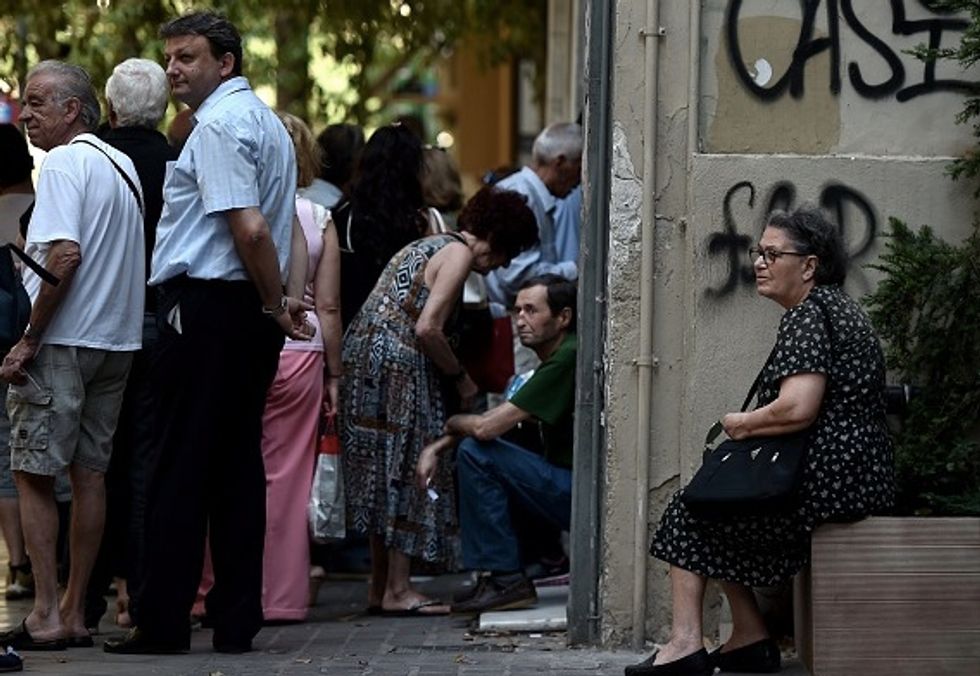 People wait outside a bank in Athens on July 3, 2015. Greece's government and international creditors raised the stakes on July 2 over a weekend referendum seen as decisive for the nearly insolvent EU country's political and financial future. While Prime Minister Alexis Tsipras has urged Greeks to vote 'No' to the austerity measures demanded by international creditors, opposition parties including the centre-right New Democracy are campaigning for a 'Yes' vote in the referendum on July 5. (Image source: ARIS MESSINIS/AFP/Getty Images)
Consider these four ideas:
Intoxication of Government Promises
As economist Steve Moore noted earlier this week, financial collapse "is the natural and unavoidable consequence of socialism everywhere it has been tried."
But the lessons of history, even relatively recent history, are frequently insufficient to disuade people away from the seductions of socialism's promises.
In 2004, member nations of the European Union economic alliance began to question the levels of government debt being held by member nation Greece. After an EU-ordered audit revealed levels of debt that were much higher than what the Greek government had reported, Greece effectively admitted that they had been lying about their debt since 2001 so they could participate in the EU's euro currency.
After the Greek government's debt began to baloon out of control again in 2010, the nation eventually requested a financial bailout from the IMF. Yet despite the dire fiscal circumstances at that time, Greek ciizens balked at paying higher taxes to fund their government, while federal employees (nearly 23 percent of the Greek population works for the federal government) rejected a reduction in worker bonuses.
Perhaps msot disconcerting is the behavior of the Greeks earlier this year. Despite the knowledge that debts would need to be repaid to the IMF in June, in January Greek voters nonetheless elected a new prime minister who campaigned on promises of more government spending, and more government entitlement programs.
As the world sees impending doom for Greece, the aging population of the nation seems convinced that the rhetoric of their politicians must be true. Despite the fact their federal government consumes nearly twice as much as their entire nation's economy produces each year, Greek residents apparently believe that a guaranteed retirement pension beginning at age 60 and cradle-to-grave healthcare, education, and other welfare benefits are their God-given "human right."
American Politicians Advocate for Same Destructive Policies
The U.S. economy is far larger, far more productive and far more competitive than that of Greece. But our federal government's debt liabilities – especially our unfunded liabilities consisting mostly of retirement benefits for government employees - are proportionately far worse than those of the government of Greece. Add to this the fact that a private research firm estimates that the unfunded liabilities of the individual state governments add up to nearly $5 trillion, and the United States of America looks like a fiscal calamity waiting to happen.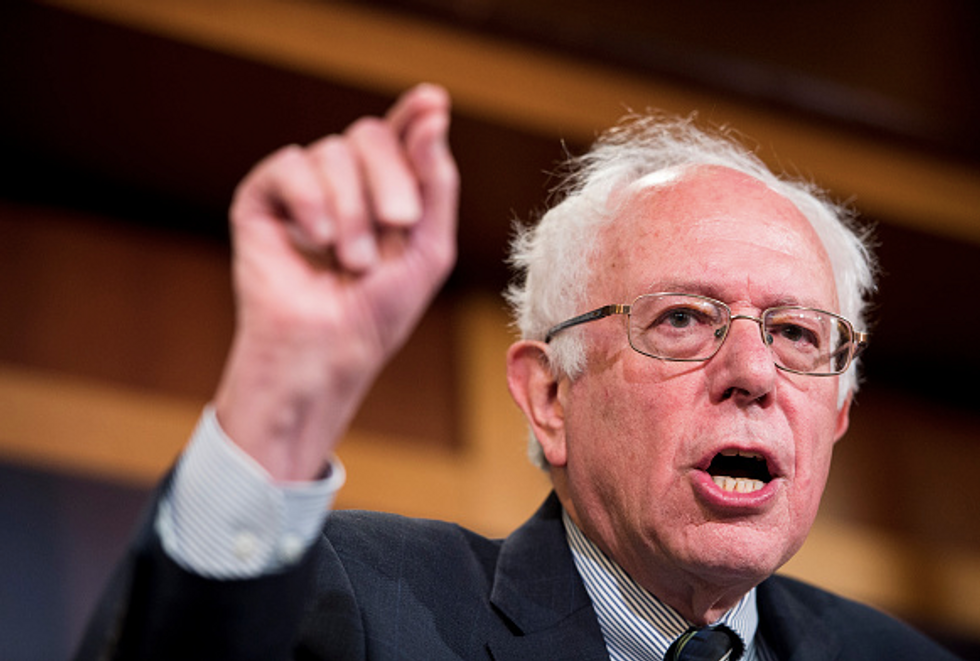 Senate Budget ranking member Bernie Sanders, I-Vt. (Photo By Bill Clark/CQ Roll Call)
But, just like Tsipras and his fellow Greeks, many Americans are begging for more "free things" from their government, and some very high-profile politicians are more than willing to make promises. For example, Socialist U.S. senator and presidential candidate Bernard Sanders (I-Vt.) has promised that he will provide "free" college tuition to students, and, like Greek citizens, believes that healthcare is a "human right."
Hillary Clinton has vowed to end the deportation of illegal aliens, grant them amnesty, and then provide them with taxpayer funded healthcare and children's education programs. And former governor-turned presidential candidate Martin O'Malley (D-Md.) is promising free childcare and pre-K education to citizens and non-citizens alike, as well as a "debt free" college education.
Greece Looks a Lot Like One U.S. State
Some analysts have suggested that Greece bares resemblance to the city of Detroit, Michigan simply because both governments have suffered enormous fiscal woes. This may be a mis-characterization of Economist Steve Moore's recent remarks, wherein he didn't compare the nation of Greece to the city of Detroit, but rather, he suggested that Greece should consider bankruptcy as a preferred course of action, as Detroit did back in 2013.
But as a comparison, the debt levels stacked-up against Greece right now bare striking resemblance to the current debt levels of the entire state of Illinois.
According to a report in The Economist, the state of Illinois currently faces roughly $111 billion in unfunded pension liabilities for retired state employees, along with an additional $56 billion in debt for health benefits for those retirees. The Economist also notes that, just as Greece has done over the past 15 years or so with its own recommended "best practices," the state government of Illinois has been violating the preferred accounting practices of the Governmental Accounting Standards Board the standard barer for state and local governments throughout the U.S.
The One Simple Truth Eluding Elites, Bankers and Government Leaders
Just as the common citizens of Greece apparently still believe that their government can simply "give them" everything they want, despite all the evidence to the contrary, so also do global leaders believe in their own magical abilities to make problems go away and to provide things on-demand.
As far back as five years ago it was revealed that the Goldman Sachs investment firm was assisting Greece in borrowing money without reporting it in their federal accounting records, while at the same time selling the Greek debt to investors as mortgage-backed securities. Goldman Sachs reportedly raked-in hundreds of millions of dollars in "service fees" that they charged for their antics, yet their deeds seem to have been carried-out with some sort of assumption that the debt would forever remain unseen, unknown, and un-discovered.
Further, as recently as July 2, the New York Times was suggesting that there was "still hope" that Greece would be able to successfully negotiate another bailout and would in turn agree to reducing government spending (this, after nearly 15 years of profligate spending and lying).
But the Greek debt crisis is not about the absence of good "negotiations," nor is it about the lack of sophisticated Wall Street brokers who are able to hide debt. On the contrary, the crisis illustrates a moral imperative that the entire world must heed: No individual, no household, no company, no country can endlessly consume more than it produces.
It really is that simple. But is America – and the world – able to understand?
–
TheBlaze contributor channel supports an open discourse on a range of views. The opinions expressed in this channel are solely those of each individual author.