Hillary Clinton has been plagued with a lack of millennials support since this precocious generation abandoned her for Barack Obama in 2007. Now, almost eight years later, she is again plagued by this unimpressed generation.
This time around the millennial generation has grown-up and have had a crash course in what liberal policies do to job growth and a capitalist economy. The change they got is double digit unemployment, exponential increase in the cost of education, minimal job growth in college degree worthy jobs, and a ballooning student loan debt burden.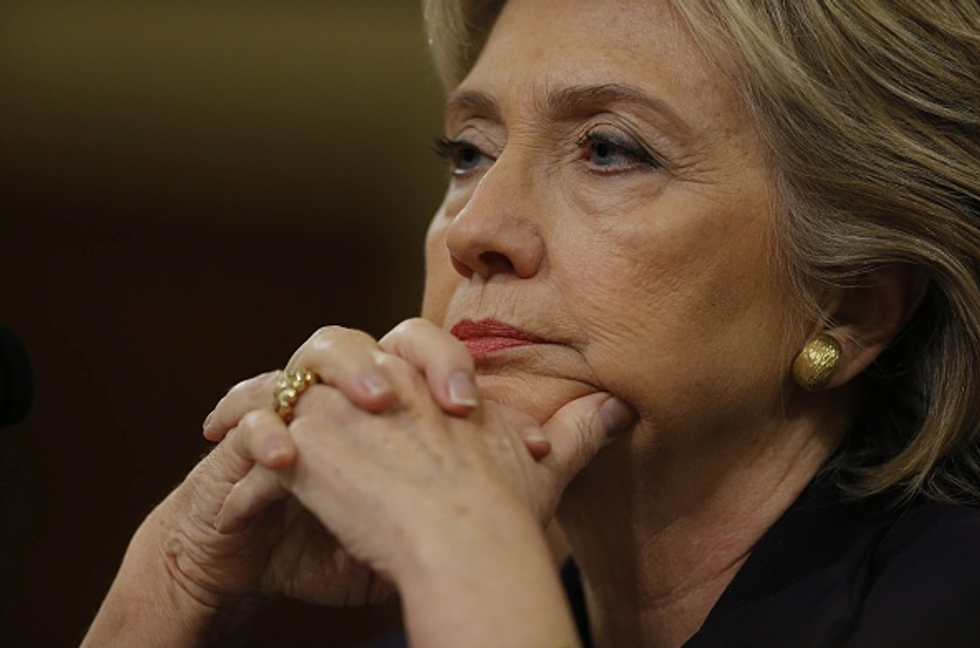 Hillary Clinton, former U.S. secretary of state and 2016 Democratic presidential candidate, waits for the start of a House Select Committee on Benghazi hearing in Washington, D.C., U.S., on Thursday, Oct. 22, 2015.  (Photographer: Andrew Harrer/Bloomberg via Getty Images) 
But, most importantly, they have experienced what faint-hearted and gimmicky U.S. foreign-policy positions, that have been spearheaded by Hillary Clinton, do to their safety, both domestic and abroad. Her leadership, along with President Obama, has created a more volatile world that encourages the growth of terrorist groups and supporting states.
Such naivete has put Americans in danger both here and abroad, made U.S. allies weary, and countries including Jordan and Israel to take matters into their own hands, escalating tensions.
The questions of her ability to make tough, strong, and aggressive foreign policy decisions to keep America safe is something many millennials are questioning. And many are doubting her ability to tell Americans the truth and put country before politics.
Many times in the Oct. 22, 2015 Benghazi committee hearing Secretary Clinton could not get her story straight on if the attack carried out on the Libyan consulate was a terrorist attack or an angry mob spurred on by a YouTube video that insulted Islam. Mrs. Clinton's emails to family and foreign dignitaries said the siege on the consulate was a terrorist attack even though for three weeks she told the American people it was spurred by a YouTube video. Many have suggested this was done to help President Obama with his reelection.
In 2007 the hashtag issues for millennials were war and peace, and terrorism. Millennials wanted the United States out of Iraq and Afghanistan and less intervention in foreign affairs.
But now, millennials are craving a more aggressive foreign policy and leadership. Currently, almost 60 percent favor putting ground troops in the middle east to combat Islamic State. Furthermore, there has been a seven point increase in support of the Bush era foreign policy doctrine among millennials.
To millennials, it DOES MAKE A DIFFERENCE on whether the next president will have the courage and resolve to do what is necessary to stand up to terrorist organizations like Islamic State and aggressive nations like Russia and China.
Mrs. Clinton has consistently proven she molds her opinions, her policies, her morals, and her accent depending on who she is speaking with and which way the latest polls point.
Millennials took a chance on Barack Obama twice and their economic situation worsened and the world grew more unstable as terrorist organizations became more powerful. Mrs. Clinton herself said in the first Democrat debate said that the only difference between her and Barack Obama is that she is a woman.
Millennials do not want anymore of the liberal "hope and change" from the Obama presidency. They have made it abundantly clear that the next president needs to be a force, he or she needs to have the ability to take politics out of the equation and effectively restore America's power and prosperity.
Mrs. Clinton's Benghazi fumble and server lies will cause many independent millennials to second guess her as the person to lead America and keep it safe. And her chickens will come home to roost as the campaign ads continually remind millennial voters of her untrustworthiness in 2016.
–
TheBlaze contributor channel supports an open discourse on a range of views. The opinions expressed in this channel are solely those of each individual author.