Eighteenth century British parliamentarian Edmund Burke wrote, "Manners are more important than laws. Upon them, in a great measure, the laws depend."
Those who seek our votes present us with a set of beliefs and convictions. The victors assume office seeking to put as many of those beliefs into action as the political process will allow.
Politics is a team sport. The losing team generally has different views than yours and there are often opposing views within your own team.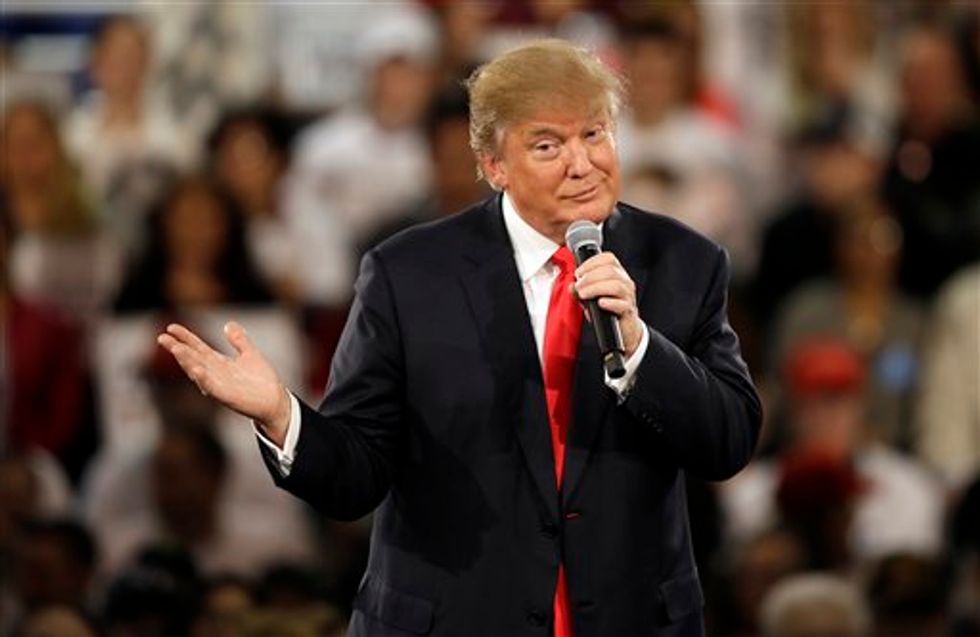 Donald Trump speaks during a campaign rally, Friday, Dec. 11, 2015, in Des Moines, Iowa. (AP/Charlie Neibergall)
To succeed you must, at the very least, listen to what those who don't share your view have to say. When you open the conversation by calling your opponent a stupid, ugly loser it becomes difficult to sit down in good faith and have a fruitful discussion.
When I began in Congress 23 years ago I quickly learned that a Congressional office is a correspondence factory. At least half of your staff is devoted to answering mail.
When they get really good at answering mail their reward is more mail. It was not uncommon to get as many as 500 to 1,000 letters or calls each week.
I expect that today it is common to get thousands of emails each week. It's so much easier to jot off an idea or an insult and hit send than it is to write a note, find an envelope and stamp and get it to the post office.
When I first began getting emails, I received an email from a constituent at about 9 a.m. with a routine question. He wrote again at 11 a.m. and 12 and 1:00 p.m. Each succeeding email got shorter and angrier until 4 p.m. when he wrote me off for refusing to respond to his important email.
We, of course, didn't find those emails until a day or two later and by then what he saw as my indifference to his urgent email had completely driven that irate constituent off the reservation.
Whether the correspondence came by email or snail mail I had the same instruction to my staff. If the letter writer began the missive with insults it was to be put on my desk. I chose to either answer the letter personally or ignore it.
When I did choose to answer I typically started with: "When I receive correspondence that begins by telling me what an obnoxious jerk I am it is difficult for me to get beyond that to learn why you wrote."
This all comes to mind with the campaign of Donald Trump. If he wins the Republican nomination he will want the active support of those he defeats in the primary. After being told that they are stupid, ugly losers they are going to be reluctant campaigners.
Diplomacy is defined as "skill in handling affairs without arousing hostility." We call those who represent the United States in our dealings with other nations diplomats for a reason.
I discussed this with a friend of many years who is much smarter than me. She said, "Manners are a voluntary deference for the sake of productive interaction as well as an expression of who one is." (I wish I'd said that.)
One need not have a fertile mind to imagine how the Cold War would have proceeded if President Ronald Reagan had begun the meeting in Reykjavik with, "What's with the ugly mark on your forehead, Gorby? You need to do something about that."
Reagan didn't do that. He was never fooled about the Communist ideology that had shaped President Mikhail Gorbachev. Nor was he confused about the intentions of the Soviet Union. But he treated Gorbachev with deference and, in the end, we won the Cold War.
In the world of government, politics or business one is constantly forced to deal with others you neither admire nor respect. You still must treat them with deference in order to get them to understand your position.
Otherwise, what is the point?
I have long believed that those who insult others as a way of doing business lack the self-confidence to discuss differences on an intellectual basis, so they are rude.
Eric Hoffer thought about this conceit and concluded that: "Rudeness is the weak person's imitation of strength."
While we want our president to be strong and confident, we also expect a degree of grace and dignity. It is to be hoped that Mr. Trump will soon show us that side of his many faceted personality.
If you would like to be added to John Linder's distribution list please send your email address to: linderje@yahoo.com or follow on Twitter: @linderje
–
TheBlaze contributor channel supports an open discourse on a range of views. The opinions expressed in this channel are solely those of each individual author.