As a retired U.S. Army major general and a MIT-trained nuclear engineer, I cannot imagine the catastrophic consequences to our nation if Donald J. Trump becomes the commander in chief of our armed forces.
I have served presidents of both parties, various temperaments, and numerous philosophies on war and peace. Trump, however, stands alone. He is neither equipped for the office, nor does he understand the consequences of his reckless ideas.
Trump's rhetoric on the campaign trail is troubling. He is unprepared to deal with a host of issues—from the crisis in Syria to the fight against poverty on our own shores. He discriminates against entire genders, ethnicities, and faiths. He idolizes Vladimir Putin. And, by all indications, he intends to perform foreign policy through the barrel of a gun.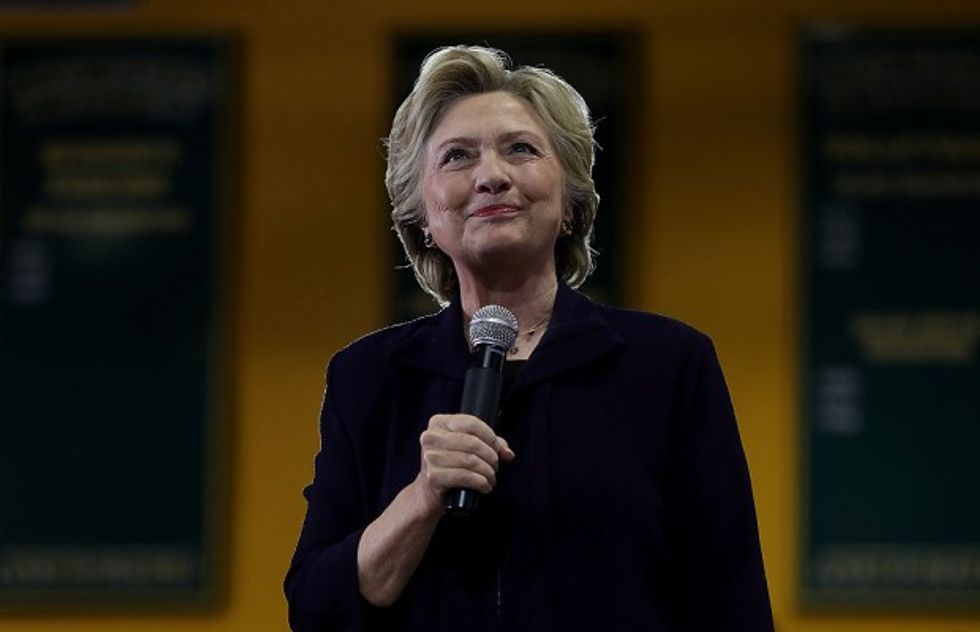 Getty Images/Justin Sullivan
But perhaps most troubling of all is the possibility of handing him the launch codes to our nuclear arsenal.
Trump has thumbed his nose at nuclear nonproliferation efforts, calling the spread of these cataclysmic weapons inevitable. He has even encouraged some countries to develop them. He coyly dodges questions about whether he would use these weapons on the battlefield, telling all who will listen that he doesn't "want to take cards off the table."
Last March, Trump sent a chill down my spine. While explaining why he would not foreclose on using a nuclear weapon against Islamic State, he offered: "we need unpredictability." He doubled down on that policy just last Monday night at the first presidential debate.
We do not need unpredictability. In fact, eliminating nuclear unpredictability is a fundamental tenet amongst military personnel and nuclear experts alike. Unpredictability raises the possibility of hostilities. It breeds misunderstanding. It rewards brinksmanship. America has spent decades leading the effort to deescalate the possibility of nuclear war. To resort to Trump's bankrupt philosophy after so long would be an insult to the brave souls who have spent their lives walking us back from the verge of nuclear catastrophe.
As a combat engineer, I was responsible for deploying nuclear weapons throughout Europe. Nuclear engineers like me are taught how to control and release nuclear energy—to light homes, power cities, and perform medical procedures. We are also taught what happens when things go wrong. Nuclear weapons are brutal and non-discriminating. They leave in their wake unimaginable suffering. Millions die for the sins of a few.
Facing consequences like these, Hillary Clinton is the only candidate who I trust with our nuclear arsenal in this election.
Clinton has the experience and the values to be commander-in-chief. She will make measured decisions in service of our national interest. What is more, Clinton has helped lead the fight in making sure Iran does not develop a nuclear weapon. And she worked tirelessly to ensure the ratification of the New START treaty with Russia, which will reduce both of our countries' nuclear arsenals to their smallest size in over half a century.
Clinton understands the gravity of these weapons. That is why I trust her with the sacred responsibility of keeping us safe.
Recently, Trump said that he admires Gens. Douglas MacArthur and George S. Patton.
There are statutes of both of these men on the campus of West Point, my alma mater. But they do not just honor men. They serve as a reminder to all cadets of the academy's motto: "duty, honor, country."
I see no sense of duty, commitment to honor, or respect for country in Trump's stance on nuclear weapons. In fact, I see the opposite: negligence, potential lives lost, regret.
That's why I am thinking a lot about the 12,000 men and women—both active duty and reservists—at Fort Meade in Maryland who I commanded during my last active posting in the military. Every day, I woke up knowing that I was responsible for all of them and their loved ones—that I had to do everything in my power to make sure they were taken care of. To this day, many of them are still serving their country in harm's way all around the globe.
Now, years later, as Trump becomes more dangerous, more unhinged, and more unpredictable, I worry for them. I worry for their children and their grandchildren. And I worry for my own children and grandchildren.
That is why I am speaking out. That is why I am standing up. That is why I am voting for Hillary Clinton.
–
TheBlaze contributor channel supports an open discourse on a range of views. The opinions expressed in this channel are solely those of each individual author.