Since 10 American sailors were captured and then released by Iranian forces many more questions than answers have arisen.
We've heard the apologies from one sailor and "gratitude" from John Kerry. We've seen photos of U.S. personnel on their knees, and the one female sailor forced to wear a hijab and cower in a corner.
We've listened to President Barack Obama's spokesperson claim a diplomatic win over the "quick and appropriate response" of the Iranians.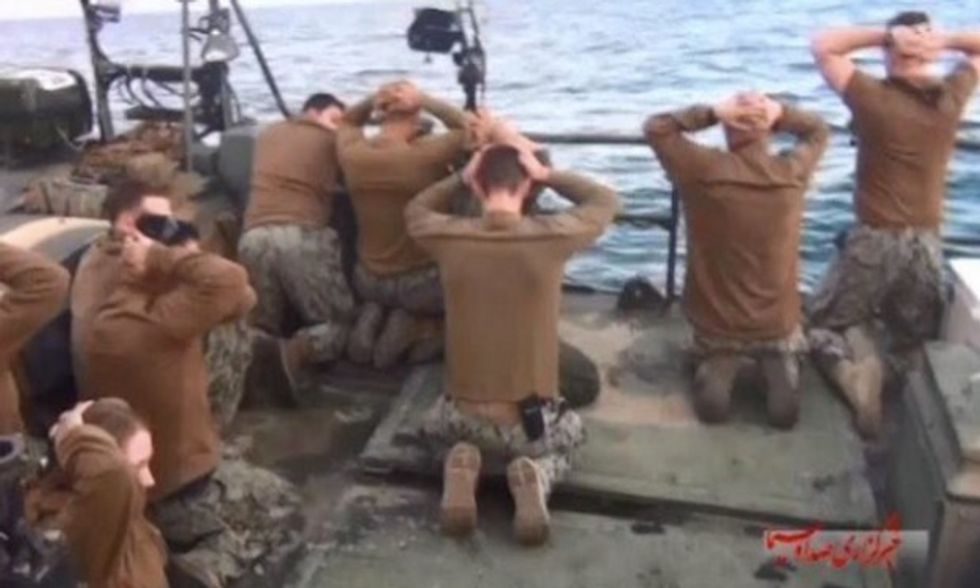 Screengrab
This is like thanking the thief for returning your wallet without the money in it.
What we haven't heard, and may never hear, is why the U.S. Navy boats were over 20 nautical miles off course when allegedly they "ran aground" on Farsi Island? Were the GPS systems hacked? The day after the sailors were released the Pentagon went public indicating they were "afraid" of GPS hacking.
A trip from Bahrain to Kuwait is about 250 miles, and a reasonable route would not venture far from the coast. If GPS or other methods of navigation were not functioning properly, navigating by SIGHT would keep one from "drifting" into Iranian waters. The size and location of Farsi Island is such that one could not accidentally run aground on it – especially in low-draft vessels such as the riverine Navy boats.
If one riverine boat has engine trouble, the other would tow it. If both had trouble help from the mother ship would be nearby. Both boats were able to motor away from Farsi Island once they were released. Department of Defense Secretary Ash Carter is now reporting that "navigation error" was responsible for the trouble.
But where's the proof? Under what protocols were the boats operating?
Only one video released by Iran show any ammunition whatsoever, and that was a brief scene showing only one belt of what appeared to be .50 caliber ammunition with rusty clips. In the same clip empty M-4 magazines and an unloaded M-9 pistol were shown inside a white "rocket" box with a date that looks like "2011" on it. Not one bullet or other ordinance were shown.
Were the sailors even properly armed? And if not, why not?
Why didn't the sailors resist, as is required in the U.S. military code of conduct?
Why weren't U.S. assets deployed to retrieve our sailors? If the boats had a mother ship, that ship would be equipped with attack helicopters and quick reaction forces whose job it would be to search and retrieve, or assist the boats were they to run into trouble.
Why, after arriving in the Persian Gulf on December 27 and starting aircraft missions on December 29, did CVN-75, the U.S. air craft carrier Harry S. Truman, DOCK in Jebel Ali, United Arab Emirates, on January 7-10, the time of the incident? Jebel Ali is a yacht yard and artificial deep water port. This suggests the Iranians planned their aggression to coincide with the unavailability of that great asset.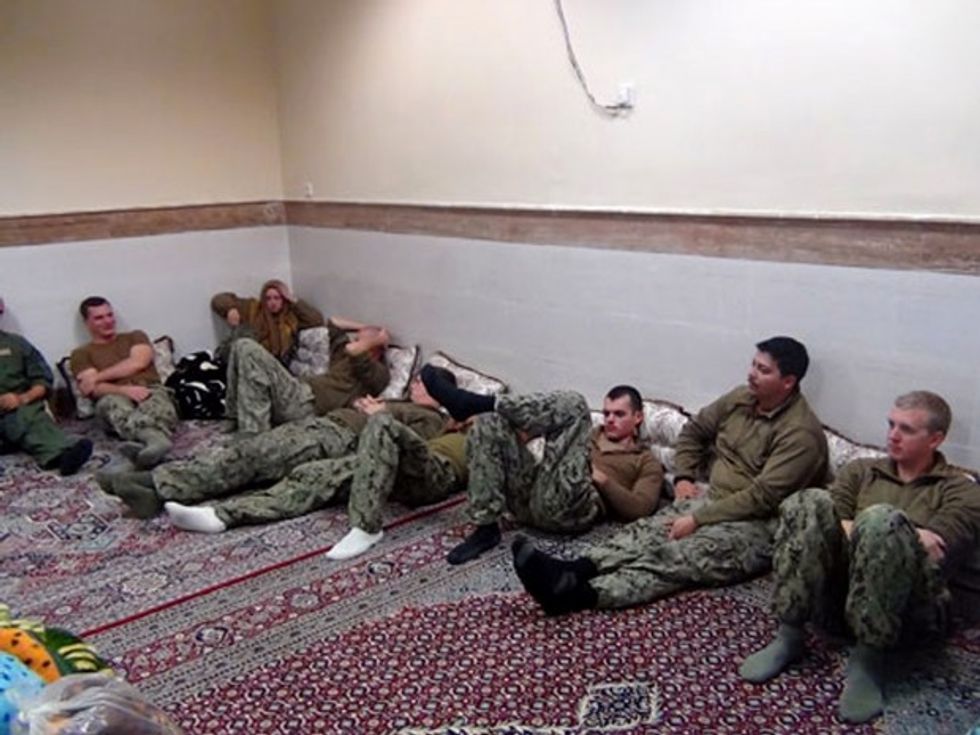 This picture released by the Iranian Revolutionary Guards on Wednesday, Jan. 13, 2016, shows detained American Navy sailors in an undisclosed location in Iran. Iranian state television is reporting that all 10 U.S. sailors detained by Iran after entering its territorial waters have been released. Iran's Revolutionary Guard said the sailors were released Wednesday after it was determined that their entry was not intentional. (Sepahnews via AP)
Why hasn't the United Nations protested the treatment and exploitation of the U.S. sailors, who, under the protections of the Geneva Conventions, are not to be used for propaganda, nor paraded in public? Why hasn't our commander in chief protested the illegal treatment of our sailors?
Why were the sailors carrying U.S. passports? Usually, military identification suffices for transit between countries while on military duty in uniform.
The harm is done, and the image of U.S. military personnel on their knees in front of Iranian forces will do more for radical Islamist recruitment than anything but the attacks of Sept. 11, 2001.
Recently, six Air Force investigative and security police forces were all killed by one motorcycle borne improvised explosive device, delivered by a suicide terrorist. An Air Force major led a "routine foot patrol" of non-commissioned officers, with apparently no armor or sniper overwatch, around a U.S. air base in Afghanistan.
Why were these relatively high-ranking military law enforcement personnel on an exposed foot patrol? Why weren't there armored weapons platforms protecting them?
The pattern of under protecting our military forces by liberal presidents, from Black Hawk Down in Mogadishu, Somalia, to Benghazi to Extortion 17, have left indelible wounds on the hearts and minds of surviving Americans. The family, colleagues and loved ones of the victims of terror deserve answers to these questions. We all deserve answers to these questions.
All the while our president releases known jihadis who have threatened to "kill Americans" and have become leaders of terrorist organizations from the U.S. military detention facility at Guantanamo Bay, Cuba. Do you feel safer with these unlawful combatant Islamists IN or OUT of Gitmo? Ten more Gitmo detainees were recently sent to Oman, a hot bed of terrorist activity.
The complete absence of any semblance of a rational foreign policy from the Obama administration is instructing our enemies that the time is ripe to exploit these incredible weaknesses demonstrated in nearly every action or inaction by Obama officials.
The erosion of cohesion of the military initiated recently by arbitrarily opening up all combat military occupational specialties to women without a plan for success is aggressively undermining of the good order and discipline of the combat forces of the United States. Women have proven effective in combat support units such as Army Military Police, since 1989, but throwing all combat arms jobs open without a plan means the final integration will most likely fail. It is much better to start with all-female units, like we do with competitive sports for girls and women from the 7th grade on.
Former Navy SEAL and current representative in Congress, Ryan Zinke, has called for an investigation into Obama's tiny footprint philosophy of military operations and Rules of Engagement vis-à-vis our Special Operations forces in Afghanistan, who are needlessly and constantly exposed to attack due to bureaucratic red tape.
President Obama's faux pas is costing us prestige points and image points with our friends, allies and enemies. Congress seems not to have the stomach for stopping Obama in his crusade against American military institutions. And now we are left wondering about an incident with Iran that was humiliating, degrading and suspiciously ill explained.
Montgomery Granger is a three-times mobilized U.S. Army major (Ret.) and author of "Saving Grace at Guantanamo Bay: A Memoir of a Citizen Warrior."Amazon, Blog, Facebook, Twitter: @mjgranger1
Feature Image: AP
–
TheBlaze contributor channel supports an open discourse on a range of views. The opinions expressed in this channel are solely those of each individual author.