Is anyone else worried about the ever increasing number of quadcopters or drones that seem to be flying overhead these days? Or is it just me?
I for one am becoming increasingly concerned about who is flying them and the stated purpose given for the use of these drones. I'm worried that they might be misperceived and misused in the wrong hands. They could even be misused, in the right hands.
There is a Queens' community in New York that is now utilizing Civilian Observation Patrol volunteers equipped with drones to hover above its neighborhoods to keep its residents "safe."
Jay Dow, a reporter with WPIX-TV PIX11, used the social media app Periscope to interview one of the volunteer drone operators, Mark Pearson.
What immediately struck me was how Pearson was dressed.
At first glance, Pearson could easily be mistaken for a police officer. His "uniform" consisted of a white shirt and black pants along with a police patch on his right sleeve. Additionally, a yellow patch was sewn above his front pocket.
The insignia on Pearson's sleeve is an exact duplicate of the New York Police Department patch worn by all officers, with one small exception.
The words "Police Department" appear in all capital letters at the top of the patch while the words "City of New York" in slightly smaller lettering, is shown on either side of the patch.
A yellow emblem in the center of the department's patch is also identical to the patch worn by Pearson. The only difference is that above the words "Police Department" in much smaller lettering, on Pearson's patch, are the words "Civilian Observation Patrol." Other than that, the patches are identical to each other.
Without a close examination, you could easily assume that Pearson was a member of the NYPD with the same authority as any other NYPD officer.
"We've now been requested by the 104th precinct to now cover all the townships of the 104th precinct," Pearson said of his Civilian Patrol.
In his periscope interview, Pearson also told Dow that the police department did not pay for the drones.
"We're a volunteer. We work with them [NYPD] … we help augment their police force … motor auxiliaries," he said. "We go out, we deal with parades, natural disasters, but we're residents of the area."
Pearson further stated that his group will be looking for "missing children and missing people."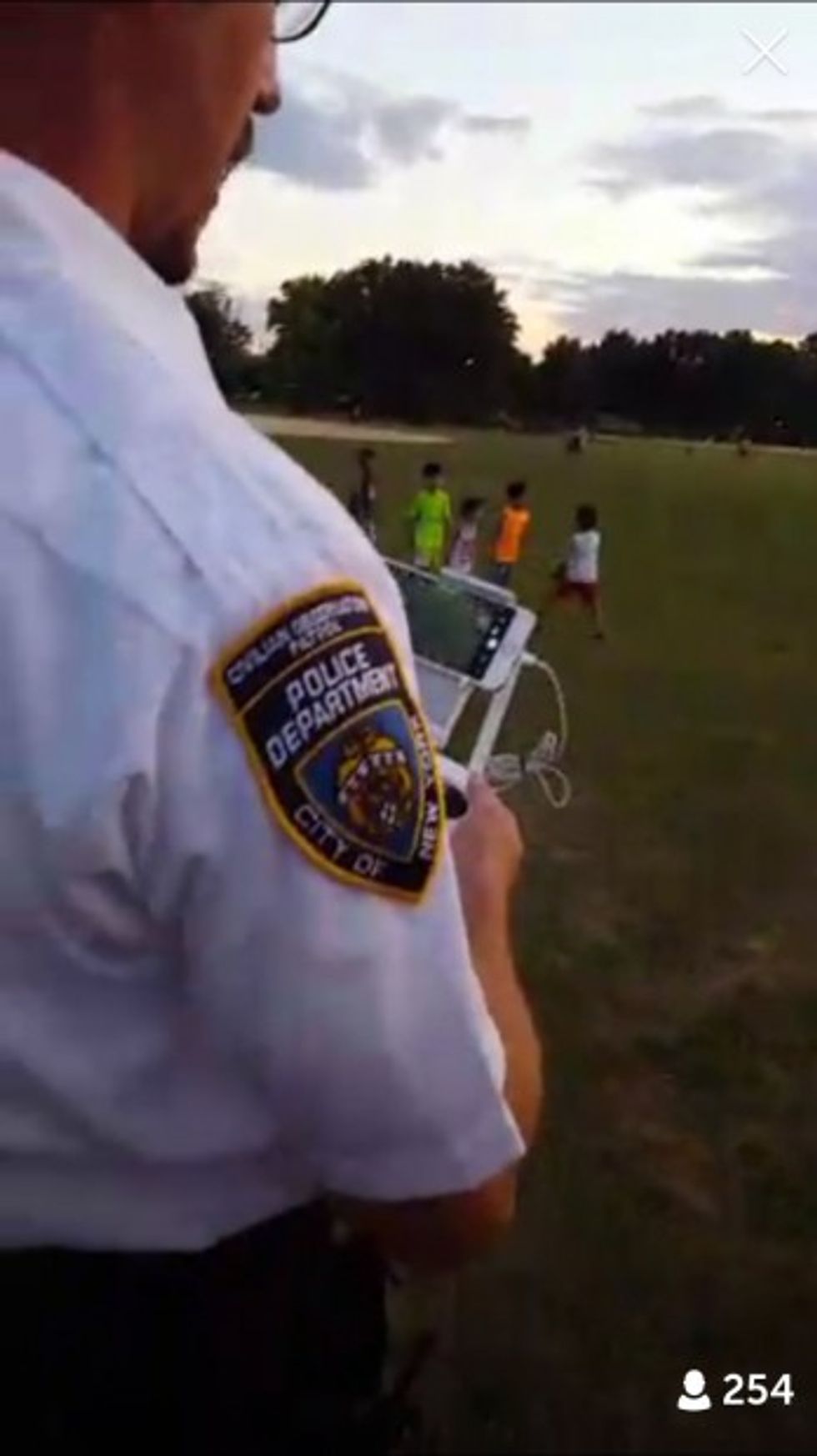 Photo Credit: Screenshot
Dow asks during the periscope interview if the NYPD is "okay" with what the group does with the drones and was assured by Pearson that NYPD was aware of the group and aware that Pearson was conducting the interview with Dow.
Pearson also acknowledges that the insignia on the drone and the patch on his "uniform" look like the NYPD patch, but that his group is a civilian observation patrol.
One father in the park with his son, was asked if he had any issues with the volunteer group flying drones in his neighborhood.
"I have nothing to do with criminal activity. But if you are an honest person, you shouldn't worry about those things. There should be more of those all over," said Rafael Yakutilov.
Yakutilov's statement is all I need to hear to know that I should be concerned.
It appears that this father is not troubled by potentially losing his protected Fourth Amendment rights against unlawful searches and seizures by the government, under the U.S. Constitution, but I do not share in Yakutilov's willingness to trust the government in not abusing my rights even if I'm not committing a criminal act.
I'm even more concerned about Fourth Amendment rights being violated when I see a group that for all intents and purposes, appears to be a part of the NYPD.
The potential for misusing the power of authority under color of law to detain and arrest citizens is far too great to be ignored.
While the status of the use of drones and the legal ramifications continue to be debated, it is becoming increasingly obvious to me that there is a real need to define the public's expectation of privacy under the Fourth Amendment versus the government and its agents' responsibility in flying these drones over the heads of Americans on American soil.
The good people of Queens may be happy with drones watching them, but in my opinion, Americans should be vehemently opposed to the NYPD or any police department's use of "volunteer" organizations who operate drones as a way of "augmenting" the police force.
–
TheBlaze contributor channel supports an open discourse on a range of views. The opinions expressed in this channel are solely those of each individual author.