Former Secretary of State Hillary Clinton will appear before the Select Committee on Benghazi Thursday regarding the terrorist attack on Sept. 11, 2012 in which our ambassador to Libya and three other Americans were killed.
Clinton will be asked why the repeated requests for more security in Benghazi before the tragedy occurred were ignored. She will be asked about the event itself and the American response following the attack including, I expect, why an obscure Internet video was blamed for the event.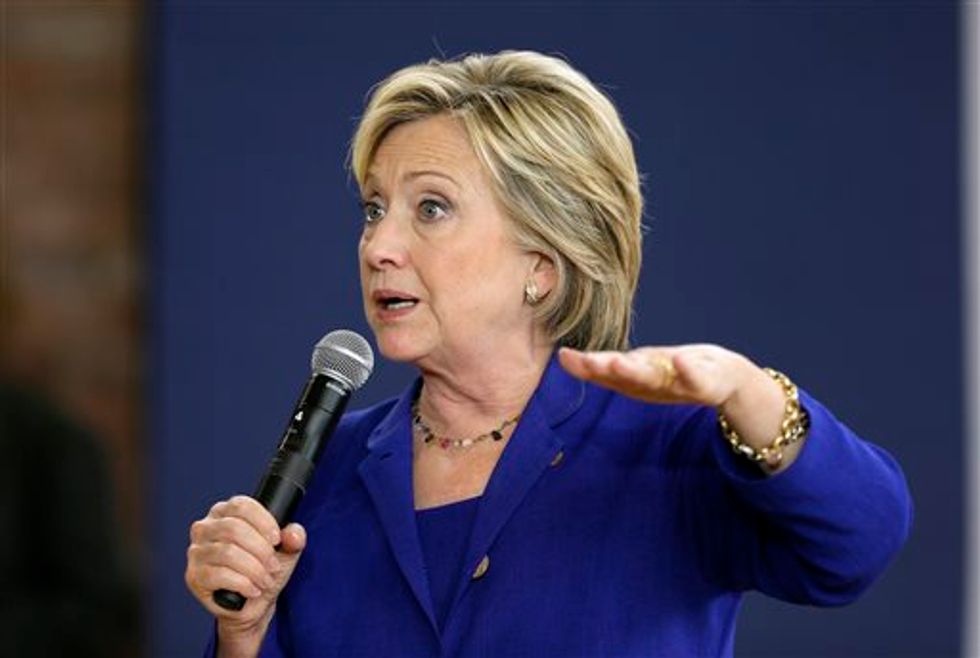 In this Sept. 22, 2015 file photo, Democratic presidential candidate Hillary Rodham Clinton speaks in Des Moines, Iowa. The state where Hillary Clinton and Bernie Sanders will meet to debate on Tuesday, Oct. 13, for the first time is evidence of why she's still the front-runner. Clinton has staff organizing on the ground for months in Nevada and they know how to navigate the state's baroque caucus system. (AP Photo/Charlie Neibergall)
Clinton has said that those requests for increased security didn't get to her. What did get to her, however, was an email about Benghazi from Sidney Blumenthal who had never been to Libya, but who was seeking her help in getting security contracts from the new Libyan regime.
While Ambassador Chris Stevens was asking for more security Clinton's top aides were asking Stevens to respond to Blumenthal's email and to provide them help in "messaging" with regard to the increasing violence.
Clinton will remind the committee that she was exonerated by the report of the independent Accountability Review Board that investigated security issues in Benghazi.
The ARB was actually not all that independent. Mrs. Clinton selected the members of the ARB. They did not interview her. They did not have access to her communications. They did not review the Ambassador Stevens' emails.
An armed man waves his rifle as buildings and cars are engulfed in flames after being set on fire inside the US consulate compound in Benghazi late on September 11, 2012. (Photo Credit: AFP/Getty Images)
Before they issued their report they allowed Clinton's chief of staff, Cheryl Mills, the opportunity to review their work and to suggest changes.
Indeed, rather than investigate Clinton they served her interests. Admiral Mike Mullins, co-chair of the ARB, warned Ms. Mills that they should not allow Deputy Assistant Secretary of State for International Programs Charlene Lamb to testify before the House Oversight Committee. He did not think that her testimony would be helpful to the Department of State.
Charlene Lamb did testify and hers was the testimony that haunts me yet.
Lamb oversaw security for the State Department's facilities around the world. When asked why the repeated requests for more security were ignored, she looked sternly at the chairman and said, "We had the correct number of assets in Benghazi on the night of 9/11."
It was cold. There was no emotion or sympathy. I immediately wondered what the back-story was.
We soon learned that of the 30 Americans evacuated from Libya after the attack, only seven worked for the Department of State. The remaining 23 were likely CIA employees or contractors.
I saw a "turf battle" between State and the CIA and Secretary Lamb was angry at being blamed for not providing more security for the CIA.
All of the above brings us to the questions that probably will not be asked at the Select Committee hearing. What was going on in that facility and why was Ambassador Stevens meeting with the Turkish diplomat that evening?
The Obama administration had been a cheerleader for the Muslim Brotherhood uprising known as Arab Spring. Beginning in December of 2010 and spreading from Tunisia across North Africa in 2011, radical Islamists rose up to topple despotic rulers.
Libyan leader Muammar Gadhafi was forcefully responding to rebel terrorist groups when he agreed to a 72-hour truce suggested by AFRICOM Commander, Gen. Carter Ham.
As Gen.l Ham was preparing to meet with Gadhafi the Department of State prevailed on the White House and he was ordered to stand down.
Clinton, U.N. Ambassador Susan Rice and Samantha Power, the influential director of the Office of Multilateral and Human Rights, became invested in a rumor that Gadhafi was planning to massacre the rebel groups in Benghazi.
There was no evidence to support the rumor, and it turns out it was not true, but the Department of State argued for airstrikes against Libya to topple Gadhafi.
The president was reluctant to act. The Pentagon was unanimous in opposition. But the three women, none of whom ever wore a uniform, carried the day. They demanded airstrikes.
In October rebel forces killed Gadhafi. Eleven months later Mrs. Clinton's diplomacy resulted in a failed state, a fertile breeding ground for terrorist groups and four dead Americans.
The questions for Mrs. Clinton ask themselves. What specific information did you have that caused you to demand regime change in Libya?
Since you were prepared to depose Gadhafi, whom did you plan to replace him with?
Why was the ambassador meeting with the Turkish diplomat?
How did Mr. Blumenthal's emails get to your attention when the ambassador's emails did not?
Did everyone in the Libya decision-making chain act independently or did you occasionally communicate with each other?
Where are the communications?
–
TheBlaze contributor channel supports an open discourse on a range of views. The opinions expressed in this channel are solely those of each individual author.