Traditionally, presidential party nominees are not reluctant to unsheathe the sword of national security during an acceptance speech to rally and convince followers their presidency will make, or keep, America strong. During her speech, Hillary Clinton's sword remained sheathed.
Hillary's comments need be compared to those two days earlier by a French female politician speaking about national security in the wake of the brutal murder of a Catholic priest by two Muslim jihadists.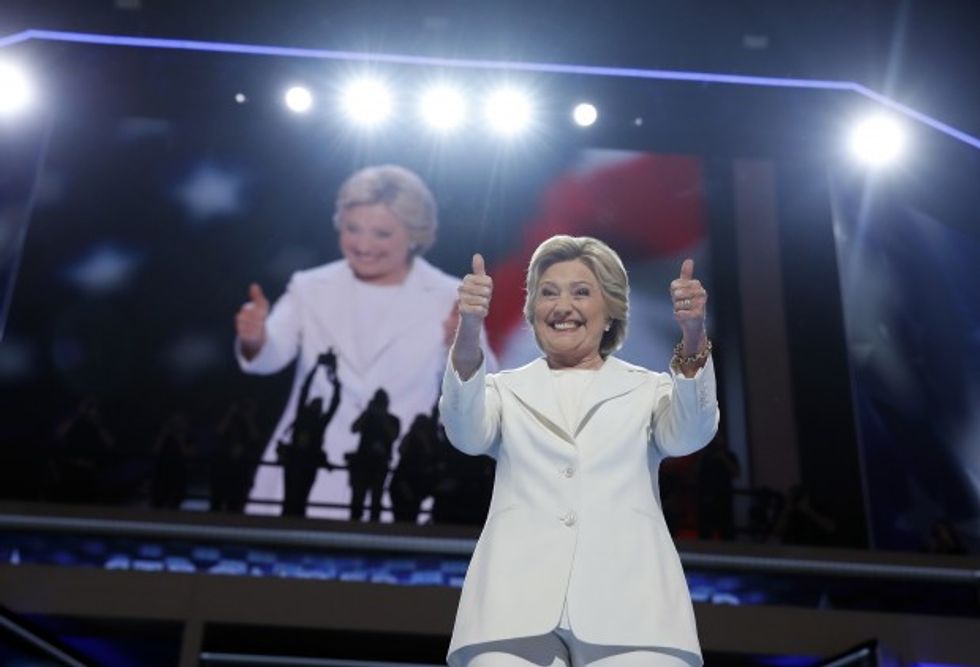 Democratic presidential nominee Hillary Clinton appears on stage during the final day of the Democratic National Convention in Philadelphia, Thursday, July 28, 2016. (AP Photo/Carolyn Kaster)
Stripping Hillary's speech of "puffery" (e.g., "America is stronger because of President Obama's leadership…"), we can reduce her national security pitch to four sentences:
"We are clear-eyed about what our country is up against."
"We will work with all Americans and our allies to fight and defeat terrorism."
"We're dealing with determined enemies that must be defeated."
"We will disrupt their efforts online to reach and radicalize young people in our country."
The clarity she suggests exists, does not. What, exactly, is it "our country is up against?"
Missing from her remarks was any reference to a source from which the "terrorism" we are to fight emanates, or the identity of the "enemies" we are to defeat, or whose online radicalization "efforts" are in need of disruption.
For a nation now at war longer than ever before in its history, a political party's presidential nominee should be able clearly to delineate who or what it is we are fighting.
Yet nowhere within the 5,150 words Hillary uttered was there the slightest reference to a word that has become more closely associated with so many of the world's terrorist ills from which we suffer today: Islam.
Hillary went on to state, "We entrust our commander in chief to make the hardest decisions our nation faces, decisions about war and peace, life and death." Clearly, we do; but let's start with an easy decision for one seeking to become our next commander-in-chief by asking her whom it is we are actually fighting.
In a week the world bore witness in France to one of the most egregious acts conducted in the name of Allah by Muslims against non-Muslims, two young Syrian male immigrants entered a church, beheading a Catholic priest, who was holding mass, along with two others. Yet 48 hours later, Hillary, giving her acceptance speech, could make no mention of the ideology continuing to give rise to this brutality.
Having opened the floodgates to Muslim immigration, France is a country on the verge of losing its cultural identity in the decades ahead. Through a combination of political correctness, fear and naiveté, the country has refused to put the spotlight on the Islamic ideology triggering the numerous terrorist attacks it has suffered. Jihadist attacks have been blindly blamed, as is the case throughout most the West, on sympathetic "immigrant" communities.
There are indications some French leaders finally are waking up to the reality that Islamic ideology poses a threat.
Last year, French Prime Minister Manuel Valls acknowledged his nation "is at war with terrorism, jihadism and radical Islamism."
And, just last month, Valls announced, for the first time, he was "open" to an interim ban on foreign funding of mosques. While this acknowledgment suggests Valls is starting to make the connection between terrorism and Islam, political correctness still stifles his making a public acknowledgment.
But the strongest endorsement against Islam now comes from a most impressive young female member of the French parliament—one lacking the much-ballyhooed worldly experience of Hillary Clinton.
Marion Marechal Le Pen, 26, the niece of France's Front National leader Marine Le Pen, made clear what it is that needs to be fought and the risks of failing to do so with an eye-opening observation:
"Either we kill Islamism or it will kill us…You are with us and against Islamism, or you are against us and for Islamism...Those who choose the status quo become complicit with our enemies."
Two female political leaders, separated by an ocean as well as a realistic grasp of Islamic ideology, offer the world two completely different assessments. From Hillary, we hear, "Don't worry, be happy, Donald Trump threatens us" while Le Pen tells us, "Islamism threatens our very existence."
Hillary is "complicit with our enemies" by refusing to name them.
Clearly embittered by the priest's beheading and unafraid to cast political correctness aside, Le Pen further lamented:
"In the West as in the East, Christians must stand up to resist Islam! They kill our children, murdering our policemen and slaughter our priests. Wake up!"
All too often politicians talk the talk, refusing to walk the walk. Hillary's speech comment she was taught to "do all the good you can in all the ways you can as long as ever you can"—considering the Clinton Foundation's lackluster track record for helping others—is an example of this. (Not a single DNC speaker—not even Hillary—mentioned any Foundation achievements.)
Le Pen, however, shows us a different breed of politician. Recognizing Islam's threat to France is real and in an act of patriotic commitment, she has joined the military reserves, challenging her peers to do likewise.
With such a declaration, Le Pen has gone where no French leader—man or woman—has gone before, sounding an alarm to which her constituents have, for too long, turned a deaf ear.
Le Pen's words come at a critical time for France. Today, more than half its military is deployed on French streets. Not since World War II has there been such a dominant military presence. But even this deployment has been insufficient to prevent Islamic terrorism from rearing its ugly head.
More than two centuries ago, a great French military leader, Major General Marquis de Lafayette, only 19, came to America to help us fight a Revolution. Once again, an America experiencing troubled times and incapable of generating leaders willing to tell it like it is needs French assistance.
France, please send us Marion Marechal Le Pen!
–
TheBlaze contributor channel supports an open discourse on a range of views. The opinions expressed in this channel are solely those of each individual author.