For me, as for many of you, Memorial Day is a poignant experience. There is a solemn stillness, reverent contemplation, a quiet dignity, a soul-enriching mixture of gratitude, admiration, respect, and awe. As a writer, some of my most personal articles have been devoted to this annual commemoration.
It is proper and fitting that we pause on one day of the year to honor and remember those who gave their lives in service to our country, but is one day enough? I am not suggesting that we need another national holiday. It seems to me, though, that we can honor their memory by how we live our lives every day of the year.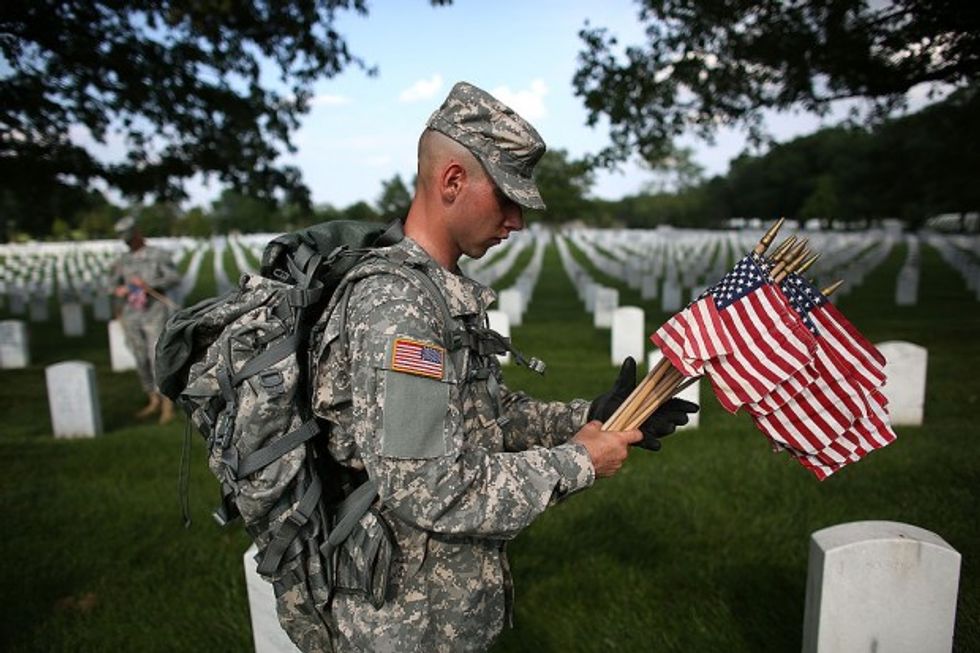 Members of the 3rd U.S. Infantry Regiment place American flags at the graves of U.S. soldiers buried in Section 60 at Arlington National Cemetery in preparation for Memorial Day May 24, 2012 in Arlington, Virginia. 'Flags-In' has become an annual ceremony since the 3rd U.S. Infantry Regiment (The Old Guard) was designated to be an Army's official ceremonial unit in 1948. Every available soldier in the 3rd U.S. Infantry Regiment participates in these events. (Win McNamee/Getty Images)
They gave their lives so that we could live in freedom. The best way to express our gratitude to them and repay their sacrifice is not only to do something worthwhile with our lives, but to bring into this world lots of new Americans, and then to defend the values, rights, and liberties that our service men and women prized highly enough to defend with their very lives.
You may think it is odd that I mentioned having babies as a way to honor fallen military heroes, but think about it: The first rule of success is to show up, but before you show up, you have to be alive. The demographic data showing that "immigration is the prime source of population growth" should be of serious concern to us. Earlier this month, The Wall Street Journal reported that "The U.S. is experiencing a baby lull that looks set to last for years due to a fertility rate of 1.86 percent that is below the 2.1 replacement rate." Thank goodness we are not nearly as far down the road to a population implosion of the sort that is beginning to transform Europe into Eurabia (Mark Steyn's thesis in his book America Alone) due to such grim fertility rates as 1.44 in Germany and 1.49 in Italy.
But why aren't more native-born Americans passing along to a new generation the gift of life that they were given - a gift that others were willing to die for? There are several reasons for this.
Some reasons are economic - the high cost of living and the crushing burden of federal debt hanging over their heads plus additional college-related debt borne by millions.
Another reason is even more subtle and insidious. Our unprecedented affluence is a two-edged sword that presents an ongoing challenge. Yes, prosperity is preferable to poverty, but if we become too habituated to a life of ease, then taking on responsibilities such as parenthood that involve serious commitments of time and self-sacrifice increasingly is avoided. Thanks to the modern welfare state, we have been duped into believing that we won't need children to take care of us in our senior years, because the state will take care of us. I say "duped," because as welfare states head toward bankruptcy, the state will not be able to provide the kind of care that millions of Americans have been counting on.
Other reasons for refraining from procreation are moral and spiritual. So corrupted have some American been by the lure of a material life of ease and self-indulgent pleasure that many Americans are willing to snuff out the lives of others. For example, the second leading cause of death among pregnant women is homicide perpetrated by the men who have impregnated them and rebel against the prospect of being tied down by family responsibilities. And this is small potatoes in comparison to the - thankfully diminishing - abortion holocaust.
What a vast difference between the character of our military heroes who died rather than take the easy way out, and today's self-absorbed, immature "adults" who find the prospect of parenthood so burdensome that they will kill to avoid it. I doubt those veterans who made the ultimate sacrifice thought they were doing it so that their surviving countrymen could kill mothers and babies.
Besides mustering up the courage and selflessness to share the gift of life in America, we could all honor those who laid down their lives in defense of our country's principles and ideals by doing our part to preserve and defend those principles. With apologies to the multi-culturalists out there, our country became the richest country in the world and the target destination for emigrés from around the world because we were superior in certain key respects: We were freer, our God-given rights were more secure here than anywhere else, we established the rule of law and banned corruptive government privileges, we understood that government is the greatest threat to rights, and so we vigilantly kept government in check.
That has all changed now. We are in the process of losing our rights, our liberty, our values and our constitutional form of government. We are not losing them to foreign enemies, but to morally and intellectually spurious strains of thought that hold millions of our compatriots in their thrall.
This insidious process brings to mind what a young Abraham Lincoln said in his Lyceum address in 1838: "If destruction be our lot, we must ourselves be its author and finisher. As a nation of freemen, we must live through all time, or die by suicide."
Fellow Americans, let us stir ourselves from our torpor. Let us push back against the forces of error and ignorance that would destroy us. Let us love life and liberty enough to fight to preserve them - not only for our own sakes, but to honor those brave Americans who died in the service of those noble ideals. That is how we can honor them not just on Memorial Day, but every day of the year.
Mark Hendrickson is Fellow for Economic and Social Policy with the Center for Vision & Values at Grove City College.
–
TheBlaze contributor channel supports an open discourse on a range of views. The opinions expressed in this channel are solely those of each individual author.