This year my husband and I, along with our two biological children, had the honor and privilege of adopting two babies. One was born in February and one in April.
As an adoptive mother, the latest video by the Center for Medical Progress, in which a former Stem Express employee describes harvesting the brain from a baby with a still-beating heart, is especially nauseating and disturbing.
In the last minute of the video, Holly O'Donnell describes holding the baby boy in her hands as she "cleans up" the procurement procedure. She expresses her thoughts as she held the baby, saying, "Could this be a lawyer or fireman? Could this be the next president? When these babies are 3, will they like to color?"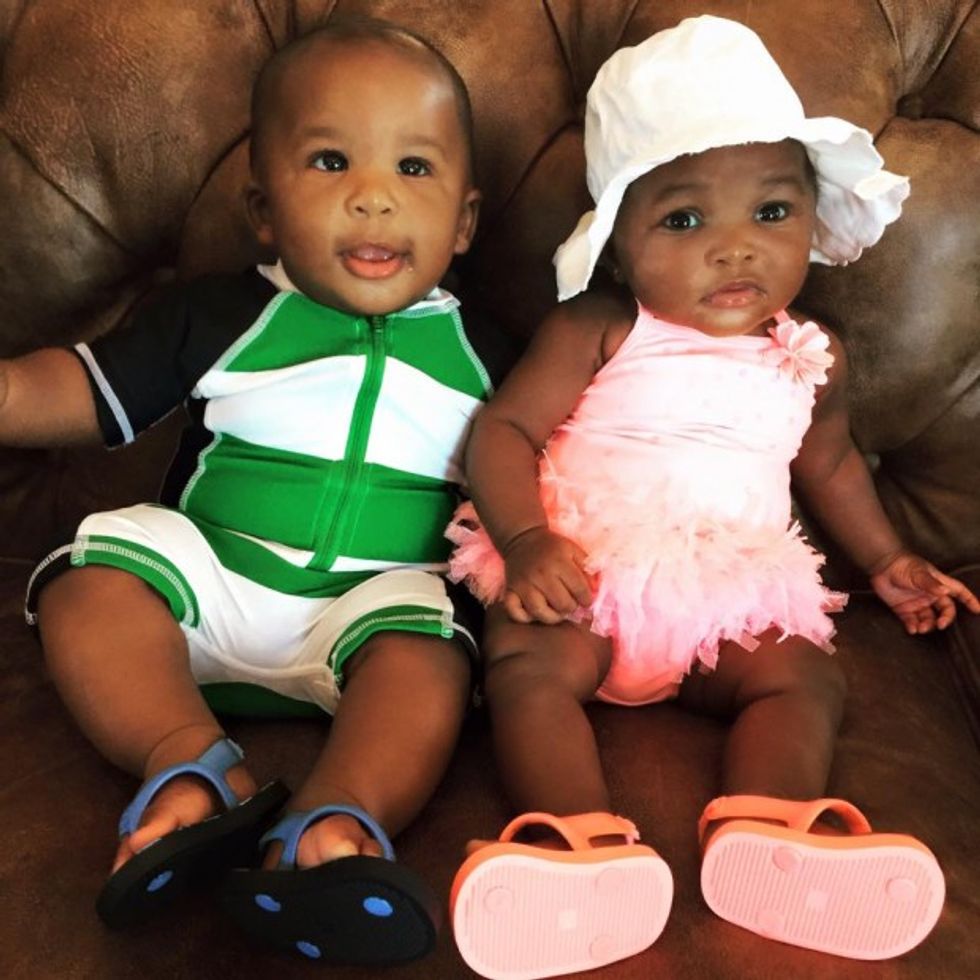 The author's two adopted children, Moses and Haven. Photo courtesy of author.
As horrifying as the entire video was, these statements are the ones that ring in my ears as I look into my two beautiful adopted babies' eyes and think about the millions of babies that won't be given the chance that mine received.
The adoption process lasted for a little more than two years for my husband and me. Those years were grueling, and the wait almost unbearable. Hearing that babies' faces are cut open, even when a heartbeat is present, is horrifying while couples like us wait to give a life to unplanned babies.
On average there are about one million abortions performed each year in the United States. While we waited to adopt, around two million babies were aborted and perhaps sold as research tissue.
In an effort to gain capitol, babies have become a "line item" for Planned Parenthood. Rather than seeing the unborn as a precious life, they have been slated as a product for financial gain – even while thousands of couples like my husband and I wait to adopt them.
These babies are wanted. They are planned for by the adoption community, even if they weren't planned by their birth mothers.
After hearing Holly O'Donnell's thoughts about what the child she held could have become, I think of how my adopted son just started crawling and is full of personality. He smiles constantly. My adopted daughter has a sweet disposition and is captivated by music. Both have the makings of greatness. The fact that their life might have been stolen from them grieves me.
Walking into each hospital room to meet my children after they were delivered changed my life. I met two women who chose not to sacrifice their child, but to sacrifice for their child. The two birth mothers that gave my children life are true heroes. They saved the life of their child when they had the choice to terminate their unplanned pregnancy. To define them any other way would be beneath them. Without their bravery and courage my family simply wouldn't be complete and my babies would not be brightening our lives. Not only do I thank them, but I know that my adopted children will one day thank them as well.
I don't know how anyone could look into the sweet, vibrant faces of my children and believe it's morally acceptable to end their lives. The lives of babies are infinitely more valuable that what Planned Parenthood may put down in their "line items."
Next time you think about whether abortion is acceptable, remember the families with adopted babies. Think about how much value they bring to our lives, and consider what we may have missed in the lives we threw away.
–
TheBlaze contributor channel supports an open discourse on a range of views. The opinions expressed in this channel are solely those of each individual author.