Said at the height of the United Kingdom's greatest expanse in 1922 was, "the sun never sets on the British Empire." It was a time Britain held sway over a fifth of the world's population.
One wonders how 20th century Brits felt as that influence began waning in World War II's aftermath. At what point did reality take root the sun was, in fact, setting upon their empire? Did most understand it at the time or did reality only set in later?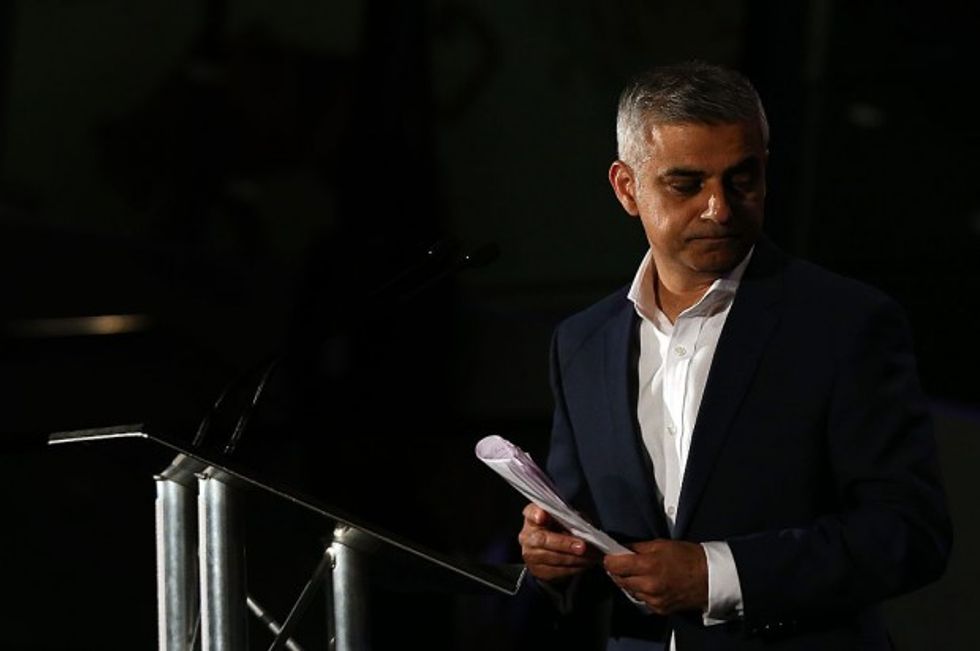 Labour mayoral candidate Sadiq Khan finishes his speech after being announced as London mayor following local elections, on May 07, 2016 in London, England. After months of campaigning Mr Khan won the London mayoral race with 56.8 percent of the vote beating Conservative Party candidate Zac Goldsmith into second place. (Photo by Carl Court/Getty Images)

Spiraling British influence almost hit another low in September 2014 when Scotland voted on, but rejected, independence from the U.K.
British influence sank even further on May 5.
This date is the answer to a question of historic significance a future generation of Brits will ask. Sadly, by then, it may be too late to do anything about it. Their question will be: When did the sun start setting on British democracy?
Today's British progressives undoubtedly would be the last to acknowledge what happened May 5 in London bodes ominously for a country - arguably - boasting it is the oldest continuous democracy. These same progressives will not live long enough to witness the full impact of the ominous act, but will live long enough to feel some of its sting.
On May 5, Londoners elected a new mayor. Sadiq Khan won by a narrow margin. While Khan's Labour Party is mired in an anti-Semitism scandal, Khan himself is mired in controversy over reported links to Islamic extremists.
The London-born son of Pakistani immigrants, Khan is touted as the epitome of the Muslim immigrant success story.
A human rights lawyer, Khan does have many concerned about his past repeated appearances alongside Muslim extremists. Whenever opponents raise the issue, however, Khan raises the oft-heard Muslim cry of Islamophobia.
Non-Muslims should be concerned over several of Khan's Islamist alignments. He repeatedly appeared with extremist Islamic cleric Suliman Gani, hailing from the same district Khan represented as a member of Parliament. Not only has Gani claimed women to be subservient to men and condemned homosexuals, he has encouraged British Muslims to "struggle…(for an) Islamic state."
Khan's ties to extreme Islamists extends to several speeches given at events organized by a group linked to comments suggesting the now-deceased Islamic State butcher Jihadi John was a "beautiful young man." Additionally, Khan's brother-in-law supports an Islamic terrorist organization.
Khan's extreme Islamist links are too numerous to dismiss as inconsequential. There is clearly a dark side to his politics that will manifest itself in the future. As one critic reports, "the previously unthinkable has become the present reality. A Muslim man with way too many extremist links to be entirely coincidental is now the Mayor of London."
It is this man who will now be responsible for the safety and security of all Londoners.
Of interest will be how Khan deals with security-related problems in London—now experienced elsewhere in Europe—where Muslims occupying positions of authority refuse to provide safety for non-Muslims.
A recently leaked confidential memo from France's Department of Public Security details seventeen cases occurring between 2012-2015 of radicalized police officers listening to and broadcasting Muslim chants while on patrol. It was reported that, "some of these police officers have openly refused to protect synagogues or to observe a minute of silence to commemorate the deaths of Jewish victims of terrorist attacks."
This lack of support among Muslim police officers combined with a growing Muslim population's animosity towards Jews in France has led to a startling reality noted by a critic of developments there:
"Of all French soldiers currently engaged in military operations, half of them are deployed inside France. And half of those are assigned to protect 717 Jewish schools. This massive deployment of armed forces in our own cities is a departure from history. It is a moral disarmament, before a military one."
It is doubtful things will get better for France. Its Interior Ministry noted in January 2016, the country now hosts an estimated 8,250 radical Islamists—a 50% increase over the previous year.
Deployment of military forces for domestic security is true today for other European states including Italy, Spain and even Germany—where a ban against it, imposed as memories of Hitler lingered, had to be lifted.
With an Islamist presence increasing in the U.K. as well, Khan will be faced with having to choose between the welfare of Muslims—or that of all Londoners. His bona fides suggest he will favor the former.
The election of a Muslim as London's mayor may well just be the tip of an Islamic iceberg. Estimates are last year the Muslim population in England and Wales nearly doubled over the previous ten. Muslims could well become a majority in London by 2051.
The U.K. has had a good historical run as a global influencer. While that role is dying a slow death, so too will its ability to govern as a democracy committed to human rights protections for all.
It is naïve for us to believe Western democracies are here to stay. With the election of a European capital's first Muslim mayor with reported ties to extremists, we are witnessing a nail being driven into a democracy's coffin.
Be forewarned. As growing Islamic influence takes root in the West, we will see the democracies—allowing it to do so—just fade away.
–
TheBlaze contributor channel supports an open discourse on a range of views. The opinions expressed in this channel are solely those of each individual author.