As a man of some 70 years I have spent a significant part of that time in all male or virtually all male environments.
An all-boys high school, the front lines of the military of the 1960's and the nearly all male Air Traffic Control system of the 1970's were rowdy places fueled by testosterone and the near constant alpha male pummeling of each other. Locker rooms were full of macho bantering and barracks talk could be very harsh. Women were often the topic of discussion along with sports, cars, drinking and bravado tales of exploits of one sort or another.
And in truth I have heard some bad things said about women.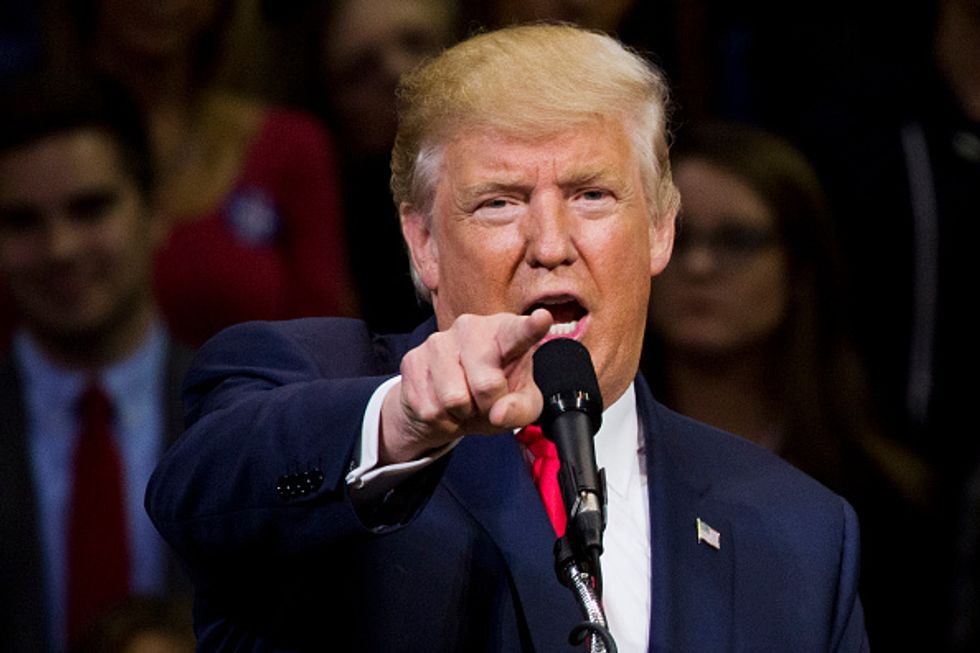 DOMINICK REUTER/AFP/Getty Images
But as I think about it the worst things that I remember hearing were spoken by immature adolescent boys. Most boys as they mature become more responsible, more aware and more sensitive to the greatest dynamic of life, the relationship between men and women. As men mature they come to appreciate the wonderful balance between the roles, responsibilities, and sensibilities of men and women.
Healthy men understand that strength comes in many forms, that relationships are built on trust, and that respect must be given if it is to be received. Harsh language is moderated as men realize that it could be their mother, their wife or their daughter that is being debased. Mature men realize that vile, vulgar language is a sign of immaturity and irresponsibility and it gradually disappears from their vocabulary. So it would be very unfair to the overwhelming majority of men to allow Donald Trump to chalk his vile comments about women up to just male "locker room banter."
It is not.
His language is not only demeaning but it violent towards them. It is the language of the rapist.
"I moved on her like a bitch. I just start kissing them. It's like a magnet. Just kiss. I don't even wait. And when you're a star, they let you do it. You can do anything."
This is not only the vulgar language of an adolescent but also the violent language of a misogynist, a man who hates women.
It would be a double injustice if he were allowed to pass this off as a "private conversation" among men. He cannot be allowed to justify his remarks and the behaviors he is referring to by asserting that other men say or do worse things than he did. Mature, responsible men do not talk this way either in public or in private. We do not think of or refer to women as body parts. We realize that the women we are speaking about are other men's mothers', wives, friends, and daughters.
This is not a singular event from several years ago that can be dismissed with an off-handed half apology of "I apologize if anyone was offended." Mr. Trump has a long and well-documented history of horrific comments towards and about women. It is not enough to simply denounce these remarks. We must denounce the thinking that engenders these remarks and we must reject in the strongest terms possible the idea that real men entertain such thoughts or use such language.
Real men are not vulgarians.
Edward Meagher is a Vietnam combat veteran. He subsequently served in various positions in the Department of Veterans Affairs, including as Deputy Assistant Secretary during President George W. Bush's administration.
–
TheBlaze contributor channel supports an open discourse on a range of views. The opinions expressed in this channel are solely those of each individual author.