Trigger warning: To any college students who may have stumbled upon this article, it's only fair to warn you that it will be very upsetting. Very. As such, it will certainly never see the light of day on your campus. The most upsetting part is that after you read it, you will no longer be able to define "sexual harassment" as "emailed, texted, tweeted, phoned, or instant messaged offensive sexual remarks, jokes, stories, pictures or videos to you that you didn't want."
Brace yourselves for an account of some real sexual harassment.
Apparently the ISIS boys have been bad, you know, like raping women on their periods. Since Allah was kind enough to provide them with "women and children of infidels" as sex slaves, ISIS leadership thinks the least their boys can do is show some decorum. Hence the publication of fifteen new regulations for achieving total degradation of women captives while still retaining Allah's good graces, i.e., conforming to Sharia.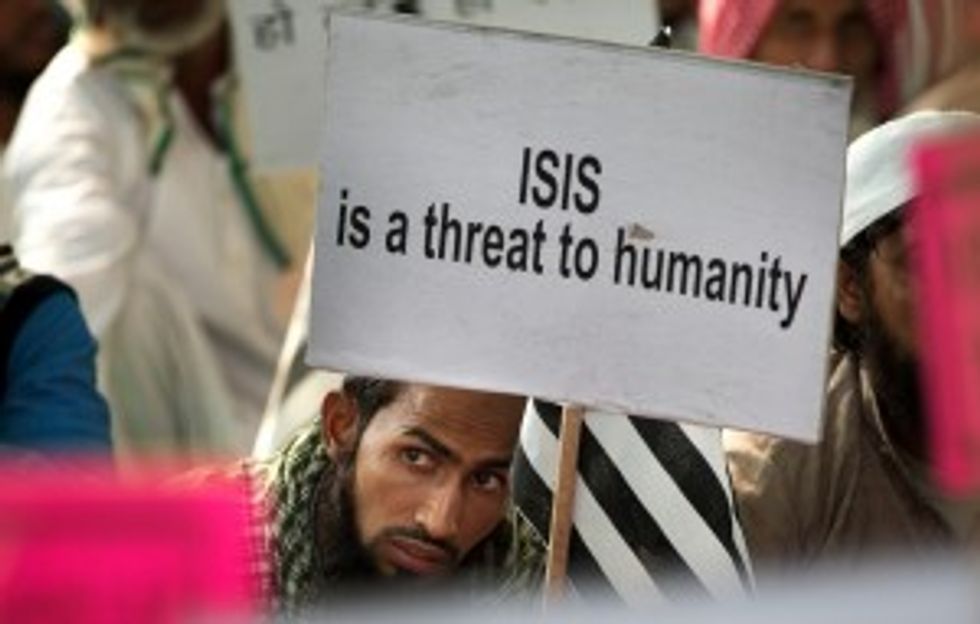 An Indian Muslim man holds a banner during a protest against ISIS, an Islamic State group, and Friday's Paris attacks, in New Delhi, India, Wednesday, Nov. 18, 2015. (AP Photo/Manish Swarup) 
Ahem. "It is necessary," intones the memo from ISIL Committee of Fatwas and Research, "to clarify some rules pertaining to [female slaves] to avoid any violations in dealing with them."
There is the predictable prohibition against contact with menstruating women, a seemingly universal fear among all men everywhere. Then, obviously, is the need for rules that ratify the basest of pissing contests; no man can "have intercourse with" another man's slave. Next come the gentlemanly rules against rape of mother and daughter who is "suitable for intercourse," or rape of two captive sisters (unless, of course, the first sister is relinquished by her ISIS bad boy owner, and then it's just a first-come first-served proposition).
The fatwa's crowning glory is rule 14, meant to enshrine the superior level of decency among ISIS militants: "The owner of a female captive should show compassion to her, be kind to her, not humiliate her and not assign her to work she is unable to perform."
Is that before or after raping her?
The fifteenth and final rule says more about ISIS than all the first 14 put together: "The owner of a female captive should not sell her to an individual whom he knows will treat her badly or do unto her what Allah has forbidden."
Honor even among thieves, eh? Especially thieves who have no insight into their own monstrosity. One man's bad treatment is another man's compassion and kindness when both men are degrading women in the same way.
Hey, speaking of degrading women, let's get back to the most heinous degradation of all; unwanted sexual contact, especially between co-eds on fire with sexual desire. In our brave new world, "no means no" is obsolete; now it's "yes means yes." Only "explicit positive consent from a partner before engaging in sexual activity" is legal.
And lest we mistake the "affirmative consent" rule as simply protection against forcible penetration (which it is), consider the fuller ramifications of the rule as it was presented to 150,000 graduate and undergraduate students at 27 universities. Affirmative consent violations were defined as:
"ignoring your cues to stop or slow down," and
"went ahead without checking in or while you were still deciding."
Cues? Checking in? Still deciding? Affirmative consent as so structured eliminates 99.99 percent of all heterosexual interaction. And where's the fun in a lights-on-every-signature-notarized first kiss? Isn't the tentativeness of it the key to its delight?
If your blood isn't boiling yet, hold in your mind the vision of women trapped in the back of a truck like loose chickens while we review what constitutes sexual harassment on American college campuses.
In the same study that assessed affirmative consent violations, students were asked if anyone had ever "emailed, texted, tweeted, phoned, or instant messaged offensive sexual remarks, jokes, stories, pictures or videos to you that you didn't want?"
Wah wah wah. Since the study included Harvard and Yale, don't those smartie-pants know how to block a number?
Also defined as a sexual harasser is someone who "continued to ask you to go out, get dinner, have drinks or have sex even though you said, 'No'." Well there goes all of Western civilization. The greatest love stories of all time center on a man pursuing a woman who is hard to get. Men actually like pursuing, and women actually like being pursued. At least they do before they get to college and go to gender studies classes. Only a college degree could transmute the beautiful interplay between men and women—a dance that is biological, species perpetuation-critical, and divine—into something to demonize.
The worst, worst, worst news of all is that when sexual harassment is defined as above, nearly 50 percent of students say they have been "the victims" of it. Victims. Don't get me started. If female college students pursued by men are "victims," what do we call the loose chicken women in the back of the truck? I'm pretty sure that 100 percent of them are on their way to hell on earth.
Donna Carol Voss is an author, blogger, speaker, and mom. A Berkeley grad, a former atheist, pagan, and hot mess, she is now a Mormon on purpose and an original thinker on 21st century women. Her memoir, "One of Everything," traces the path through one of everything she took to get here. www.donnacarolvoss.com

–
TheBlaze contributor channel supports an open discourse on a range of views. The opinions expressed in this channel are solely those of each individual author.