Paris and Beirut have a lot in common, but terrorist attacks have never been a common denominator. Both cities were shocked with two horrific terrorist attacks only days apart.
Beirut, for many years, has been known as the "Paris of the Middle East." But in light of the Paris attacks -- which included multiple suicide bombings and urban gun-battles -- I am afraid that Paris, and any other Western city for that matter, could become the Beirut of Europe.
What happened in Paris, the world by now MUST realize, is only the beginning. I have for many years advocated that the enemies of the West are neither the "Russian bear," nor the "Chinese dragon." And it certainly is not a lack of democracy around the world. Our true enemies are religious governance in general, and political Islam in particular.
[sharequote align="center"]Our true enemies are religious governance in general, and political Islam in particular.[/sharequote]
We must, once and for all, stop our insane categorization of "moderate" Islamic fighters, such as Jaish El Tawhid versus extremists such as Islamic State. They are all the same.
We must stop supporting leaders with political ambitions long rooted in antiquated Islamic conquests; whose visions extend far beyond their borders. That is as true of the Shiite Iranian leadership as it is true of the current Sunni Turkish leader, Recep Tayyip Erdoğan, who is merely Islamic State in a suit.
We must stop this notion or fantasy of aiding moderate rebels in Syria. Today's reality is that those so-called moderate rebels are nothing but a handful. The overwhelming majority are Islamic fighters. We must end pursuing this foolish and naive liberal notion that inclusion will lead Islamists to moderation.
This means ending dialogue with Egypt's ousted Muslim Brotherhood. We must end extending invitations to the Muslim Brotherhood by Congress, with the futile claim that they came to power through a democratic process, but were ousted by military coup. We must understand that while Hamas rules Gaza, Israel will never have peace. Israel in in fact losing its democratic character as their own religious leaders are exerting more control. We must realize that compromises, such as the Iranian nuclear deal, emboldens and legitimizes Iranian theocratic leadership for generations to come. We must understand that in signing the Iranian nuclear deal, we have sentenced the Iranian people to another religious prison term that may well extend for another 50 to 70 years.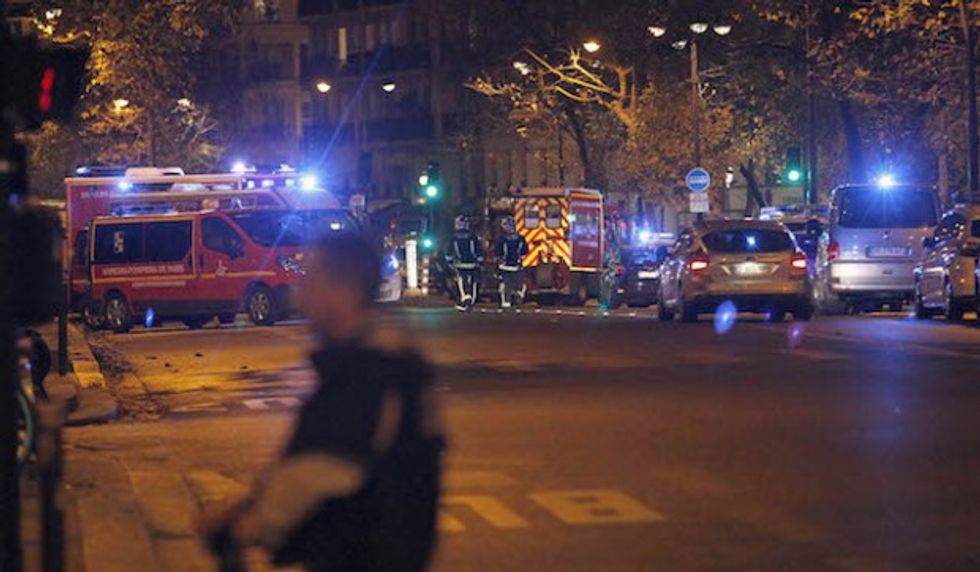 Police survey the area of Boulevard Baumarchais after an attack in the French capital on November 13, 2015 in Paris, France. At least 18 people were killed in a series of gun attacks across Paris, as well as explosions outside the national stadium where France was hosting Germany. (Photo by Thierry Chesnot/Getty Images)
Have we not learned anything form Iraq, Afghanistan, Egypt, and most of all Libya? Must we repeat the same mistakes now in Syria?
The United States must not hesitate in providing its full cooperation to those who are fighting political Islam anywhere. If we cannot be everywhere, we should not be weakening those already engaged in the fight, such as Egypt, first and foremost. Egypt today is in the grasp of an ambitious buildup of a regional deployable military through the acquisition of two carrier task forces. It is the first such escalation in the region. Egypt has realized that the United States is no longer a dependable regional ally, and must now take up that mantle. Shame on us!
We must, as we did in World War II, join hands with France, the United Kingdom and -- yes -- Russia, and rid ourselves of this global menace as we did when we extinguished the Thousand Year Reich.
We must liberate Syria from Islamic State and the likes. We must work with the current Syrian leadership to restore their country so that Christians, Yazidis, Kurds, and Muslims can once again live in moderate states. States that are forward-facing, and not entrapped in a bygone religious era.
If we do not realize this, then I am afraid that what we have just witnessed in Paris is only the beginning.
–
TheBlaze contributor channel supports an open discourse on a range of views. The opinions expressed in this channel are solely those of each individual author.