Add the Supreme Court's Whole Woman's Health v. Hellerstedt to the long line of horrible, unlawful, abortion rulings. In a 5-3 decision — Breyer, Kennedy, Ginsburg, Sotomayor and Kagan vs. Roberts, Thomas and Alito — the Court unnecessarily struck down H.B 2, a Texas law that required abortion clinics to meet minimal building standards of other ambulatory surgery centers and also required abortionists to maintain admitting privileges at a hospital within 30 miles.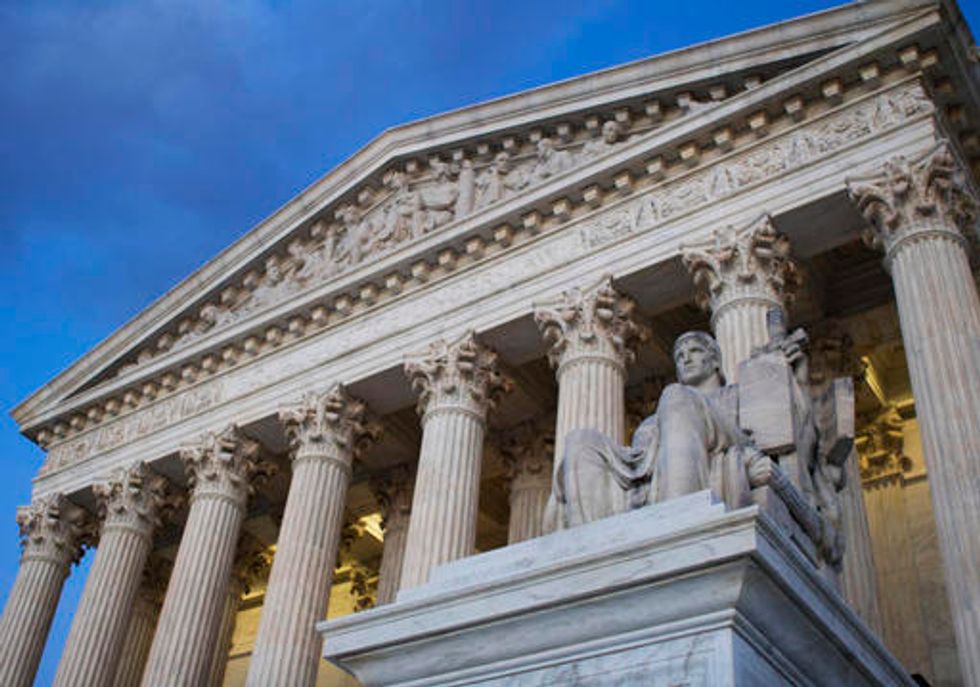 This Saturday, Feb. 13, 2016 photo shows the Supreme Court building at sunset in Washington. (AP Photo/Jon Elswick)
It is ironic, though, not at all unexpected, to find Justice Anthony Kennedy joining the majority in this case to do exactly what he admitted and criticized the Court for doing with its abortion jurisprudence in Gonzales v. Carhart, the Partial Birth Abortion case. In that case, he wrote:
"It is true this longstanding maxim of statutory interpretation has, in the past, fallen by the wayside when the Court confronted a statute regulating abortion. The Court at times employed an antagonistic 'canon of construction under which in cases involving abortion, a permissible reading of a statute [was] to be avoided at all costs.'"
And so he joins in perpetrating the same ruse on the American people today. Laws regulating abortion are simply treated differently by the liberal justices at the Supreme Court. As Justice Clarence Thomas wrote in dissent, the "decision exemplifies the Court's troubling tendency 'to bend the rules when any effort to limit abortion, or even to speak in opposition to abortion, is at issue.'"
He wrote that, "today's decision perpetuates the Court's habit of applying different rules to different constitutional rights — especially the putative right to abortion." He also notes that, "the Court employs a different approach to rights that it favors."
The majority essentially "transform[s] the undue-burden test to something much more akin to strict scrutiny." And not only that, it just makes big pronouncements by employing a very selective process of looking at the facts in this case. "The record makes clear that the surgical-center requirement provides no benefit when complications arise in the context of an abortion produced through medication," Justice Stephen Breyer wrote for the majority.
The Court simply makes policy choices and masquerades them as law or "fact findings." At one point, the Court simply says they just liked the prior law better (as if that had anything to do with it): "We have found nothing in Texas' record evidence that shows that, compared to prior law (which required a 'working arrangement' with a doctor with admitting privileges), the new law advanced Texas' legitimate interest in protecting women's health."
Policy decisions are for policy makers, not judges. The majority simply pronounces this law an "undue burden" under a doctrine it created and definition they can manipulate at will. The words of Justice Thomas again, underscore the point, "The Court should abandon the pretense that anything other than policy preferences underlies its balancing of constitutional rights and interests in any given case."
Today's decision is nothing short of a tragedy. It is inconceivable that just five unelected justices are able to make policy choices on the best way to protect women and children, second guessing the people of a whole state.
Legally speaking, this decision does nothing to advance predictability or confidence in law.
Thomas again: "Our decisions deliver neither predictability nor the promise of a judiciary bound by the rule of law. … As the Court applies whatever standard it likes to any given case, nothing but empty words separates our constitutional decisions from judicial fiat."
Such a declaration reminds us of the fragile state of our judiciary, indeed of our republic. Some people wondered why many Republicans have fought so hard to give the people a voice on the type of justice they want at the Supreme Court. Well, this is exactly why.
We have a group of liberal justices that, adhering to a living, breathing Constitution they can manipulate to fit their personal policy choices, show little regard for the Constitution and the will of "We the People." This sort of judicial activism continues to delegitimize the Court and undermine the public's confidence.
Here is the way Justice Thomas put it in the conclusion of his powerful dissent: "Unless the Court abides by one set of rules to adjudicate constitutional rights, it will continue reducing constitutional law to policy-driven value judgments until the last shreds of its legitimacy disappear."
—
TheBlaze contributor channel supports an open discourse on a range of views. The opinions expressed in this channel are solely those of each individual author.
Mario Diaz, Esq. is Legal Counsel at Concerned Women for America, the nation's largest public policy women's organization. His book "Be Spent: Winning the Fight for Freedom's Survival" is available now at Amazon. Twitter @legalblurbblog.