I have been involved in campaigns for 44 years. In 18 of those campaigns I was the candidate. Not much happens in politics any more that surprises me.
But I have been surprised at the attention being given to the incident in which the Ted Cruz campaign distributed a CNN news report that Ben Carson was taking a break in the campaign. I am stunned at the tender sensibilities of politicians seeking George Washington's job.
Politicians have been accused of dirty tricks since the dawn of democracy. In the 1800 election between Thomas Jefferson and John Adams, Jefferson's camp accused Adams of having a "hideous hermaphroditical character, which has neither the force and firmness of a man, nor the gentleness and sensibility of a woman."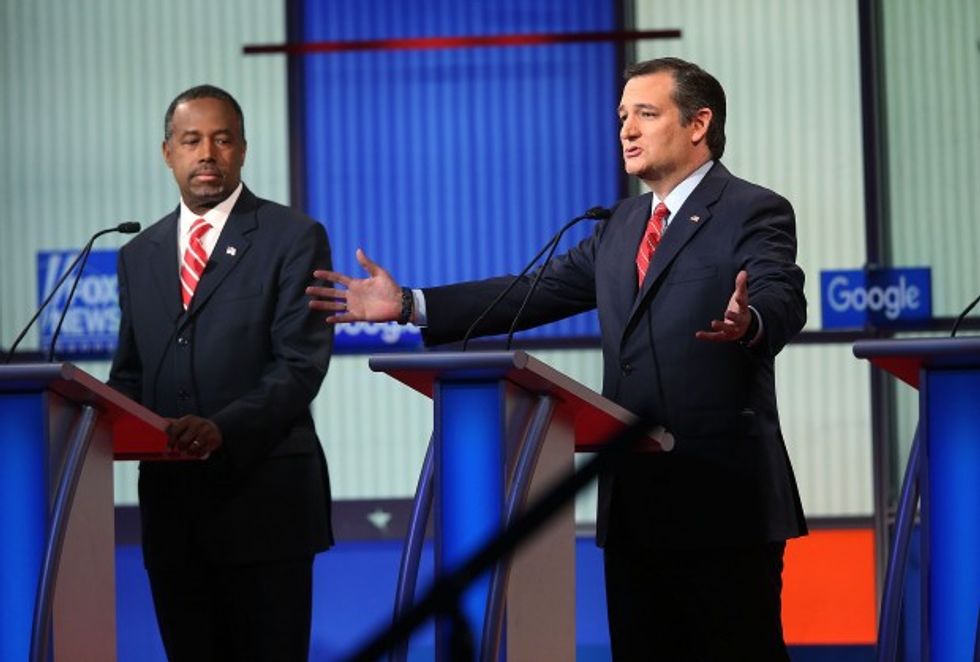 Ted Cruz and Ben Carson participate in the Fox News - Google GOP Debate, Jan. 28, 2016. (Getty Images/Scott Olson)
Adams' campaign called Jefferson "a mean-spirited, low-lived fellow, the son of a half-breed Indian squaw, sired by a Virginia mulatto father."
Twenty-eight years later John Quincy Adams was labeled a pimp, and Andrew Jackson's wife was called a slut. I don't know if either claim was true.
More recently Richard Nixon's "plumbers" used "second story" techniques to get information on and sabotage Nixon's political enemies. It all ended ignominiously at the Watergate complex when a nighttime break-in brought down Nixon's presidency.
In 1992 Craig Livingstone followed George H. W. Bush's campaign wearing "Pinocchio" or "Giant Chicken" costumes to picket and disrupt the president's speeches and press conferences.
This conduct earned him the job of chief of White House security. He was hired at Hillary Clinton's instruction.
He immediately collected the FBI background files on hundreds of prominent Republicans. When forced to resign three years later no one remembered who hired him or why.
Sen. John McCain shocked the political establishment in 2000 with a stunning defeat of George W. Bush in New Hampshire. As McCain's "Straight Talk Express" rolled into South Carolina he had a five-point lead in the polls.
Very quickly the Bush campaign devolved into what has been called the dirtiest and most brutal ever. Secret "push polls" and anonymous flyers were distributed making scurrilous charges.
McCain was accused of fathering a black child out of wedlock. It was said that McCain's wife was a drug addict, that he was a homosexual, and that he was mentally unstable from his North Vietnam POW days.
Karl Rove was the campaign manager of the Bush campaign, but to this day no one has admitted responsibility for the sleaze.
In 2010 Sen. Harry Reid's campaign built a bogus website in his opponent's name in which they highlighted an unflattering take on her positions for the benefit of the Reid campaign.
When confronted, the Reid campaign took down the site – "out of an abundance of caution" – and resurrected it 24 hours later.
In the past week we have been inundated with stories about Ted Cruz's use of a CNN news story on Ben Carson's hiatus in his campaign.
How did he do that? At 4:30 p.m. CNN reporter Chris Moody tweeted: "Carson won't go to NH/SC, but instead will head home to Florida for some R&R. He'll be in DC Thursday for the National Prayer Breakfast."
Later I watched a discussion about it between Jake Tapper and Dana Bash on CNN and I concluded that Carson was suspending his campaign.
Cruz Co-Chairman Rep. Steve King (R-Iowa) re-tweeted Moody stating:
"Carson looks like he is out. Iowans need to know before they vote. Most will go to Cruz, I hope."‪
This was sent to each of the Cruz campaign workers in 1,500 caucus locations with instructions to attempt to get the Carson voters to switch sides.
The next day Carson angrily said that he was not suspending his campaign and Cruz should have called him and verified the report. His argument was really with his own campaign staffer who gave CNN the story that was actually true.
Donald Trump tweeted that there should be a revote in Iowa. He insisted that if Cruz hadn't stolen Carson's votes that he – Trump – would be the winner.
Unbelievably, the same Karl Rove who savaged John McCain with outright lies, criticized Cruz's action and suggested that it could have cost Trump the victory.
Really? Cruz outperformed his polling numbers by 5 percent. Did those new voters come at Carson's expense?
Not really. Carson was consistently polling at 9 or 10 percent. He got 9.3 percent in the caucus. If Cruz took votes from anyone it was from Trump who underperformed by 4 percent and wasn't even mentioned in the dustup.
In the final analysis CNN reported an accurate news story bearing on Ben Carson's campaign schedule and Cruz used that information to his advantage. To have failed to do so would have been campaign malpractice.
If repeating a news story is as "hurtful" as we have been told, then those seeking the highest office in the land are getting as sensitive as some of our college students. Will presidential candidates demand safe spaces too?
As Finley Peter Donne reported 150 years ago, "Politics ain't beanbag."
If you would like to be added to John Linder's distribution list please send your email address to: linderje@yahoo.com or follow on Twitter: @linderje
–
TheBlaze contributor channel supports an open discourse on a range of views. The opinions expressed in this channel are solely those of each individual author.