"Tonight we honor the best and whitest ... I mean brightest."
That was actor Neil Patrick Harris' opening quip at this year's Oscar ceremony—and while it was simply meant to slam the Academy's "lack of diversity," it really encapsulates the heightened racial tension that has exploded in the past few years.
That's right. Despite the fact that many Americans believed President Barack Obama's race—50 percent of it, anyway—would be a ticket to color-blind nirvana, under his watch race relations have actually worsened, and significantly so. (And not for the reasons Neil Patrick Harris, et al, would have you think.)
Given this stark reality, you'd think that a celebration of a pivotal moment in civil rights history would be the perfect place to do exactly as Dr. Martin Luther King Jr. sought: come together as a human race.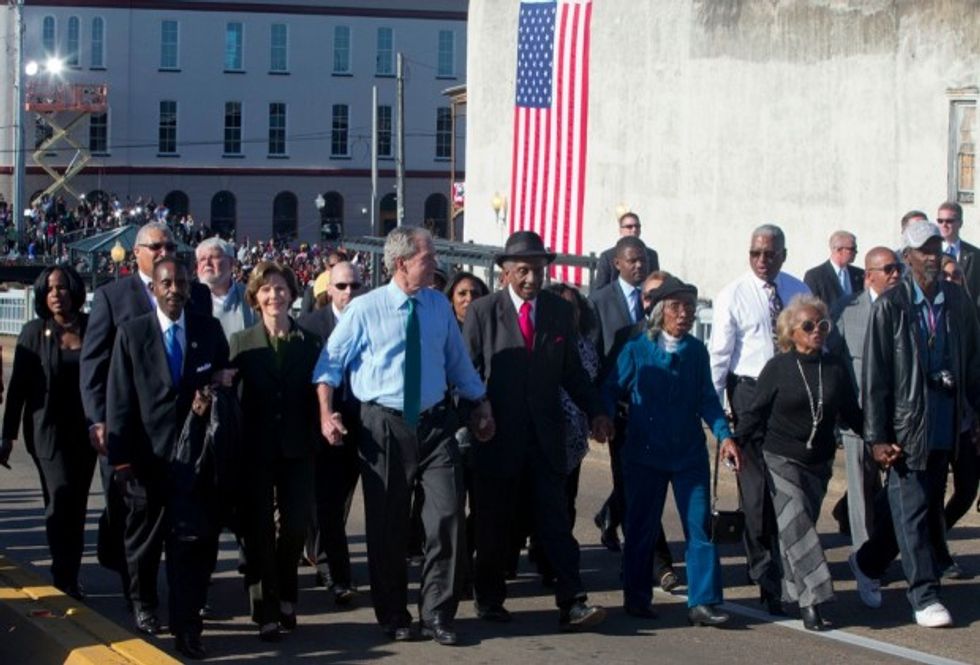 Laura Bush, second from left, and former President George W. Bush, as well as members of Congress and civil rights leaders make a symbolic walk across the Edmund Pettus Bridge in Selma, Ala., for the 50th anniversary of "Bloody Sunday," a landmark event of the civil rights movement, Saturday, March 7, 2015. (Image source: AP/Jacquelyn Martin)
It would seem a given that anyone wishing to honor that moment would be welcome to participate, wouldn't it?
"I refused to march…when it was apparent that he was going to be part of it," said Diane Nash, a lieutenant to Dr. King, and would-be participant in Selma anniversary march.
Ms. Nash was talking about former President George W. Bush, who came to stand alongside his fellow Americans—including the current president—whose disrespect for the former president has been virtually boundless.
The New York Times wasn't far behind Ms. Nash, cropping Bush out of a prominent march picture. The White House subsequently used the blatantly cropped photo as its Twitter background, and Rep. Debbie Wasserman Schultz did a little cropping of her own with another prominent photo.
While the White House and Rep. Wasserman Schultz gave no reason for their actions, Ms. Nash claimed the former president's war policy as the supposed reason behind her disdain.
Odd, considering she had absolutely zero problem with the presence of President Obama; a man who, among other actions, is responsible for "nearly nine times more [drone] strikes … in Pakistan, Yemen and Somalia than there were under his predecessor, George W Bush." (One of those Obama-sanctioned drone strikes, by the way, directly targeted and killed an American citizen without trial.)
And, if the war excuse is a moot point, then what gives?
Ms. Nash's sentiments towards the former president in this context are certainly not isolated, and it got me thinking.
I contend that the overwhelming disdain for George W. Bush (and other members of his party)—especially when it comes to the issue of civil rights—has a simple explanation.
It's because he's got an (R) behind his name. (And yes, I realize Bush wasn't the only Republican at the rally. But he was the most prominent Republican present … and in the very front row.)
There's a much broader issue than Ms. Nash's (public) reasons at hand here.
Half a century after people like Dr. King fought and paid dearly to secure equality amongst the races, millions of Americans (of all ethnic backgrounds) have been effectively convinced that the Republican Party—or anything right of center—harbors inherently racist tendencies.
To be certain, there's definitely a "paler shade" in the Republican Party as compared to Democrat Party. But is it any surprise, given the non-stop narrative that the Republican Party is the party of racism?
Consider just a few examples:
The Tea Party is time and again painted as racist, despite a patently obvious lack of substantial evidence to support the claims.
Former White House Press Secretary Jay Carney once openly claimed that Republicans only bring up race to gin up their base, out of "racism."
New Republic boldly asserted that foundational conservative principles borrow "explicitly from the great apologists for slavery."
My theory becomes even clearer when you consider the way that Republican or right-leaning minorities—especially African Americans—are treated. Sen. Tim Scott and Rep. Mia Love come to mind. One of them isn't "black enough" and the other enjoys "white privilege."
Dr. Ben Carson is another excellent example. His status as a world-renowned surgeon wholly embodies Dr. King's dream, but the moment he opened his mouth about politics, he's suddenly he's reduced to the punch line in a racist tweet from actor D.L. Hughley:
Ben Carson is just Herman Cain who can hold a scalpel instead of a pizza cutter! #TeamDl

— DL Hughley (@RealDLHughley) March 5, 2015
It's not the first time for Dr. Carson, either. Time and again, right-leaning minorities are shamed for belonging to the "wrong" party.
Still not convinced of my theory?
Consider the actions of major political figures like Vice President Joe Biden, Sen. Robert Byrd, and even the hailed-hero of civil rights himself—President Lyndon B. Johnson.
Vice President Biden can say things like "you cannot go to a 7-Eleven or a Dunkin' Donuts unless you have a slight Indian accent," or that Barack Obama is the "first mainstream African-American who is articulate and bright and clean and a nice-looking guy" … and he's just "crazy Uncle Joe."
The late Sen. Robert Byrd was not only sympathetic to the Ku Klux Klan, but actually served in its leadership. He also refused to serve alongside "race mongrels, a throwback to the blackest specimen from the wilds" in the military, and yet he's a liberal hero.
And finally, there's President Lyndon B. Johnson, who once "voted against anti-lynching laws and poll-tax repeals" before he eventually moved the 1964 Civil Rights Act (supported largely by Republicans) along as president. As Kevin Williamson of National Review writes:
"As a leader in the Senate, Johnson did his best to cripple the Civil Rights Act of 1957; not having votes sufficient to stop it, he managed to reduce it to an act of mere symbolism by excising the enforcement provisions before sending it to the desk of President Eisenhower."
Despite this, he's hailed as a champion of civil rights. In fact, his daughter accepted an award in his honor at the Selma anniversary celebration.
What do these three examples have in common?
They've all got a (D) behind their names.
And as for their blatantly racist actions, those are brushed off as "slip-ups" or "past transgressions." Certainly makes it seem as though party affiliation gave them a pass.
Indeed, despite the Democrat party's sordid history with race relations in this nation (and conversely, the Republican legacy of civil rights), the narrative that (D) equals tolerance, and (R) equals racism has become the defining framework for how the media, politicians and academia view politics and race.
And, don't get me wrong. I'm not going to fall into the same blanket statement talk track that so much of the American Left has perpetrated against the entirety of the American Right.
(D) does not automatically equal hypocritical racist. It doesn't.
So - was the critique (both vocal and pictorial) of Bush's presence at Selma because of his party affiliation? Who knows for sure. But the track record of how anything "(R)" is portrayed in regards to civil rights certainly raises the question.
And I think it's high time we editorialize a bit with the famous words of Dr. King (addition and emphasis mine):
"I have a dream that my four little children will one day live in a nation where they will not be judged by the color of their skin (or their political party) but by the content of their character."
Refreshing, no?
Mary Ramirez is a full-time writer, creator of www.afuturefree.com (a political commentary blog), and contributor to The Chris Salcedo Show (TheBlaze Radio Network, Saturday, from noon to 3 p.m. ET). She can be reached at: afuturefree@aol.com; or on Twitter: @AFutureFree.
–
TheBlaze contributor channel supports an open discourse on a range of views. The opinions expressed in this channel are solely those of each individual author.