As President Barack Obama's tenure in office approaches a witching hour, several articles have recently appeared about his foreign policy guru, Ben Rhodes, 38.
Rhodes' sudden foray into the media spotlight suggests a self-promotional search is underway for new employment come January 20, 2017. If so, the talent sets he seems to be touting should trigger reluctance on the part of any responsible employer to seek them out.
The White House website tells us Rhodes is "the Assistant to the President and Deputy National Security Advisor for Strategic Communications and Speechwriting, overseeing President Obama's national security communications, speechwriting, and global engagement."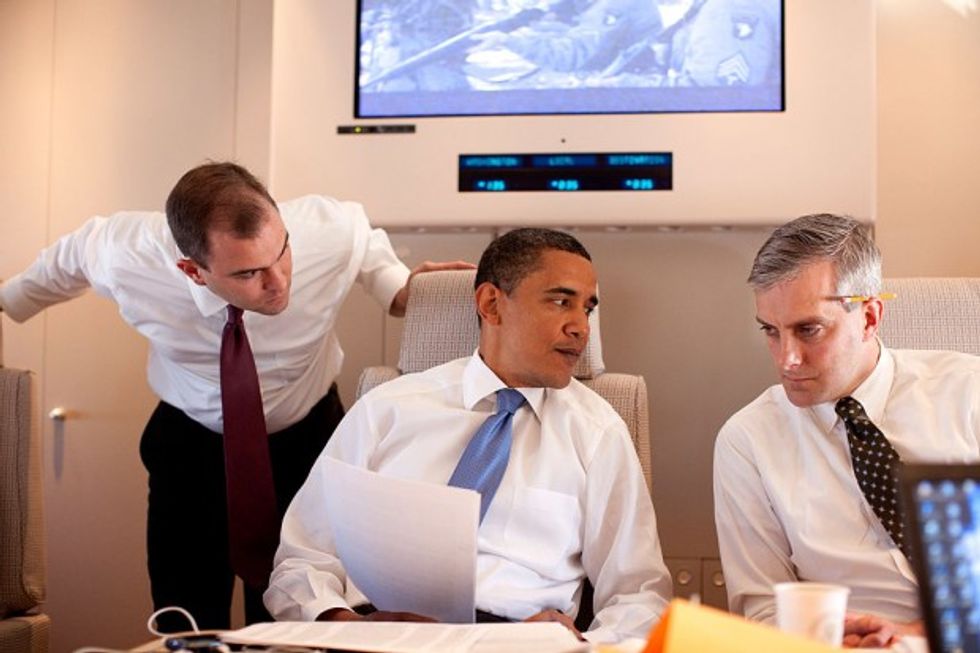 In this photo provided by The White House, President Barack Obama meets with Deputy National Security Advisor for Strategic Communications Denis McDonough (R) and speechwriter Ben Rhodes on Air Force One June 4, 2009 on route to Cairo, Egypt. (Photo by Pete Souza/The White House via Getty Images)
Personally witnessing two planes hit the World Trade Center towers on 9/11, Rhodes - a young, struggling fiction writer at the time - should have come to appreciate the ideology that drove the attackers to kill thousands of Americans that day. Sadly, he did not. And, fifteen years later, he brazenly brags about having lied to the American people in order to pave the road for the facilitators of those same attackers to obtain nuclear weapons.
The 9/11 experience caused Rhodes to give up fiction writing in favor of international affairs. That led to an opportunity to sit in on meetings of the Iraq Study Group, take notes and assist in writing its report. Thus, when he sought to join the Obama campaign in 2007, he impressed others with his knowledge of Iraq. After the election, the "Boy Wonder" exhibited an ability to "mind-meld" with Obama, allowing him to evolve into what many White House staffers today claim is "the single most influential voice shaping American foreign policy aside from POTUS himself."
He is a perfect example of the Peter Principle - i.e., being promoted to one's level of incompetence.
Only in Obama's White House could one so wet behind the ears, lacking any educational or diplomatic experience in foreign affairs, come to wield such influence at the highest level of government.
Today, we suffer the consequences of this Boy Wonder having been left unattended in Obama's foreign policy inner sanctum as every foreign leader from Russia's Vladimir Putin to Iran's mullahs have left him and POTUS standing in their shorts.
On July 22, 2015, Rhodes announced the launch of a Twitter account "dedicated to delivering the facts and answering your questions about the deal and how it enhances American national security."
In folksy language, he went on to say:
"I've been working closely with America's negotiating team, which was tasked with finding a way to achieve a diplomatic resolution that prevents Iran from obtaining a nuclear weapon. Last week, after two years of tough negotiations, our team along with our international partners achieved just that. It's a historic deal. It blocks every possible pathway Iran could use to build a bomb while verifying -- through a comprehensive inspections and transparency regime -- that Iran's nuclear program remains exclusively peaceful."
Claiming various falsehoods were circulating about the deal, Rhodes then made some of his own, giving assurances of "unprecedented access to Iranian nuclear facilities -- including 24/7, continuous monitoring." He concluded, "We're ready to set the record straight about how we are successfully preventing Iran from obtaining a nuclear weapon -- a crucial part of creating a safer, more secure world. Thanks, and stay tuned for more."
No Rhodes Scholar on Iran, Rhodes presented himself as if he were.
Despite witnessing the 9/11 World Trade Center attacks, having come to realize the attackers were extreme Islamic ideologists and knowing legal action taken by victims of those attacks against Iran had linked assistance by its similarly ideologically driven mullahs to them, Rhodes, nonetheless, helped Tehran hide a dark secret from the American public.
Rhodes knew his message above was all fiction. The deal did not prevent Iran from obtaining a nuclear arsenal; instead, it paved the way to develop one either legally, in ten years, or illegally, sooner. Nor did it provide for continuous 24/7 monitoring.
The lie did not end there as he promoted an even bigger one before the nuclear negotiations with Iran got started.
Last week, it was reported Rhodes boasted, "The Obama administration cooked up a phony story to sell Americans on the Iranian nuke deal, lying that US officials were dealing with 'moderates' in the Islamic theocracy who could be trusted to keep their word."
Rhodes took credit for helping to create the false narrative of a supposedly moderate Hassan Rouhani, who was elected president in 2013. He said it was necessary as "the public would not have accepted the deal had it known that Iranian hard-liners were still calling the shots." Thus, foreign policy novice Rhodes supposedly knew better than anyone what was best for America vis-à-vis Iran.
The ploy was necessary, he alleged, as Congress was incapable of "reasoned public debate." Such logic is the stuff that gives rise to dictatorial powers.
A New York Times magazine noted the public has read very little about Rhodes, stating, "It has been rare to find Ben Rhodes's name in news stories about the large events of the past seven years…He is invisible because he is not an egotist, and because he is devoted to the president."
This description of Rhodes - like Rhodes' description of Rouhani being moderate—is false. Rhodes is afflicted with the same egotism of his mind-melding partner Obama. In the last few months of his power "high," Rhodes has been unable to contain it.
Where a moral compass gives one bearings, one in Rhodes's position should have resigned rather than demonstrate a willingness to promote a lie endangering our national security.
Honesty is clearly a road less traveled for Rhodes.
Boasting about his deceit, he shows us he has no moral compass. While that is most telling about him, it will also prove most telling about anyone considering him for future employment.
As to Iran, Rhodes has taken us down a road to a nuclear hell - a road not paved with the best of intentions.
–
TheBlaze contributor channel supports an open discourse on a range of views. The opinions expressed in this channel are solely those of each individual author.