In the midst of the San Bernardino terrorist attack, U.S. Secretary of Defense Ash Carter made a stunning announcement: all U.S. military occupational specialties will now be open to women.
This means all combat positions, infantry, artillery, armor, combat engineers, Special Forces - including Army Rangers, Green Berets and Navy SEALs - will be available to women.
U.S. Army female soldiers with the 2-17 Field Artillery Regiment, Specialist Lilia Mendieta, 27, from Seattle (L) and Private Atiyhia Goldbold, 20, from New York listen to a briefing as they prepare to leave on a mission in Ramadi, 100 kms west of the capital Baghdad, 26 October 2004. Iraqi Prime Minister Iyad Allawi warns of a surge in attacks in the run up to elections promised by January, as the US army announces the killing of a top aide to Iraq's most wanted man in the rebel-held city of Fallujah, 55 kms from Ramadi. (Credit: AFP/Getty Images)
The announcement sets in motion a 30-day waiting period during which leaders and Congress can weigh-in with their thoughts and feelings, but apparently the deal is done. In fact, the Army has just certified its first female combat engineer.
This announcement has sent shock waves through the military, both good and bad.
The good includes there finally being equal opportunity for women in the military to realize the same promotion potential as their male counterparts. Promotions come faster in combat arms units in comparison to combat support and combat service support units, the traditional areas open to women.
Since Operation Just Cause in 1989, where for the first time women were purposefully engaged in combat operations as military police, women who have sought a combat role have gravitated to the U.S. Army Military Police Corps.
Sgt. Leigh Ann Hester, a military police soldier, earned the first Silver Star medal awarded to a woman for her valor and superior performance in combat in Iraq in 2005. Sgt. Hester reacted to a convoy ambush while on escort duty by laying down fire and killing an advancing enemy with ferocity and precision.
I happen to be in the 18th Military Police Brigade tactical operations center in Baghdad, Iraq, at the time of the incident, and listened to the radio chatter as Hester and her colleagues, including a combat medic assigned to the convoy protection team, responded to the attack with courage and professionalism.
Later, along with the brigade leadership, I witnessed the fire fight on video taken at the scene. Hester will tell you she was just doing her job, and she'd be right. But she did it with distinction and fearless valor, calmly firing, reloading, and then firing again and again, engaging targets and putting them down.
For 22 years I served in the U.S. Army National Guard and Reserves, from infantry to medical to military police units, and I have had the privilege of serving with some of the finest individuals with whom I trusted my life, mostly men, but many women as well.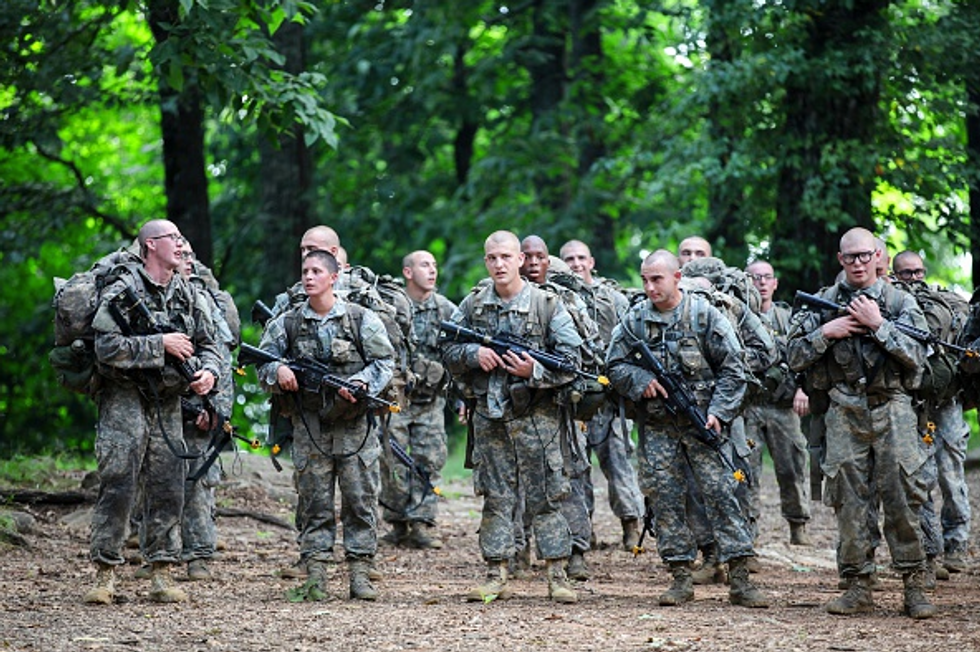 U.S. Army U.S. Army Capt. Kristen Griest (2nd L) takes part in mountaineering training during the at the U.S. Army Ranger School on Mount Yonah July 14, 2015 in Cleveland, Georgia. U.S. Army Capt. Kristen Griest and 1st Lt. Shaye Haver were the first female soldiers to graduate from Ranger School. (Photo by Yvette Zabala-Garriga/U.S. Army via Getty Images)
At Guantanamo Bay, Cuba, in the spring of 2002, I served with a female military police operations officer, now retired Army Lt. Col. Jacqueline Gordon, who quietly and professionally planned and then implemented the movement of over 250 unlawful combatant detainees from Camp X-Ray to Camp Delta. A year later this officer also served in Iraq, during the first months of Operation Iraqi Freedom, and then later served as a military police battalion commander, in Afghanistan. She is home safe now and serving her community as a local legislator and education counselor.
So, whether in a direct combat role, or as a leader in combat, I have seen firsthand the achievement women are capable of.
The bravery, dedication to duty and ability of women in combat is not a question in my mind. To me it is a matter of choice and ability, practically speaking. And women in other countries have served with valor and distinction, from Russian all-women units in World War II, to compulsory service in the Israeli Defense Forces of today.
In U.S. history women have fought and/or died in combat or combat zones in every conflict since the Revolutionary War, some openly, some clandestinely.
So the question I have is not whether or not women should be allowed to join combat arms units, but whether or not serving in all-women units wouldn't be a better idea as at least an option for those who wish to fight.
In a recent survey through the online military meeting place Rally Point, 32 percent of respondents said they favored women being able to choose to serve in an all-female unit, rather than be integrated with men; 15 percent more said they didn't know, or weren't sure. That's enough to say there is a significant interest in seeing women in combat serve with each other, rather than be integrated into existing male-dominated units.
Creating a choice for women who want to serve in combat roles is the right thing to do. From junior high school on, we separate boys and girls, and then men and women in athletic competition. Why?
The reason is obvious, but seems to elude military planners, who only mention integration, not separation in combat roles for women. Men and women are different, and not just physiologically, but socially as well.
Given a choice, many women will choose to participate only with other women in physical activity. The success of Jenny Craig weight loss and fitness centers, which excludes men, is just one example. Privacy may be one reason, but the comfort and camaraderie of women amongst other women should not be discounted any more than that for men.
Men and women do things differently and they tend to speak differently and behave differently in mixed company. This difference could impact effective performance in a profession that simply cannot afford distractions on the battlefield.
It seems some of us are more concerned with homogenization and political correctness than we are practical effectiveness.
As a former public high school director of athletics I have seen females allowed to compete with boys in sports not traditionally offered to them, such as wrestling, football and field hockey. Such interaction is highly stressful on the girls and boys and practically serves no other purpose than to satisfy some social idea that girls can do whatever they want to do. That's fine, but few think past the initial interaction. There are consequences to these social experiments that go unnoticed and unresolved because "it's the right thing to do," or "she just really wants to do it." The impact on the girl and on the boys is ignored.
I don't know if allowing women into all combat roles is the right thing or not, but I do know that offering the option of an all-female unit would entice more to do it, if that's the goal here.
If we really want women to be successful and contribute their full potential as defenders of this great nation we should think about all the appropriate possibilities that would promote that achievement.
Equal isn't always fair, and fair isn't always equal.
If the goal is political correctness and not overall effectiveness then this social experiment is better left to things not as consequential as the defense of our country.
Montgomery Granger is a three-times mobilized U.S. Army major (Ret.) and author of "Saving Grace at Guantanamo Bay: A Memoir of a Citizen Warrior." Amazon, Blog, Facebook, Twitter: @mjgranger1
–
TheBlaze contributor channel supports an open discourse on a range of views. The opinions expressed in this channel are solely those of each individual author.