During the 2016 Summer Olympics, American athletes did what American athletes do best – win.
Coming home with 121 medals, including 46 gold medals, America blew past rival China by more than 51 medals, increasing its medal count by 18 compared to its performance in the 2012 London games. This dominance just doesn't pay in Olympic glory and applause; medal winners are rewarded financially by the United States Olympic Committee with $25,000 for each gold medal, $15,000 for each silver medal, and 10,000 for each bronze medal.
Unfortunately, the IRS will also do what it does best – tax hard working Americans.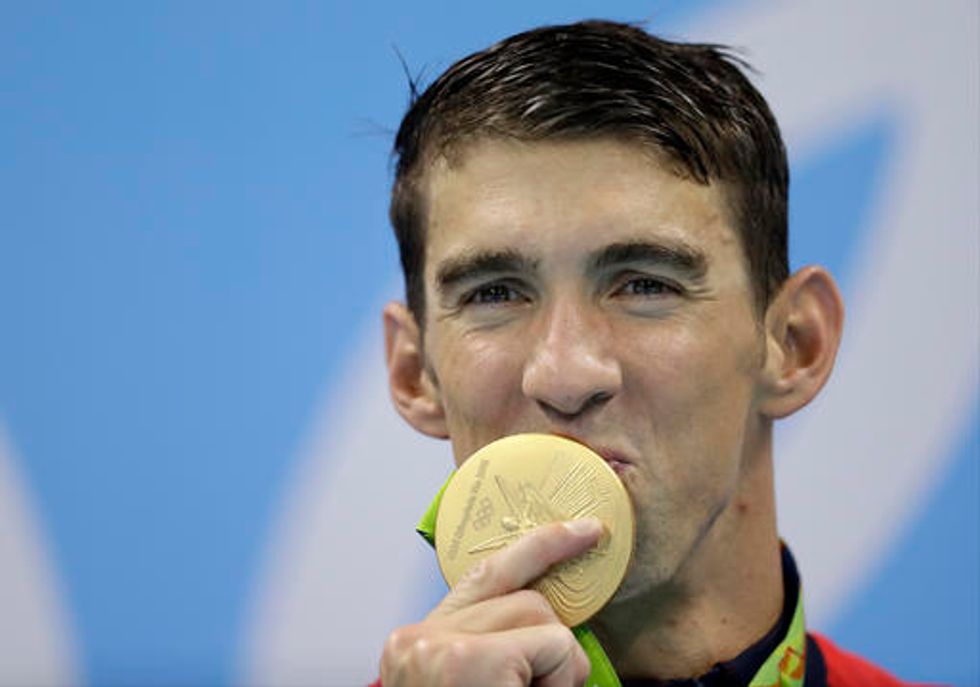 United States' Michael Phelps kisses his gold medal after the men's 4x100-meter freestyle final during the swimming competitions at the 2016 Summer Olympics, Monday, Aug. 8, 2016, in Rio de Janeiro, Brazil. (AP Photo/Michael Sohn)
Because the winnings for medals are counted as income, athletes bringing Olympic glory to the homeland will have to fork over a hefty chunk of that glory to Uncle Sam. For some athletes, that means a payment to the IRS of as much as $9,900.
Obviously this has caused quite the uproar among sports fans who feel that America's sports heroes shouldn't be punitively taxed for their hard-earned Olympic laurels. The expected outrage has generated such a visceral reaction that Congress has amazingly acted in a bipartisan fashion and passed legislation in the Senate, sponsored by Sen. John Thune (R-S.D.) and Sen. Chuck Schumer (D-N.Y.), to exempt Olympians from this tax.
Talk about a miracle in Congress.
While many sports enthusiasts would be happy to see this exemption pass, the very nature of this debate highlights a broader problem: America's broken and loophole-ridden tax code.
The current IRS tax code is 60,000 pages long with mountains of confusing rules, deductions and loopholes. Every year Americans spend a collective 8.9 billion hours filling out their taxes and spend $29.6 billion in tax preparation software and paying for others to do the taxes for them. This of course ignores the armies of corporate accountants and tax lawyers who guide businesses through the current labyrinth of the business tax code.
This mess of a tax code comes from a two-headed monster consisting of lobbyists and politicians, neither of whom see the tax code as a tool for raising revenue. Lobbyists use the code to keep a competitive edge over their less connected competition, while politicians use the code as a tool to reward their backers, distort the market, and socially engineer society by making some goods and services more expensive than others in order to nudge Americans into making decisions that lawmakers prefer.
Although many Americans and policymakers want to see the tax code simplified, loopholes eliminated, and overall rates lowered to make the code flatter, fairer and more competitive, special interests repeatedly kill any reforms before they can even get off the starting block.
While the calls to exempt Olympic athletes from their medal taxes may come from a good place, one has to wonder where it ends. Should Lebron James get an exemption for bringing Cleveland its first championship in over 50 years? Should Chicago exempt the Cubs if they win the World Series for the first time in over 100? A tax carve out for one group leads to a carve out for another and so on, until the whole system becomes a leviathan of arcane rules which benefit certain groups. Wouldn't it be better to give everybody a break – from the athletes on the field to the vendors in the stands?
Rather than add yet another carve out to America's broken tax code, politicians from both parties should work to make America as competitive in its tax system as we are in the Olympics.
Eric Peterson is a Senior Policy Analyst at Americans for Prosperity. You can follow his policy and sports musings at @IllinoisEric89
–
TheBlaze contributor channel supports an open discourse on a range of views. The opinions expressed in this channel are solely those of each individual author.