When you've got a heart for politics like I do, and you live in Pennsylvania, presidential election years are rough.
Those of you who know Pennsylvania politics know we rarely have a chance to make an impact in primary voting. Usually by the end of April, the votes are already leaning heavily one way, and while we still have the opportunity to pledge our vote, the reality is, it doesn't count for much.
This year, it's different.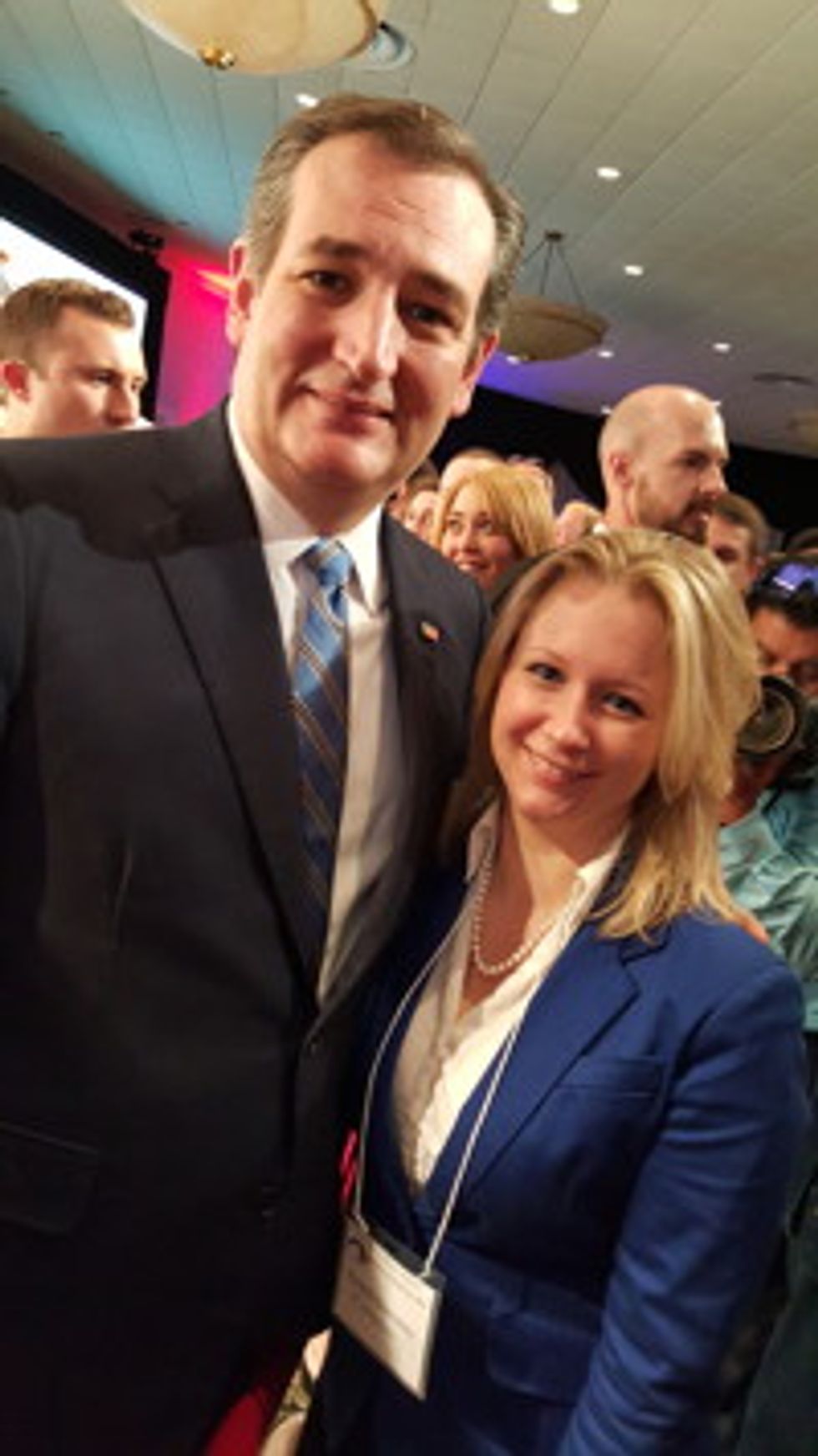 Elizabeth Greenaway, TheBlaze contributor, and Republican presidential candidate Ted Cruz at the 2016 Pennsylvania Leadership Conference in Camp Hill, Pennsylvania. Credit: Elizabeth Greenaway
Conservatives in Pennsylvania have the ability to make a significant impact, and this weekend, I found our guy – his name is Ted Cruz. Pennsylvania Donald Trumpsters – hear me out; you and I have more in common than you may think.
Let me start by sharing with you that I have lived in the small-town Commonwealth of Pennsylvania for 24 of 29 years of my life. I know how important the Constitution is to me and my fellow conservative Pennsylvanians. We were, after all, previously known by President Barack Obama as the bitter Christians, clinging to our guns and religion. I would argue "passionate," or "angry," might be better descriptions, but nevertheless, years later Obama hasn't restored any of the missing jobs in Pennsylvania, and many of us are still angry.
And yes, we're all still clinging to our guns and religion. In Pennsylvania, we enjoy our Second Amendment rights. Regardless of what gun, or which religion you cling to, I'm willing to bet that you and I notice some of the same problems in Pennsylvania, and are frustrated and angry with Obama, his entire administration, and Congress.
Trumpsters, I know this speaks to you! I am just as fed up as you are and there are few things I enjoy more than Trump's complete neglect for political correctness. I get it. Really I do.
I'm just wondering why Trump didn't come to visit us at the Pennsylvania Leadership Conference, and why he skipped out on the Conservative Political Action Conference. I'm wondering why he's given so much money to so many Democrats. Democrats who used Trump's support to get the political atmosphere where it is today – and isn't that an ugly place?
As a true conservative, these things should concern you, too.
If you know me, you know I appreciate blunt honesty; but it's empty without action behind it. The primary candidate we choose has to know the policies to be able to develop solutions to fix them.
At the Pennsylvania Leadership Conference this weekend, Ted Cruz looked me and hundreds of fellow Pennsylvanians in the eye and explained how he's going to help us solve the issues we're dealing with. For the Trumpsters in the audience – give me a chance to explain.
As a Pennsylvanian, you may find yourself juggling two jobs, or trying to make up for reduced hours as a result of Obamacare kicking in at 30 hours per week. You might be struggling to pay the bills, as you work in a job where the wages have completely gone stagnant, and the cost of living continues to rise. You could be a small business owner struggling to afford Obamacare and maintain the same number of full-time employees. Or maybe, just maybe, you graduated from college in the past few years, and find yourself living with your parents and struggling to find a job.
The media tells us this is just how the job market is, but don't you think there's room for improvement? We can all agree making America great again is the answer – the question is who can get us there?
The answer is Ted Cruz. Here's how:
We have the opportunity to make an impact for a Texan who holds his guns and religion just as close as we do. A passionate, spirited, freedom fighter, who as a teenager memorized the Constitution – and has spent the past three years defending it relentlessly in the Senate. The man Rush Limbaugh says "is the closest in our lifetimes we have ever been to Ronald Reagan."
On Tuesday, April 26, I hope you'll join me, fellow Pennsylvanians, in supporting Ted Cruz, a Texan who has our back.
As a 20-something female, I am the voice of the future conservative movement. There may not be many millennial conservatives, but we're here, and we're passionate about the future.
–
TheBlaze contributor channel supports an open discourse on a range of views. The opinions expressed in this channel are solely those of each individual author.