This is not intended to be a political piece on Ben Carson and his qualifications (or lack thereof) to be president of the United States. Let me emphasize that again: I do not want to weigh in on Dr. Carson's candidacy.
Rather, given his recent surge past Donald Trump (the undisputed front runner until now) in the Quinnipiac Iowa poll, I want to attempt to put into words that mystical appeal we can all see in him but so few can articulate, as a form of cultural commentary, rather than a political one.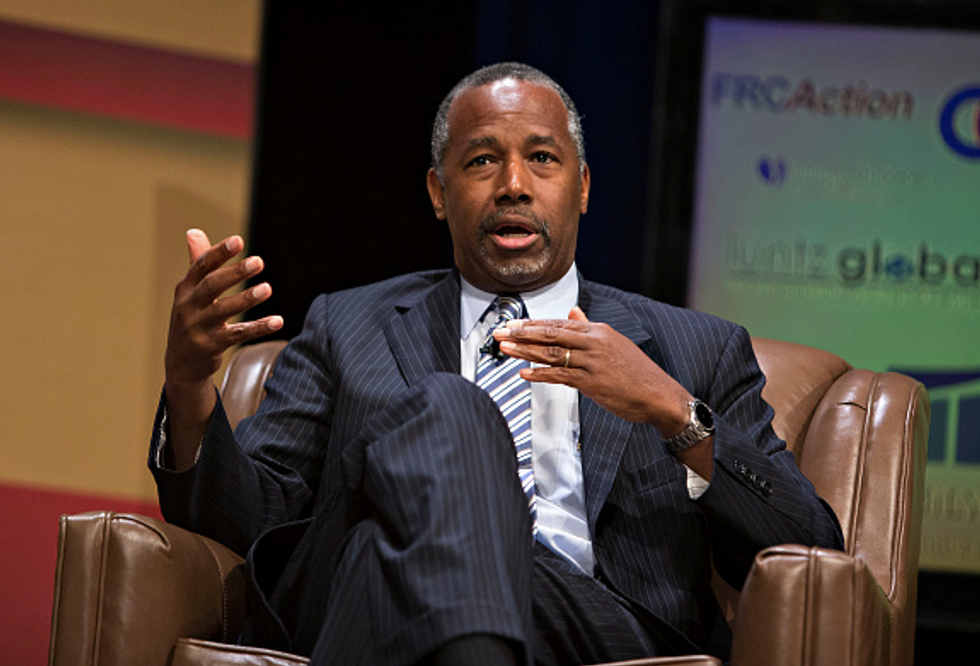 Ben Carson, Republican 2016 U.S. presidential candidate, speaks during The Family Leadership Summit in Ames, Iowa, U.S., on Saturday, July 18, 2015. The sponsor, The FAMiLY LEADER, is a 'pro-family, pro-marriage, pro-life organization which champions the principle that God is the ultimate leader of the family.' (Daniel Acker/Bloomberg via Getty Images)
It seems fairly obvious, despite what most political pundits regurgitate, that Dr. Carson's appeal is much more than the fact that he is "an outsider." He is an outsider to be sure, but he is a certain kind of outsider.
I also do not think it has to do with his exceptional intellect. He actually comes across as very humble (which points us in the right direction to ascertain his appeal) and does not speak in academic terms. He speaks in moral terms, which also (I think) helps us get closer to the answer. But many politicians speak in moral terms; it seems there is something different (deeper) about him.
The answer, I believe, is that Dr. Carson seems to be a man of character. In other words, we actually believe when he speaks in moral terms, because his character comports with the ideas he presents.
But what in the world does it mean to be a man of character? This is something we used to know, so there might be some vague idea in our minds, like the memory of a forgotten relationship in our subconscious, and yet we can't seem to put our finger on it.
We remember great men like Rev. Martin Luther King, Jr., saying things like, "I have a dream that my four little children will one day live in a nation where they will not be judged by the color of their skin but by the content of their character," and though it sounds good, we struggle to define this idea of "character."
Our Founding Fathers put enormous emphasis on character. Samuel Adams said, "The public cannot be too curious concerning the characters of public men."
Noah Webster, the father of American Scholarship and Education, and the creator of the famous Webster's Dictionary said, "The virtues of men are of more consequence to society than their abilities; and for this reason, the heart should be cultivated with more assiduity than the head."
Those are powerful words. Webster puts character above all other attributes. In that sense, character knows no party; it goes deeper than philosophical and political ideas. Character has to do with honor and virtue and truth.
We sometimes talk about a "proven" character and that is because character goes deeper than words. It is about experience and endurance. Our character is better revealed under pressure.
This is what we read in Scripture. The Apostle Paul talks about it in Romans 5:3-4. Take notice of the progression he talks about: "[W]e rejoice in our sufferings, knowing that suffering produces endurance, and endurance produces character, and character produces hope."
It is through tribulation that we ultimately form our character. Life's trials — our failures more than our successes — reveal the type of person we truly are.
It is how Carson became who he is. If you want to understand Ben Carson's appeal, perhaps you should take an hour or two and watch, "Gifted Hands: The Ben Carson Story" on Netflix. It explains a lot. This is a man who overcame incredible obstacles to get where he is.
This is Ben Carson's strength as a man. And it is also his strength as a politician. It is what is most appealing about him, that inexplicable quality of being a man of character.
I do not want to suggest in any way that other candidates are not men and women of character, only that Dr. Carson seems to excel in this most noble area. And it's incredibly appealing.
–
TheBlaze contributor channel supports an open discourse on a range of views. The opinions expressed in this channel are solely those of each individual author.