The sun had long since left the dark sky, but the sweltering Caribbean heat remained. A young boy stared up at the sky—his Cuban sky—and wondered if he'd ever see it again. "This is my inheritance," thought a young Miguel Gonzalez, "and I'm going to have to leave it."
Born at the onset of Fidel Castro's nearly 50-year rule, Miguel, or "Mike," as he's called today, had known no other life than that of Cuba's communist reality.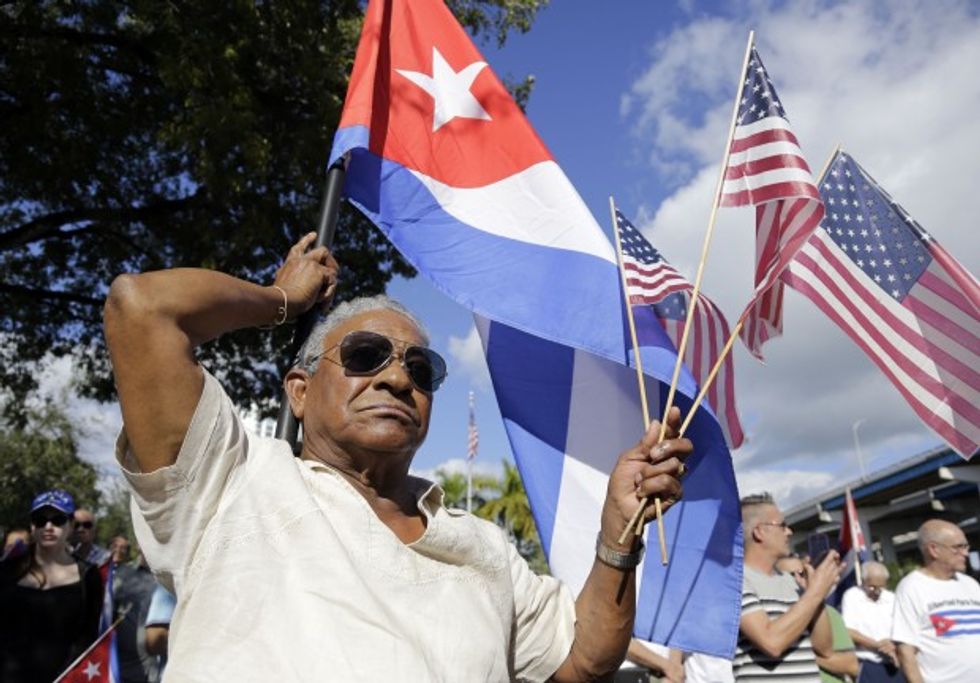 Evilio Ordonez holds Cuban and American flags during a protest against President Barack Obama's plan to normalize relations with Cuba, Saturday, Dec, 20, 2014, in the Little Havana neighborhood of Miami. (AP Photo/Lynne Sladky) 
And, at just 11 years old, he'd have no choice but to leave the land his family settled behind.
Castro's "Freedom"
When the charismatic Fidel Castro took control of Cuba in 1959, he promised that "good" change was coming after an era of dictatorship under Fulgencio Batista.
Very quickly, it became clear that things would change—for worse.
Vast swathes of the island were nationalized, political parties were eliminated, small businesses were made illegal, and pro-Castro groups—such as the Comités de Defensa de la Revolución (CDRs; Committees for the Defense of the Revolution)—formed to indoctrinate the people, city block by city block.
Life under Castro became difficult, especially for those who didn't buy in to his brand of "change."
While many fled, the Gonzalez family remained. Mike's father couldn't bear to leave his country behind just yet to suffer in Castro's hands.
"Someone had to stay there to be in opposition to the regime,"Mike recalls of his father's view.
It wouldn't be the first time his family had fought for Cuba. Mike's father had been thrown in prison by Batista a decade earlier, and Mike's grandfather had taken on the dictatorships of both Machado and Batista.
Mike learned the heartache of losing one's country.
He watched his father sob at the sound of Cuba's national anthem; he watched as his father tried his best to maintain a sense of normalcy for the family, doing what he could to keep Mike in a private school (and away from the government's propaganda) for as long as possible.
In public school, they made an example out of the young boy whose father was unsupportive of the regime.
Like it was moments ago, he remembers walking into the second grade classroom on the first day of school after the last private school closed. He was told to stand in front of the entire class to be "introduced."
"Everyone, this is little Miguel Gonzalez," said the teacher. "He's decided to join us here. You see, up until now, he and his family were 'too good' to come to public school with you all."
Times quickly worsened. Trading cigarettes and cigars for goods was illegal, yet Mike's father had to find some way to feed his wife, his son, and his daughter. Mike would stand guard outside the house—watching for Castro's authorities who patrolled the streets.
Propaganda was everywhere, and its constant barrage become deafening. Fear was constant. What should have been happy youthful years were mired in secrecy and hiding.
Burned into his memory, Mike recalled the day he had been out playing with friends, and was arrested. Their crime? His friend was idly tapping a rhythm on the side of the phone booth as Mike called his mother. Castro's police were watching, and accused the boys of "sabotaging" the state phones. They were quickly hauled off and taken to a basement somewhere in the city, and questioned for hours.
Eventually they were released; they were lucky.
A Way Out
Generalissimo Francisco Franco of Spain had brokered a deal with Castro (whose father had immigrated from the same region as Franco had been raised—Galicia) to occasionally allow some Cubans to leave the island and live in Spain.
After years of reluctance, Mike's family ultimately decided to apply. Irritated by the Gonzalez family's "lack of cooperation," the government dawdled for six long years before granting the permit.
The day finally came. The letter arrived—and things moved fast, since it wasn't uncommon for the government to revoke the permission. And tragically, they would leave without his father, who passed away just three months before the permit arrived.
The Escape
Even as they made their way to the airport, Mike's mother knew that the permit could be revoked right on the tarmac, or worse, she could be taken into custody for "betraying" her country by leaving.
She quickly explained to Mike and his sister that the Iberian Airlines jet was their goal. If she was detained, they were to run to the plane. Once on board, they could ask the crew for political asylum, since the plane, its crew, and its airline were Spanish, it was officially Spanish territory.
Miraculously, they all made it on.
As the engines roared and the aircraft took off, Mike looked out the window once last time at their Cuba.
Spain and so much more waited ahead.
Life in Generalissimo Franco's Spain
The Gonzalez family left behind Castro's Communism, only to now face the final years of Franco's Fascism. Still, his mother was able to find work, and things became more livable for the little family.
Immediately upon arriving in Spain, they began petitioning the U.S. government for visas, setting up temporary lives for themselves in the interim. Two years later, the visas came through—and they were off again.
Finally Home
Staring out the plane window again, Mike watched as the skyline of New York City and the Statue of Liberty slowly come into focus.
Waiting outside the airport with his feet firmly on American soil, he relished his new life. A warm greeting jarred him out of his thoughts, as his uncle came to take them to their house in Queens, where his family would live comfortably, happily, and most importantly—safely.
America had welcomed the Gonzalez family with open arms as they dove headfirst into the experience. They went from selling rationed cigarettes to put food on the table in Cuba, to comfortable Sunday picnics in the park, fishing outings on weekends, and The Wonderful World of Disney on Sunday nights.
So welcoming was his new country that Mike instantly "felt" American. To this day, he describes this experience as an unabashed "love affair" with America. "Truly," he recalls, "I fell in love with America right away."
Each day brought a new discovery, and a deeper realization of the meaning of freedom. His curious mind looked to uncover all there was to know about this country, from its history to its latest advances; from its struggles to its finest moments.
An Incredible Journey
From earning a communications degree to covering sports one summer for the Boston Herald; from earning an MBA to a launching career at The Wall Street Journal, Mike's journey was every bit a quintessential American dream.
In 2005, after over twenty years of successful journalism around the globe, Mike was tapped by George W. Bush's administration to serve in the Securities and Exchange Commission, and later the State Department.
And today, he's a senior fellow at The Heritage Foundation's Davis Institute for International Studies.
In the span of a few decades, he had gone from listening to his father talk about freedom behind closed doors in Communist Cuba, to proclaiming it from America's capital—all because of a permit, a plane ticket, and a will to free.
And, at a time when an American president stood in front of a Che Guevara mural in Cuba—and as this same president welcomed "President Castro commenting on some of the areas where he feels we're [the United States] falling short"—Mike's views are especially timely:
"Improvement is something to always seek, but change?" Mike said of President Obama's 2008 message of hope and change. "What is there to fundamentally change about a nation that has offered so much and freed so many?"
He continued: "Capitalism is the best system for allocating resources that man has ever found!"
And it draws millions—legal and illegal alike.
Mike laughs. Indeed, in order for this narrative of unfairness and oppression to be true, "this must be a nation of masochists!" he said.
Today, Mike looks out his window at a different sky—one that covers a place that gave him and his family a second chance at life.
Like his father and grandfather fought before him, he fights to preserve freedom—but by putting pen to paper, educating millions through his work at The Heritage Foundation.
The son of a man whose heart swelled with pride and anguish with each note of his national anthem, now feels his own heart swell at the sound of his adopted country's hymn .
He has become a part of what his father always wanted for him and for Cuba: Mike has achieved above and beyond what his father could have ever dreamed.
He would have been very proud.
Behind the Series:
Let's give relevance to the stories people who waited, toiled, sat alone oceans apart in order to do it the right way.
Why?
Because, as I've said in the past, doing the right thing takes courage, especially when so much of the world tells you that you not only should take the easy route, but that you actually deserve the easy route.
It takes real guts.
Let's tell their stories.
Mary Ramirez is a full-time writer, creator of www.afuturefree.com (a political commentary blog), and contributor to The Chris Salcedo Show (TheBlaze Radio Network, Saturday, from noon to 3 p.m. ET). She can be reached at: afuturefree@aol.com; or on Twitter: @AFutureFree
–
TheBlaze contributor channel supports an open discourse on a range of views. The opinions expressed in this channel are solely those of each individual author.