This piece is the fourth installment of a monthly series on legal immigrants for TheBlaze and The Chris Salcedo Show. What's the intent of the series? To give relevance to the stories people who waited for their dream; people who came here the right way; the people who have gone above and beyond for their adopted country. Let's tell their stories.
It was April 28th, 2003.
The teacher-turned-soldier sat in a schoolhouse in Fallujah, Iraq. He shook his head at the inconceivability of it all.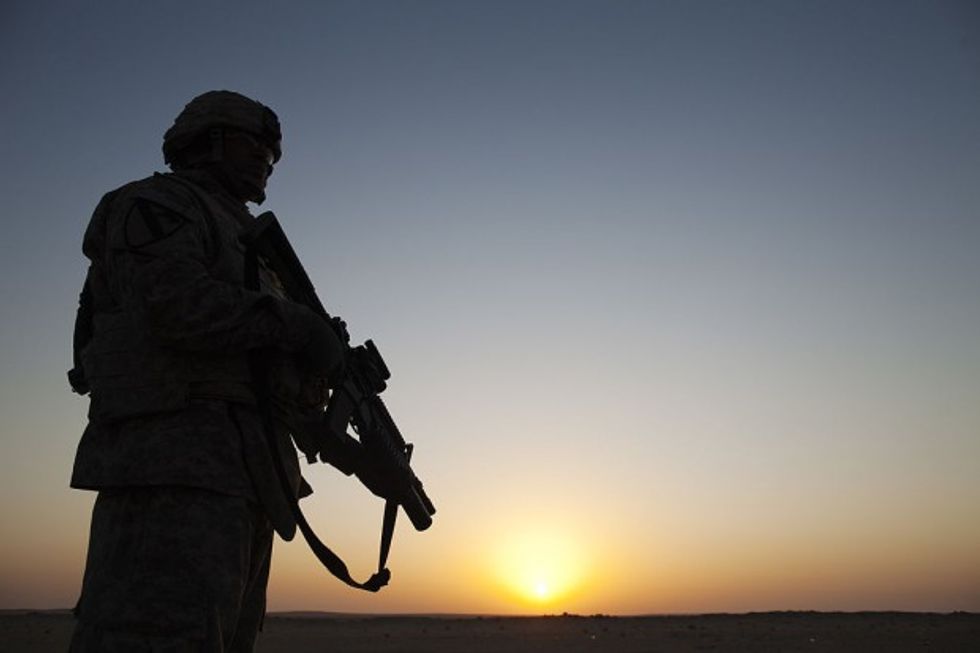 (Lucas Jackson-Pool/Getty Images)
"How ironic," he thought, "I'm a teacher, and here I am sitting in a school in Fallujah watching my buddies get hurt, and on my birthday, too."
And, in an odd twist, April 28th was also Saddam Hussein's birthday.
Far from his loved ones, Brazilian immigrant Túlio Tourinho was holed up in an Iraqi schoolhouse, advancing with the first infantry unit to cross the border into Iraq.
Like so many others, he spent those many months of deployment watching his first child's first year unfold in precious snapshots.
Túlio was about a million miles away from anything he could have imagined. And yet it was exactly where he knew he needed to be.
He was just a toddler when his father moved the family away from Brazil to Costa Rica, and later to the United States to complete his Master's and PhD.
"My father knew that you could advance in Brazil if you had a foreign education," Túlio said. "Even under the dictatorship they valued education, especially from abroad."
Everything about Túlio's young life was separated from Brazil. From his earliest memories of his mother sweeping volcanic ash off their walkway in Costa Rica, to birthday parties at McDonald's in Madison, Wisconsin - his memories are filled with anything but Brazil.
Still, the plan was always to return, and when that day finally came, Túlio was devastated. He was leaving his friends, his school, and his whole childhood behind to return to a country he didn't know.
"I arrived in Brazil with my family, and was immediately confront with things that didn't work," he recalled. "Chaos at the airport, chaos at the school I attended." He worked to relearn Portuguese, reestablish himself into his native culture, and find some semblance of normal.
While Túlio's family had been away, deep-seated frustration had continued to mount against the government that the Brazilian military had put in place in the 1964 coup d'etat. Dissidents were routinely captured, tortured, killed or exiled and tension was boiling.
"I remember the last 3 years of the dictatorship, living in that atmosphere," said Túlio. "I remember my father having secret meetings with his academic colleagues in order to organize and best support the student-led effort. I remember his fear of being 'taken away,' never to see his family again, like so many had experienced."
They worked through a movement called "Diretas Já" which demanded that the government allow democratic elections for president for the first time since the coup d'etat had taken them away.
They prevailed.
"When my father held my hand and took me with him so he could vote for president for the first time in his life, I—even as a 13 year old child—knew exactly what that meant," remembered Túlio of his father. "Once he cast his ballot, the tears just kept on coming."
Still, Túlio was uneasy.
"From the time I got back to Brazil to the moment I left, I just 'sucked it up,'" Túlio said. "I did ok; I was a decent student and I had friends and a social life and everything, but deep down I just wanted to get the heck out."
A few more years passed, and his family dealt with a deeply personal crisis that prompted Túlio's leaving Brazil a second time.
He packed his bags and set off to finish high school through an exchange program in Uniontown, Pennsylvania.
"Hell no, I'm not going back. I'm already home," he remembers fondly of the day he finished high school.
With the help of a few amazing people along the way (he still remembers them by name), Túlio applied to college and worked through an international coordinator at Morehead State University in Kentucky to get the visa to stay.
He studied political science and minored in French, worked three jobs to make up the difference between the Brazilian reales his father would send and what he needed to maintain himself, played soccer as the captain of the team, served in student government and as president of his residence hall, among other things.
In other words, Túlio never let the dust settle for long.
He eventually met his future wife on campus—and, in keeping with a promise he made himself to give his home country one last chance, they moved back to Brazil after they married.
"We lived in a tiny apartment the size of an egg. I worked three jobs and she taught English to get by. We finally looked at each other and I said, 'What the heck are we doing here?!?'"
With a look of relief on her face, his wife smiled and quipped, "Good, I'm glad you said that because I was gonna slap you!"
Túlio—this time accompanied by his wife—came back to the United States to call it home once again; this time for good.
Nearly two years before he found himself in that Fallujah schoolhouse, Túlio watched in horror as the 9/11 attacks splashed across the television screens at the high school where he taught, and something ignited in him. "All of my experiences, everything I had known and seen about dictatorship, lack of democracy, tyrannical ideology and fanaticism rose to the surface and was overwhelming," recalled Túlio, "I remember the look of paralytic fear on the faces of people I saw that day—and thinking, 'NO! There is no way I can accept that we become this! I love this country to death! I'm going to raise my kids here! I'm going to do something about it!"
So he went to see an Army recruiter.
"I'm joining on three conditions," he told the recruiter, "First, I will not be sitting behind a desk. Second, I'm an adrenaline junky, so the more the better. And third, I have to go NOW."
For Túlio, it was hardly an emotional reaction to a tragic event.
"When 9/11 happened, I felt like I needed to earn my right to stay here. I had a green card, and in my heart, I was already an American, but I wanted to earn it," he said.
And earn it, he did.
Túlio became part of the 82nd Airborne Rangers, served tours of duty in Iraq and Afghanistan, and came home an E5 Sergeant.
Today, Túlio is an American citizen, a privilege he treasures and defends to this day as a police officer in Kentucky.
Túlio and I first connected through an email he sent in response to one of my articles. His words speak volumes more than mine, and I know he won't mind that I share this excerpt of that first email with all of you in closing (emphasis mine):
"At the end of the day, I know the value of working hard to earn something. I know that without hard work and dedication, are things rarely appreciated. I have met immigrants from all different walks of life, some who immigrated and opened a business, or got a degree and a job, came through political asylum… But the ones that put a frog in my throat are the ones who, in spite of their hard work, still had to fill out the immigration forms, save to pay the fees, take the tests, do the interviews, and, a decade later received the letter that their application for citizenship had been granted.

When you hear those stories, the stories of immigrant parents telling their children to speak English, going to night ESL classes, declining to have a translator present during an interview, every patriot ought to pause and think: what have I done to deserve my country? It's easy to be born into something; it comes void of choice. But to leave behind all you know, to risk life, to come and dedicate oneself to becoming an American, in every sense of the notion… that's worthy of something."
In honor of Memorial Day, this piece is dedicated to those who gave all, and to the families whose lives will never be the same. We are forever in your debt.
Mary Ramirez is a full-time writer, creator of www.afuturefree.com(a political commentary blog), and contributor to The Chris Salcedo Show (TheBlaze Radio Network, Saturday, from noon to 3 p.m. ET). She can be reached at: afuturefree@aol.com; or on Twitter: @AFutureFree
–
TheBlaze contributor channel supports an open discourse on a range of views. The opinions expressed in this channel are solely those of each individual author.