In April 2014, quietly and without fanfare, the Obama administration made legal changes to Title IX, making it applicable to transgender people.
In a 46-page document, the U.S. Department of Education's Office for Civil Rights stated that, "Title IX's sex discrimination prohibition extends to claims of discrimination based on gender identity or failure to conform to stereotypical notions of masculinity or femininity, and OCR accepts such complaints for investigation."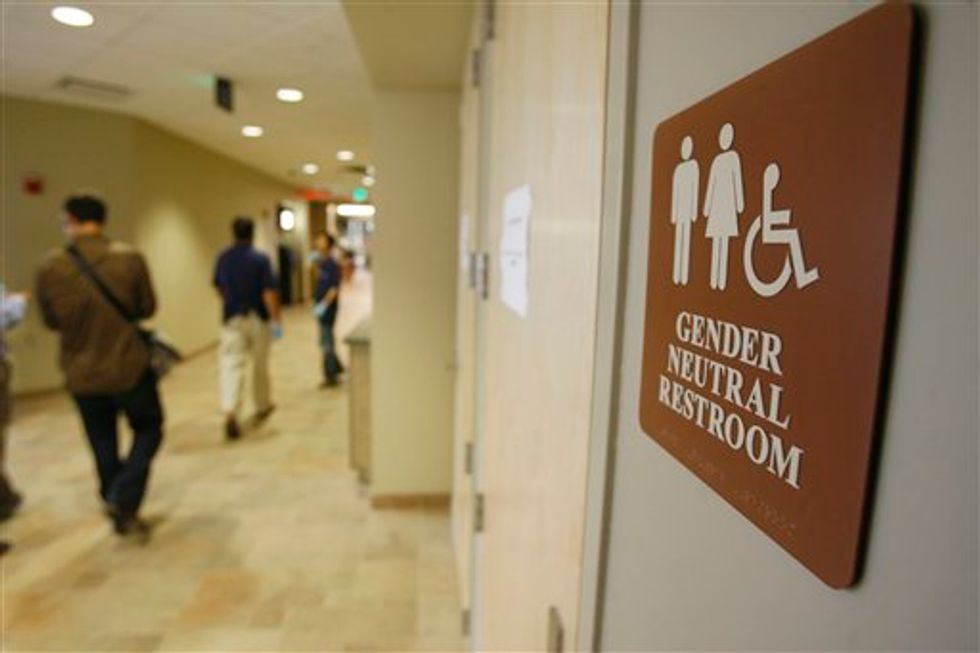 AP Photo/Toby Talbot
Since its beginnings in 1972, Title IX has included all educational facilities that receive federal funding. That means it applies to all public elementary schools, secondary schools, colleges and universities that receive any money from the federal government. This may also include private schools and universities in which teachers, professors or attending students are awarded federal research grants.
Those who would be affected most by the change did not know it happened - parents, teachers, school boards and students. The change was not fought out in a legislature. No one outside the federal department of education had a say.
Although the 46-page document particularly relates to sexual violence, two years later many are finding out that the implications are broad and personal.
In 2014, LGBT advocates declared that transgender students would not only be explicitly protected from physical or sexual abuse, but Title IX would protect them from all forms of discrimination in education.
Two years later, the people of the United States are learning that unless a school allows youth to use the gender specific bathrooms and locker rooms according to their desires and feelings rather than their biology, then the federal government will threaten to remove funding for education from that school district or state.
Schools have tried to accommodate the needs of every student by offering gender-neutral or single-occupancy bathrooms and locker rooms, but the federal government is claiming that to be discrimination.
The Department of Education has threatened to remove funding from North Carolina for enacting a law that requires gender-specific bathrooms and locker rooms to be used by students according to their biological gender and not their gender identity.
Earlier this week, judges on the 4th U.S. Circuit Court of Appeals ruled that a lawsuit brought by a biological girl who identifies as a boy against a school district in Virginia, may continue in the federal courts because of the change made to Title IX. The Virginia school district provided single-occupancy bathrooms for transgender students. In the concurring opinion, Judge Andre Davis wrote that the student in question, G.G., is at risk of "irreparable harm" from being made to use single-occupancy bathrooms rather than male bathrooms.
Davis additionally stated, "G.G. experiences daily psychological harm that puts him at risk for long-term psychological harm," and that single-occupancy bathrooms are "tantamount to humiliation and a continuing mark of difference."
It was the 2014 change to Title IX that brought the United States to this point. The Obama administration through the U.S. Department of Education is attempting to take the decision-making for very personal and private things such as bathroom and locker room use, and fairness and respect, out of the hands of the people for whom it affects. These are matters that constitutionally would be delegated to local legislatures. Additionally, the Obama administration is threatening access to federal tax dollars - which one can argue actually belongs to the people - to enforce its will.
Diane Robertson is a mother of many and pro-family advocate. Contact her at diane.etc@gmail.com

–
TheBlaze contributor channel supports an open discourse on a range of views. The opinions expressed in this channel are solely those of each individual author.