In last Sunday's presidential debate Hillary Clinton insisted that Russia must be working for Donald Trump since they seem to be working with WikiLeaks to sabotage her by releasing hacked emails from leaders of her campaign.
Trump said we don't know for sure if it was Russia that hacked the emails.
NBC, rushing to Clinton's aid, reported that Trump was wrong.
"A senior U.S. intelligence official assured NBC News that cybersecurity and the Russian government's attempts to interfere in the 2016 election have been briefed to, and discussed extensively with, both parties' candidates … 'To profess not to know at this point is willful misrepresentation,' said the official."
If NBC News, a formerly skeptical news organization, wants to believe the intelligence community, a formerly non-partisan government agency, let them. I no longer believe a word they say.
Let me be more precise. I no longer believe any agency of our government on anything they say until it has been proven. I no longer believe anything I see or hear from the mainstream media until I have personal knowledge of the issue.
And I am not alone. If you are looking for an explanation for the rise of Trumpism look no further.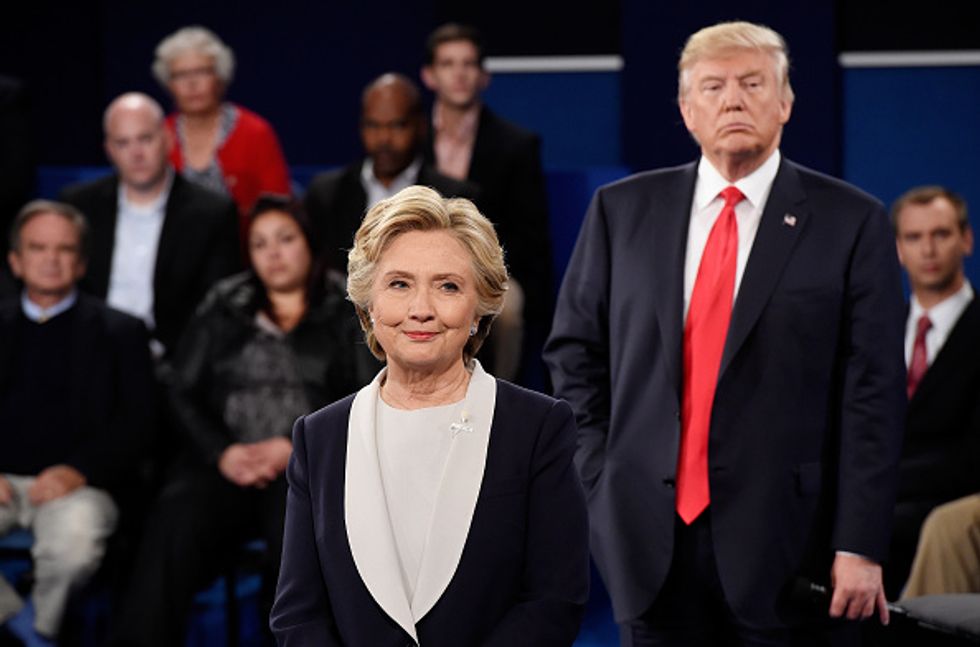 Democratic presidential nominee former Secretary of State Hillary Clinton (L) and Republican presidential nominee Donald Trump listen during the town hall debate at Washington University on October 9, 2016 in St Louis, Missouri. This is the second of three presidential debates scheduled prior to the November 8th election. (Photo by Saul Loeb-Pool/Getty Images)
(It's worth noting here that NBC and other news organizations reporting on Trump's error ignore the proof of corrupt media collusion with the Clinton campaign that is exposed in the emails – but I digress.)
In March of 2013 the top intelligence official in the United States, Director of National Intelligence James Clapper, was testifying before a Senate committee and was asked by Sen. Ron Wyden, (D-Or.) whether the National Security Agency collects "any type of data at all on millions or hundreds of millions of Americans."
His answer: "No sir. Not wittingly."
That was a lie that he gingerly walked back for several days.
During negotiations on Obamacare President Barack Obama repeatedly told Americans, "If you like your doctor you can keep your doctor. Period. If you like your health care plan you can keep your health care plan. Period."
It was known at the time that millions would lose their insurance and their doctors because of the numbers that change carriers and the changes in the basic minimum plan. We now are painfully aware that it was a blatant lie.
Soon after the Obama administration took office a gunrunning operation called Fast and Furious was begun in Arizona by the Department of Justice. It was hoped that getting American guns in the hands of Mexican drug cartels would build political support for gun control.
After U.S. Border Patrol Agent Brian Terry was killed with one of those guns congressional hearings into the matter were held. The attorney general was asked, under oath, when he first knew about the program. He lied.
During an investigation into a leak at the state department a warrant was sought to tap the phones of Fox News reporter James Rosen. In order to get court approval of the wiretap a judge was informed that Rosen was under investigation for espionage.
When asked in a congressional hearing who authorized the wire tap the attorney general said he did not know. It later was shown that it was his signature on the affidavit taken to the judge. He lied.
On the evening four Americans were killed in a terrorist attack on a State Department facility in Benghazi 56 days before the 2012 presidential election Secretary of State Hillary Clinton emailed her daughter and told her of the attack by an "Al Qaeda-like group."
The next day she told the Egyptian Prime Minister that it was a terrorist attack.
Two days later, standing before the coffins of the four dead Americans, she told their families and the world that the attack was a response to an Internet video.
Two weeks later President Obama went before the United Nations and repeated that lie.
When it was discovered by the Select Committee on Benghazi that Clinton used a private, non-approved server in her home for communications Clinton told the world that it was because she only wanted to use one device and that there were no classified documents on the server. Both of those stories were proven to be lies.
When President Obama was asked about her private server he denied knowing about it. It was later discovered that he communicated with her on that server using a secret code name to do so.
In other words he lied.
When I was first elected to office in 1974 I was struck by the equality of the arrangement. Whether one is rich or poor, Black or White, Christian or Jew we all came to the table with exactly the same political capital. We had our good word.
I soon discovered that not everyone held that virtue as dearly as I. Today the notion is quaint.
If you would like to be added to John Linder's distribution list please send your email address to: linderje@yahoo.com or follow on Twitter: @linderje
–
TheBlaze contributor channel supports an open discourse on a range of views. The opinions expressed in this channel are solely those of each individual author.