For the first time since taking office, President Barack Obama will visit a mosque in this country: the Islamic Society of Baltimore to be precise.
White House Press Secretary Josh Earnest calls the visit "an opportunity to reaffirm that religious freedom and religious tolerance [are] essential to our way of life in this country."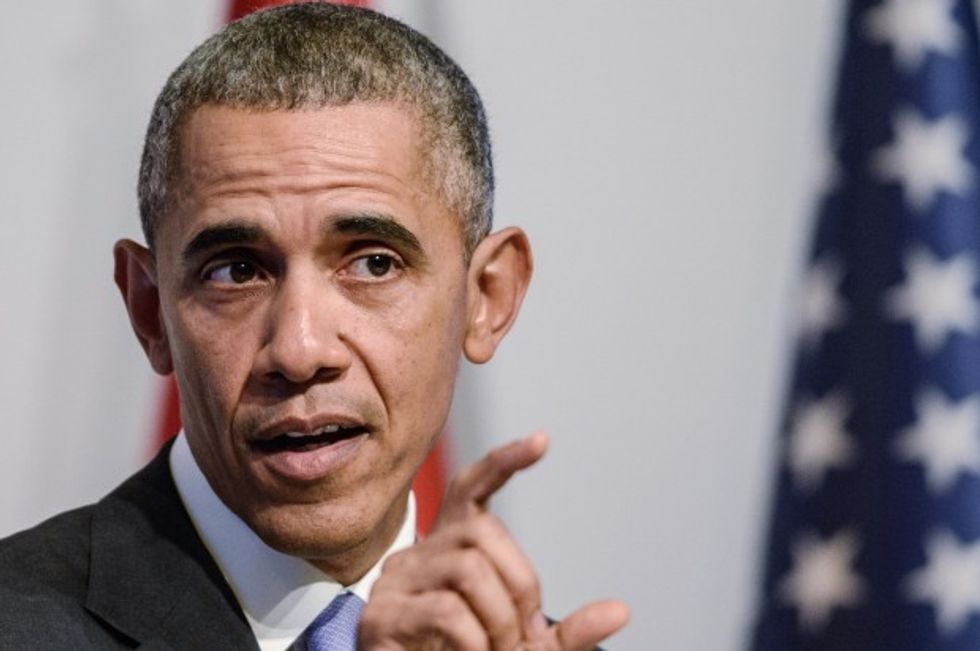 OZAN KOSE/AFP/Getty Images 
Reaffirm with who exactly? Where are these roving bands of torch-wielding Americans having their own version of Kristallnacht against our Muslim community? It's not religious freedom's import to our way of life that should be in question...its the other guys' way of life that has no place for any god but Allah and Muhammad is his prophet that is the issue. If anything, the president should lecture those inside the mosque to get their act together, not us. But he won't.
The timing of the visit after so many deaths at the hands of jihadists both outside and within the United States is, as is everything with this president, purely political. It is designed for its "optics" as the pros call it. Mainly to highlight the difference in visions between the Democratic and Republican views on immigration and the extent of religious tolerance. It promotes the typical good guy bad, guy narrative so effective in campaigning, if unsustainable in the face of objective scrutiny.
The visit is primarily timed to shore up support for Obama's program to allow 10,000 Syrian refugees in the United States this year; this is a program that many Democrats as well as the GOP are against.
After witnessing the most recent in a long string of attacks from Paris to San Bernardino by Islamic extremists, the concern over the inability to properly screen refugees has been at the forefront of debate. And the chaos on the streets of Europe from Cologne to Stockholm exacerbated by the inflow of so many migrants should give us legitimate pause.
It is safe to say that the opposition to the refugees, although framed as an act of bigotry by the left, stems from a duty to place the health and well-being of American citizens first. Erring on the side of caution is not the same as being uncaring and spiteful. The fact is that these people are not the same as the Jewish refugees callously turned away from our shores in 1939. The inflow of migrants is from a far more primative part of the world than Europe. They hail from a land that is the nexus of a growing jihadist movement. And we simply cannot guarantee who they are.
Yet confronting naked bigotry is the implicit, acerbic message behind the president's mosque visit. For in the world of Obama there are never two legitimate sides to a debate. There is his side, which is the intelligent reasoned, morally superior position...and then the ignorant side motivated by (take your pick) racism, greed, intolerance, or xenophobia.
Said Earnest:
"[The concern over radical Islam] has, unfortunately, infected our political debate in a way that doesn't reflect the values that are so central to the founding of our country. So I think this would be an appropriate venue for the president to make clear that Muslim Americans make a valuable contribution to the success of our country, and that the protections that allow Muslim Americans to worship God according to their traditions in this country are sacrosanct."
Well yes and no. At the World Trade Center (of all places) PATH train stop yesterday I found myself walking past what looked, at first, like a Tolkien wraith, but was, in fact, a Muslim woman in full Niqab, draped in all black from head to toe. I would like to ask Earnest how this get-up, which conceals all but the eyes like a bandit's, is somehow "sacrosanct" or consistent with ideals of our nation's founding? And how can this person possibly assimilate into a classically liberal Western culture? More to the point, does she even want to? Go to Malmo, Sweden for further study.
This nation often places limits on religious expression or behavior when the greater good is at stake. In this cloaked woman's case, not only is such dress an expression of underlying misogyny that certainly has no place in modern America, it is also a security threat.
As a denouement, after I exited the PATH I got my usual Dunkin' Donuts and the cheerful young ladies who took my order were all wearing the Hijab, or traditional head scarf. Hey, that's fine. Whatever floats their boat. I could see their smiling faces. I could read them and interact with them. I could find some common ground, if not in religion then at least in the shared experience of the New York daily grind. If one cannot see the difference between these contributing immigrants in the simple and unobtrusive head scarf, and the cloaked, isolated, oppressed specter behind the black shroud--as though someone who dresses and acts according to a man's interpretation of the alleged insistence of a 7th century warlord is just another commuter--then you are complicit in the mass cultural suicide already well underway in Europe.
The GOP campaign rhetoric also has concerned White House officials who say it's damaging to U.S. efforts to gain cooperation from moderate Muslims at home and abroad to fight extremist groups such as the Islamic State. As if the Muslim world is so open to the West? In the Wall Street Journal today Steven Stalinsky gives us insight into just how much tolerance is preached at the Al Aqsa Mosque in Jerusalem...one of the most influential and important religious institutions in global Islam. Here's one sound bite: On July 6, 2015, Sheikh Muhammad Abed declared that from "the land of the Prophet's nocturnal journey [Jerusalem] armies will set out to conquer Rome, to conquer Constantinople...Washington and London." Always good to have a plan, huh?
A 2011 book "The Price of Religious Freedom Denied: Religious Persecution and Conflict in the Twenty-First Century" by sociologists Brian Grim and Roger Finke shows that Islamic nations clearly have considerably lower levels of religious freedom than the rest of the world and Christian-majority countries. 78 percent of Muslim-majority countries have high levels of government restrictions on religious freedom, compared with 43 percent of all other countries and 10 percent of Christian countries. Once again, though, it is the American people the president takes to the woodshed as intolerant, for cynically political gain.
The Baltimore mosque itself also leaves one scratching the head. Its past imam, Mohammad Adam el-Sheikh, was a member of the extremist Muslim Brotherhood in Sudan in the 1970s. He also has worked for an Islamic relief group that the Treasury Department designated as a terrorist organization in 2004. And now the president is calling on this same terror accomplice's former home base. Is this the level of acquiescence to Islamic conduct that the White House still sees as 'outreach'?
Dr. M. Zuhdi Jasser, a Muslim who is vice chairman of the U.S. Commission on International Religious Freedom, calls the president's decision to visit there "disgraceful."
But Earnest could only say by way of explanation "I can't speak to why this specific mosque was chosen," other than it "represents the diversity of..." blah blah. Yeah, yeah we know. Allahu Akhbar.
–
TheBlaze contributor channel supports an open discourse on a range of views. The opinions expressed in this channel are solely those of each individual author.