In his daring masterpiece, Alex Epstein exposes modern environmentalists for what they really are: pro-nature and human-hating. For them, the slightest modification of Mother Nature's virgin work is a crime worse than the Holocaust. With COP 21 now fully operational we are hearing those anti-human environmentalists more than ever.
And they spare no one when they spit their venom.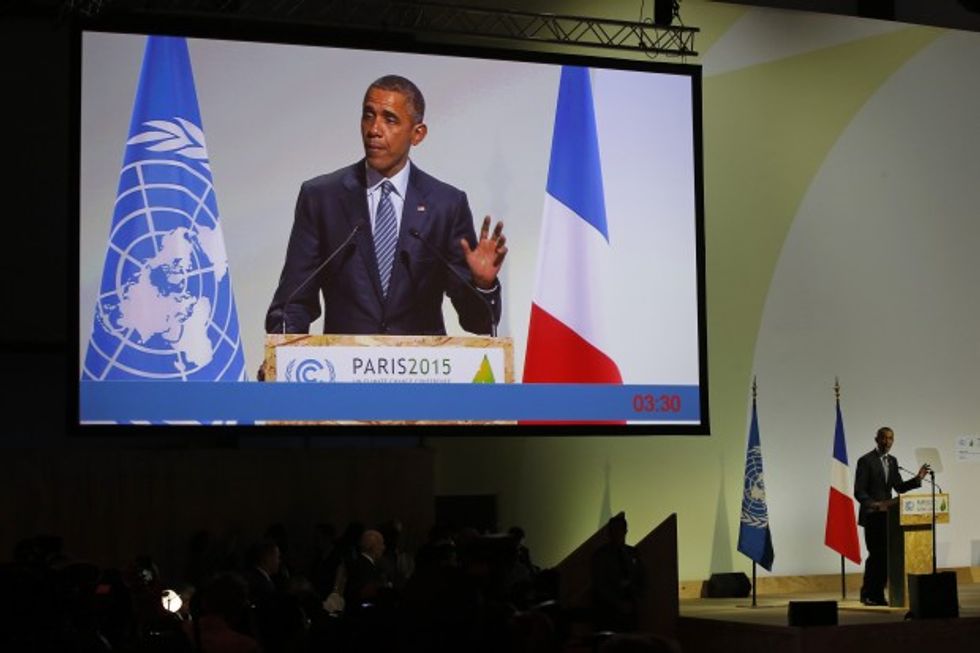 U.S. President Barack Obama addresses world leaders at the COP21, United Nations Climate Change Conference, in Le Bourget, outside Paris, Monday, Nov. 30, 2015. (AP Photo/Michel Euler)
David Suzuki, Canada's Green Pope, recently compared the defense of the oil industry to the defense of slavery. You read that right. Defending forced labor is akin to wanting to keep the cheapest, most reliable source of energy ever mastered as of now.
Of course, he only wants you to be "free" of this evil form of energy. He wants to keep traveling in order to spread his green gospel while you use a horse and bugey. He wants others to have fewer children while having 10 children and grand-children. And he wants scientists that agree with him to speak freely while imprisoning those who dare having different views.
He is not the only one with this mindset.
Only a few weeks ago many public university professors came forward and asked the federal government to prosecute "deniers" using the RICO Act – originally created to prosecute the mafia. Like any group, these professors know that if their scam is exposed they will lose everything. Therefore they need to use every means possible to keep earning their income. This seems to include hiding inconvenient facts.
Still about politics, there are elected representatives – I will let you guess their color – that want to bar one of the only profitable uses of public lands in honor of Mother Nature. Sens. Patrick Leahy and Bernie Sanders, of Vermont, and Sen. Jeff Merkley, of Oregon, introduced a bill that would ban any new fossil fuel exploitation on federal lands (including water) in order to stop carbon "pollution" … from greening the Earth.
Of course, as a "democratic" socialist Sanders couldn't help but exposing his Koch derangement syndrome by blaming the hard-working entrepreneurs for wanting to enrich themselves while benefiting society. Strangely enough, he doesn't speak out about against billionaire George Soros.
This liberal "philanthropist" has recently bought off two major coal businesses who were about to go bankrupt thanks to President Barack Obama's war on coal, among others. Sanders is also silent towards another billionaire, Tom Steyer. Not only did Steyer spend an insane amount of money to influence the 2014 elections, but the coal projects he once invested in will emit carbon "pollution" for decades to come.
Finally Sanders seems to be rather silent on the dire consequences of "renewable" energy. He wants more hybrid cars, therefore encouraging a tremendous amount of pollution in China from rare earth mining. He also wants more wind energy, therefore encouraging the slaughter of millions of birds.
In short, the anti-human environmentalists are actually the ones who destroy the planet the most. They promote sources of energy that are highly inefficient, highly polluting and that would be unaffordable without subsidies. And that's exactly why they promote these energies. That way, populations will sharply decline and lead to the promised Green Ecotopia.
–
TheBlaze contributor channel supports an open discourse on a range of views. The opinions expressed in this channel are solely those of each individual author.