America had 9/11. England had 7/05. Spain had 3/11. Now France has 11/13.
No words can describe the horrific acts of barbarism perpetrated by those Muslim extremists who mindlessly killed so many people in a devilishly executed plan.
But what's more horrific is that these terrorist acts, just like the ones against Charlie Hebdo earlier this year, could have been prevented, or at least severely scaled down hadn't the French government virtually disarmed its population.
Yes, I dare going "there" because it is the hard truth.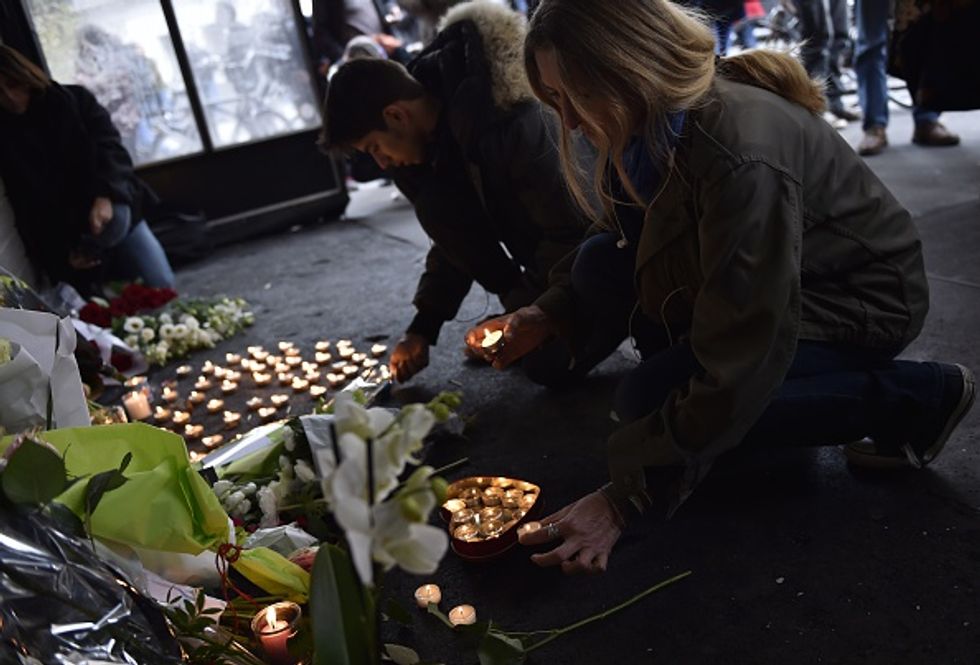 People place flowers and candles outside the cafe 'La Belle Equipe' at the Rue de Charonne in Paris on November 14, 2015, following a series of coordinated attacks in and around Paris late Friday. (LOIC VENANCE/AFP/Getty Images)
In France, carrying a weapon "without legitimate motives" can give the citizen up to five years in jail and a 75,000 € (over $100,000) fine. The only people with legitimate motives that can carry are those "who face risks of aggression for their jobs or who have been authorized by authorities," hunters or in shooting ranges approved by authorities. And if a policeman forgets to leave his weapon at home, he can end up in court too.
Oh, it is possible to acquire "weapons of war" to defend oneself … if the person is ready to choke under the red tape. To get such a weapon – and only for a maximum of five years – the citizen must, among others:
Be a member of the French Shooting Federation for at least six months

Have at least three yearly certified shooting training classes at least two months apart

Prove the possession of a safe

Have good references from the FSF

Fill up the appropriate form
And yet, despite all these restrictions an unofficial estimate states that there may be as many as 8 million firearms in France that have not been registered. Criminals always find their ways while law-abiding citizens are left completely defenseless.
How else could three gunmen be able to control and gun down the hundreds of people at the Bataclan Theater? Facebook user Benjamin Cazenoves related the horrific experience, saying that the terrorist were killing everyone "one by one, starting with the first floor." Other people at the theater would implore the police to raid the theater over social media so they could live.
So far, major political parties have not even addressed the issue of gun control.
President François Hollande (a socialist) simply mentions the will of his government to fight Islamic State, while former president Nicolas Sarkozy (and head of Les Républicains party) echoes Hollande's wishes and supports the state of emergency which basically suspends the constitution. On her side, head of far-right Front National Marine Le Pen said on November 14 that France has been weakened and that "she must arm herself because she has suffered a dismemberment of her defense capacities." However, she seems to want the state to defend people, not people defending themselves.
In short French politicians want, just like U.S. politicians after 9/11, the state as the sole defender of the people. We are therefore bound to see many such massacres since the great masses of the people will still be defenseless.
Gun control freaks, the blood of these massacres is on your hands. Again. As long as you will want to control guns, the only people you will encourage are criminals who have no regards for laws anyway. Shame on you, and I hope you won't be able to sleep for a very, very long time.
–
TheBlaze contributor channel supports an open discourse on a range of views. The opinions expressed in this channel are solely those of each individual author.