I believe that Donald Trump's statement on barring Muslims from entry into the United States was thoughtless, insensitive and intemperate. It was not, however, unconstitutional.
The Immigration and Nationality Act of 1952 allows the barring of suspected subversives from entering the country and gives the president broad power to approve or disapprove who would be allowed to be here.
The act was used in 1979 by President Jimmy Carter to deport 15,000 Iranian students who were in violation of the terms of their student visas.
President Barack Obama used the authority under the act to exclude human rights violators from entry to America.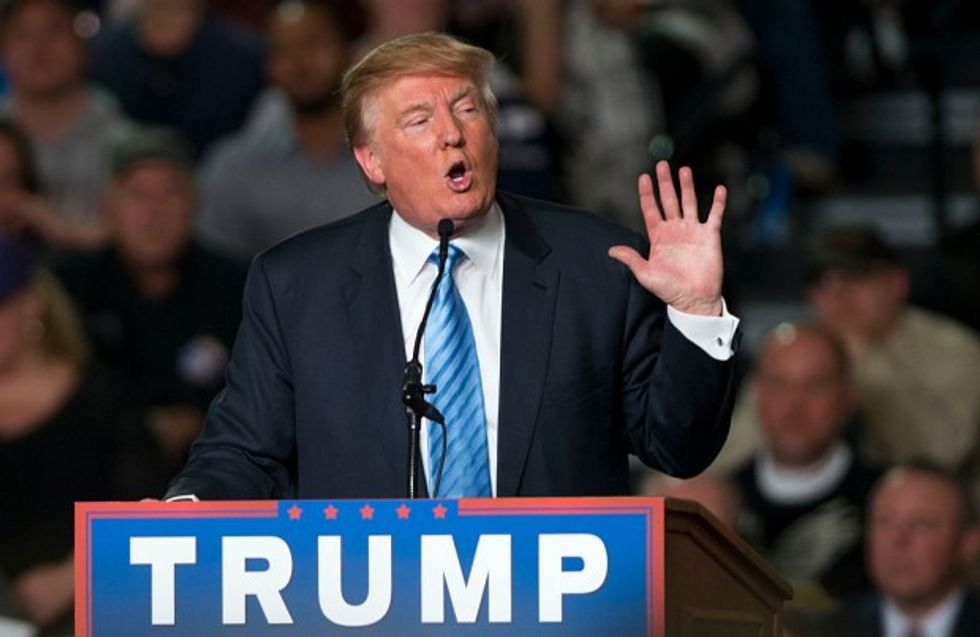 Republican presidential candidate Donald Trump addresses supporters during a campaign rally at the Greater Columbus Convention Center on November 23, 2015 in Columbus, Ohio. Trump spoke about immigration and Obamacare, among other topics, to around 14,000 supporters at the event. (Photo by Ty Wright/Getty Images)
The First Amendment to the Constitution prohibits the establishment of a religion by the government and also allows the free exercise of religion by individuals.
Neither of those provisions mandates access to the country because of, or in spite of, one's religion. That is a decision for the government.
Trump's comments took the focus off of President Obama's pitiful speech on terrorism last Sunday night, but instead of thanking Trump, White House Press Secretary Josh Earnest was apoplectic:
"The first thing a president does when he or she takes the oath of office is to swear an oath to preserve, protect, and defend the Constitution of the United States. And the fact is, what Donald Trump said yesterday disqualifies him from serving as president."
I don't recall this sermon when President Obama ignored Article 1, Section 8 and rewrote the laws regarding immigration and then bragged that he "changed the law." On that occasion Earnest was conspicuously silent about the presidential oath.
When Earnest said it was a fact that Trump's comments disqualified him from serving, I wondered what fact he was referring to.
The Constitution that Earnest so earnestly cites sets the qualifications required to be president.
Article 2, Section 1 says that the president must:
1. Be at least 35 years old
2. Be a natural-born U.S. citizen*
3. Live in the U.S. for 14 years.
Trump meets the qualifications.
This White House has a lot of power, but they do not have the power to decide who is and who is not qualified to be the Republican nominee for president.
The most interesting part of this drama is that the administration can now read the mind of our enemy. They were unable to see the buildup of Islamic State. They underestimated its power and reach. But they now say that they know what inspires them.
Trump's remarks are judged to be exactly what will inspire radicalization of Muslims. I have heard that from leaders in the United States and Europe, but I have not heard that from the Islamic State.
We are told that what the Islamic State wants more than anything it for us to put American troops on the ground in Syria. How do we know that?
We are told that refusing to accept tens of thousands of Syrian refugees is just what inspires foreigners to join the fight against us. Who says so?
We are warned that speaking harshly against Islam is what inflames the anti-American anger among Muslims.
If, as we are reminded incessantly, we are not at war with Islam, why would speaking ill of Islam have any affect whatsoever?
It seems to me that bombing a wedding party in Yemen with a drone strike probably drove more people to take up arms against us than harsh language about their religion.
There is a reason that Donald Trump is leading this contest today. He has tapped into a deep vein of anger in America. We are tired of being pushed around. We are tired of anxiously looking over our shoulders. We are tired of foreigners telling us how we must live.
Our borders are being ignored. Threats to our national security are minimized. Our president is either unequipped or unwilling to deal with these matters and we are looking for a leader who is not afraid to stand up and say what we believe.
Unfortunately Trump has distracted us from President Obama's abject failure in the War on Terror. That is where our attention should be focused. Not on some knee-jerk reaction that was clearly not thought through.
To the sanctimonious critics of Trump's supporters, I remind you that these are the same Americans who were considered wise and savvy when they elected Obama to two terms as president.
If you would like to be added to John Linder's distribution list please send your email address to: linderje@yahoo.com or follow on Twitter: @linderje
–
TheBlaze contributor channel supports an open discourse on a range of views. The opinions expressed in this channel are solely those of each individual author.