What does it mean to make a difference? Does it have to mean that you have to be the president of a nonprofit, hosting lavish donor parties and presenting oversized checks to people? Or does it mean focusing on one community, a group of people or one life at a time?
Making a difference first starts by taking action for a cause that matters to you. For 16-year-old Hunter Gandee of southern Michigan, that means doing something to help his 9-year-old brother, Braden.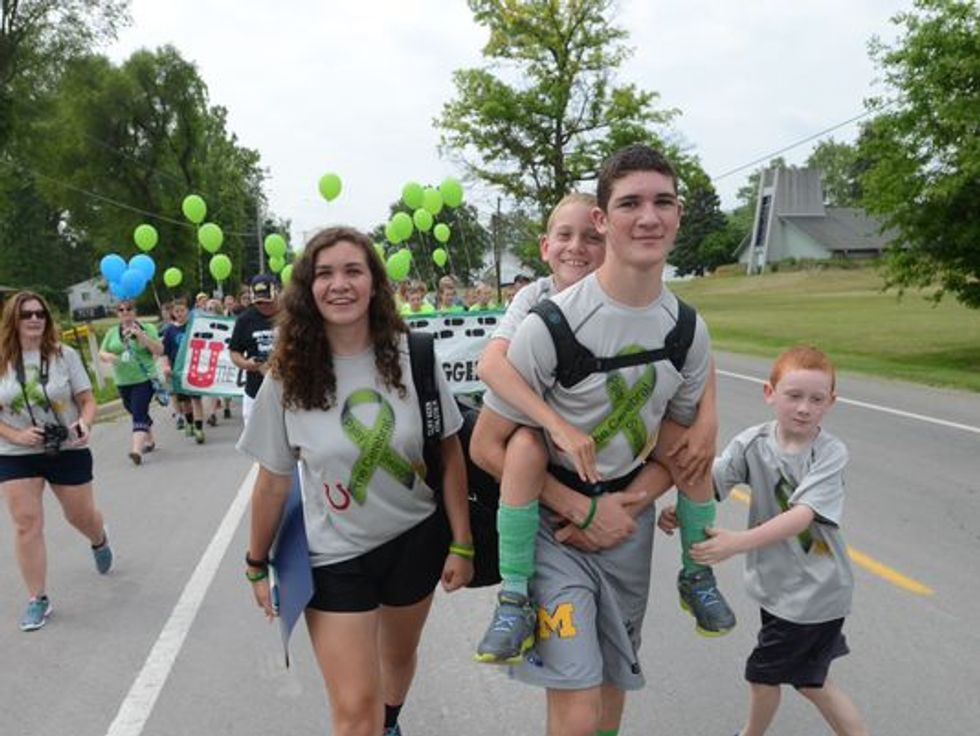 Hunter Gandee, 15, carries brother Braden, 8, on his back in 2015 to raise awareness for cerebral palsy. (Gandee Family, Cerebral Palsy Swagger)
Braden was born with cerebral palsy, a condition that affects speech, motor skills and, in Braden's case, mobility.
"My brother means more than I can really tell you in words," Hunter told me over the phone. "He may be my little brother, but I look up to him."
It all started three years ago when then 14-year-old Hunter hosted a wristband sale at school during Cerebral Palsy Awareness Month to help raise money and visibility of his brother's condition. He'd hoped others might better understand what CP is, and potentially that someone might figure out a new way to make his brother's life easier, whether that be through mobility devices or finding a cure.
But he wasn't going to stop there. Instead, after a dream his mother had shared about Hunter walking with Braden piggyback style, he kicked it up a notch and thought it would be a worthwhile idea to stage a walk for CP awareness. With the support of his family, Hunter launched a social media campaign called Cerebral Palsy Swagger, on Facebook, Twitter, Instagram and an official blog.
The name would also represent the walk.
"We were looking for new ways to spread awareness," Hunter said.
But this was no ordinary walk. It had a twist. Hunter charted a course from his then-middle school in Temperance to the University of Michigan in Ann Arbor, some 40 miles away. Oh, and Hunter was going to carry Braden on his back the entire time. No big deal.
"... he's a third of my weight," Hunter told me at the time.
Initially, those around Hunter thought he was crazy for wanting to make the trek. But on walk day, not only did friends and family show up, but people he didn't even know arrived to walk alongside them to show their support. The Facebook page dedicated to the walk swelled to a number of supporters about a thousand shy of the entire population of Hunter's hometown.
Through heat, rain and rugged conditions, Hunter carried Braden, harnessed in a sling, the entire way. But at one point, the journey became so uncomfortable for the younger of the two, they considered packing it in early.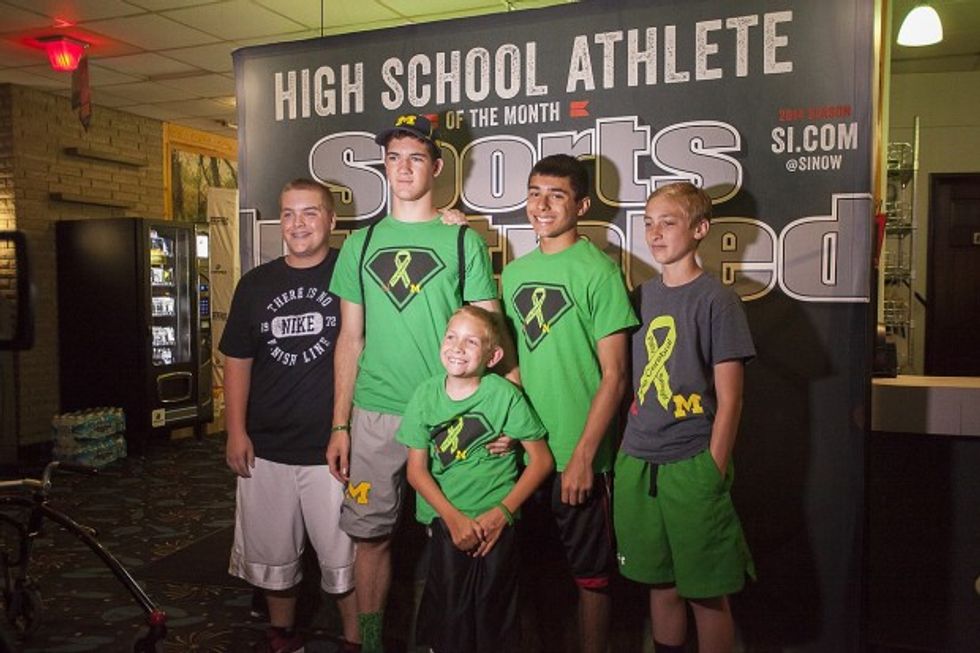 Hunter Gandee, (second from left) was awarded High School Athlete of the Month and Year in 2015 for his efforts to raise awareness for brother Braden's (center front) cerebral palsy condition. (Gandee Family, Cerebral Palsy Swagger)
"[Braden] had pretty bad chafing problems," Hunter said. "I called one of my friends over the phone and he prayed with us."
That prayer mixed with the presence of Braden's therapist and another physical therapist they knew, suggested modifications to the sling which put the two back on track comfortably.
By the end of the walk, there was a hero's welcome for them both. The crowds cheered, the media swarmed and Hunter smiled wide.
He had done what he had set out to do. He had spread the awareness he had hoped to spread. But what surprised everyone involved was how this simple story took on a life of its own and went viral. From as far away as the UK's Daily Mail to as grand as "NBC Nightly News," to as cool as ESPN, Hunter and Braden were everywhere. The tale of brotherly love shot all over the world, was being shared rapidly online and had become the feel-good story of the moment.
"We didn't expect this to get this big. But we're really thankful our story has spread this much," Hunter said in awe.
Seeing how their walk inspired others, the two planned another journey in 2015 to even more fanfare, raising further awareness. They walked nearly 60 miles and were able to raise over $200,000 for Cerebral Palsy research and for a new handicapped accessible playground to be installed at Braden's school.
A wrestler, Hunter was named Sports Illustrated's High School Athlete of the Year, and that was after he and Braden were invited by the WWE to be honored guests at a Monday night Raw TV event.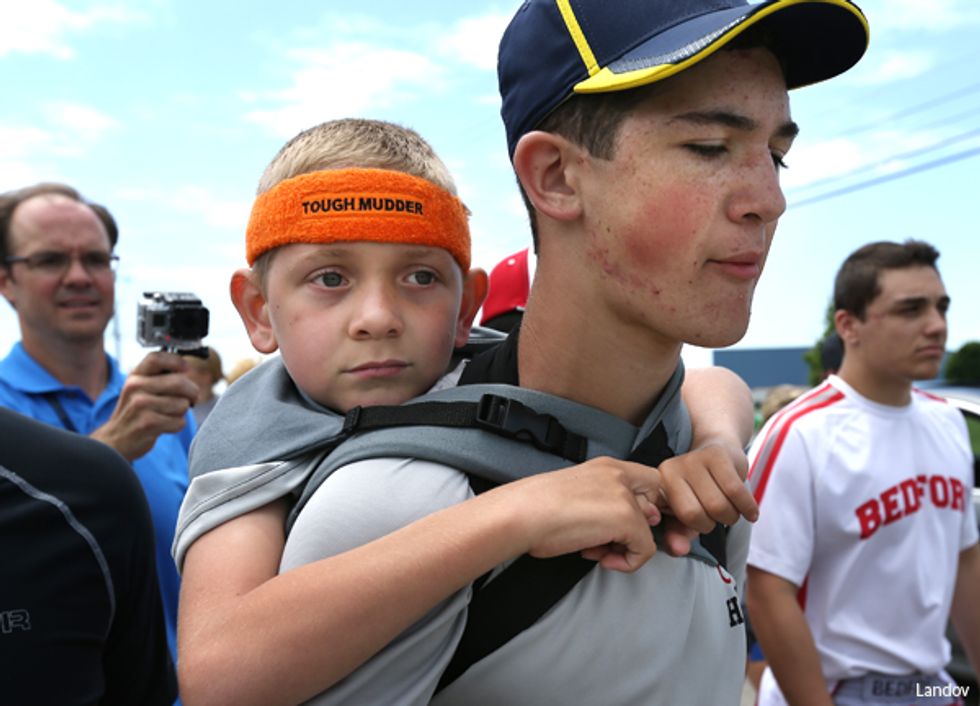 Braden Gandee, 7, rides on his brother Hunter's, 14, shoulders as they close in on the final miles to the University of Michigan Bahna Wrestler Center on Sunday, June 8, 2014. (CHRIS ASADIAN, ANN ARBOR NEWS)
The two continue to be recognized all over the country as ambassadors of the CP condition that affects over half a million individuals nationally. Which is why it makes sense that Hunter and Braden have announced that their final CP Swagger walk will be their biggest one yet with an estimated 111 miles from their hometown to the state capitol in Lansing, Michigan later this month.
Upon listening to a playback of my original conversation with Hunter, I couldn't help but be moved by his selfless language and overwhelming wisdom when he told me, "One person is all it takes to spread joy and happiness. We showed people that there are good things out there — that you can make a difference. I'm just a 14-year-old boy. If I can make a difference, we all can."
For more information on Cerebral Palsy Swagger, click here.
Wade Heath is a speaker, commentator and founder of the Do Good. Be Great. millennial movement. For booking contact: Events@WadeHeath.com.
–
TheBlaze contributor channel supports an open discourse on a range of views. The opinions expressed in this channel are solely those of each individual author.