How many more stories are we going to have to read about veterans who have been denied benefits from the U.S. Department of Veterans Affairs before we become angry enough to do something once and for all to demand that the VA be fixed?
As I write this, I'm wondering if anyone other than veterans will care that another veteran and hero may never receive what he is owed for his military service.
Have we become numb to the issues of veterans because they just seem insurmountable? Are we willing to let another veteran down while the VA process keeps him tied up in paperwork?
Emil Limpert, now in his 90s, served in the Philippines in 1944 and was wounded in a foxhole while fighting off a Japanese attack in World War II.
Limpert describes what happened in the foxhole that day and the guys that fought alongside him.
"There were four guys in there, and two guys got killed. And then the other guy, he got his leg, oh hell I guess he lost his leg. It was slit in four places where a grenade hit between us and I got one in my leg," Limpert said.
He recalls also receiving medical treatment in a makeshift jungle tent and returning back to his unit to continue fighting. It wasn't until a few years after the war ended, that he discovered his was still carrying some mortar shrapnel in his leg.
Limpert went to the VA Hospital in St. Louis and was referred to Jefferson Barracks Division, also in St. Louis, where "most" of the metal was removed. Limpert decided not to apply for benefits then but believes he may be entitled to receive benefits for the injuries he suffered.
"I thought well, as long as I'm working I'll pay for it myself rather than argue with 'em. Well now I've got nothing left," Limpert said. "We got rid of our car, we got rid of our house. I got rid of money I had in bonds and stocks and now I need help."
Limpert's financial situation changed when he and his wife of 70 years, who is also in her 90s, began running out of money. They are currently in need of financial assistance so that they may stay in the assisted living facility where they currently reside.
None of that seems to matter to the VA who notified Limpert after two months that he would need to provide more proof that he had actually served in the military.
"I get this letter, says we can't accept it because we've got no record of you being in the service," Limpert said, incredulously.
Apparently, two bronze stars and a purple heart he was awarded for his service, his discharge papers, a roster of those injured in the attack with him and the X-ray taken of his leg after he returned home is not sufficient to prove Limpert served his country.
Really?
This isn't the first time that the VA has made veterans jump through seemingly unnecessary hoops to receive the benefits they earned while serving their country.
Another World War II veteran, Stanley Friedman, was denied benefits for 67 years because the VA failed to locate documents to prove that he had served his country. He was only able to enjoy three-and-a-half years of disability benefits before dying at the age of 94. Without the assistance of pro bono attorneys, Friedman may never have seen a dime that was owed him.
Limpert is one of many veterans who had their records destroyed during a massive fire in St. Louis on July 12, 1973. The fire destroyed 16 to 18 million official military personnel records that were only kept in paper form, years before computer databases permanently stored the information. As a result, veterans who were unable to reproduce proof of injuries or even their service in the military were denied benefits from the VA.
Limpert's story is not unlike the stories I have heard from veterans I spoke with across the country while assisting TheBlaze Radio talk show hosts from The Morning Blaze with Doc & Skip in their quest to fix the VA.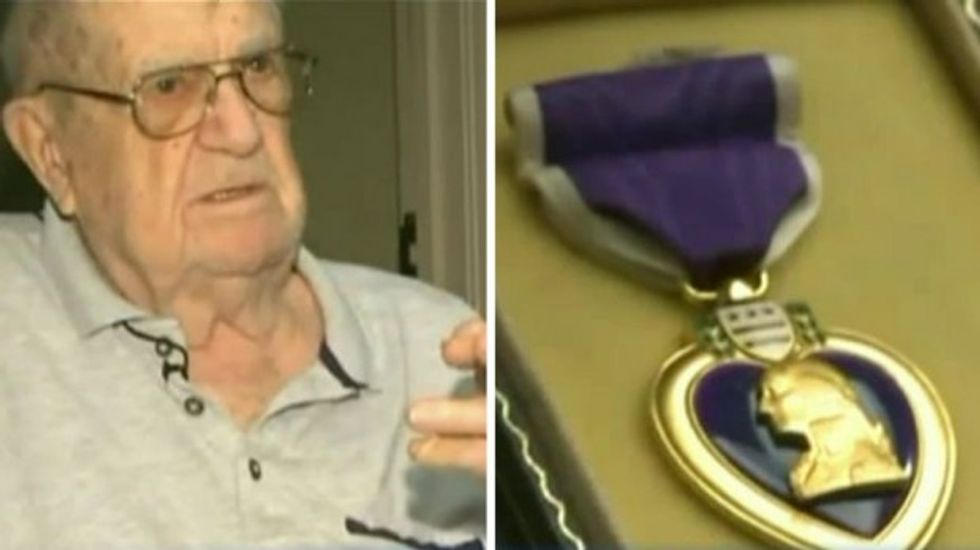 Screenshot
Many veterans told me that they waited months and sometimes longer to hear back from the VA once their application for disability had been filed. One veteran told me that after his long wait he was told he needed to resubmit the same paperwork he had originally filed. No explanation was given.
Veterans also shared that the evaluation process to determine what if anything the VA would pay out in disability benefits for claimed injuries was also a long process. For one veteran, his evaluation process took 20 months to complete. At the end of it, he was initially denied benefits for numerous physical injuries that he had sustained while serving in the U.S. Army.
Long-term solutions are needed to fix the VA. However, Limpert is not a young man with years ahead of him to wait until the VA gets their act together. He is in his 90s and time is of the essence.
If ever there was a case for the public to start a crowd funding account to help Limpert and his wife, this is it.
Limpert has reached out to Sen. Claire McCaskill's office for help in resolving the matter but because of Limpert's financial situation and age, McCaskill's help may not prove to be timely.
However, I call on one presidential candidate in particular to help Limpert.
Presidential candidate Donald Trump has campaigned on the promise that he will help veterans if elected. However, Trump is in a position to help Limpert now with the $6 million he recently raised for veterans in Iowa. Limpert needs that money today and he claims he has ample evidence to prove that he is a veteran.
Don't let this World War II veteran be denied what he is owed! He needs help today!
–
TheBlaze contributor channel supports an open discourse on a range of views. The opinions expressed in this channel are solely those of each individual author.